The world is still reeling from the sudden loss of
Academy Award winner Robin Williams on Monday
.
Numerous Hollywood figures have come forward to share
their heartfelt anecdotes about the brilliant comedian and the way he inspired their careers and to extend condolences to the actor's family.
After hearing the news of Williams's passing, countless fans have found their own way to remember him, too, turning comedy clubs, Williams's filming locations and his homes into touching shrines.
Many have visited Williams's star on the Hollywood Walk of Fame, leaving behind flowers, notes and small mementos honoring the man's prolific career.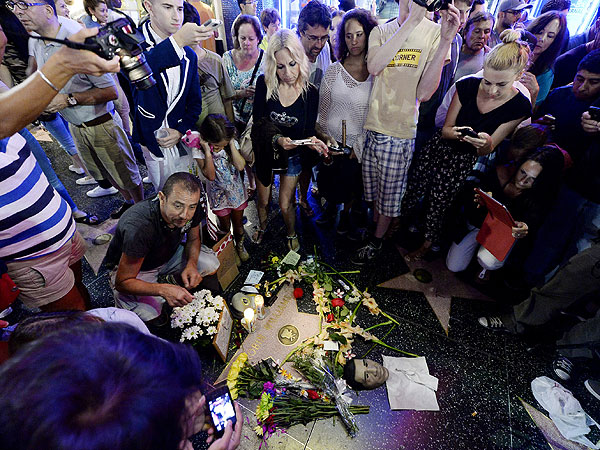 Nicholas Rabchenuk and others headed to Boston Common Monday night to visit the bench where Williams delivered his
famous Good Will Hunting speech
to
Matt Damon
, and they found the area covered in memorable quotes from the actor and his characters.
Memorial at good will hunting bench. #RobinWilliams #RobinWilliamsWillLiveOnForever pic.twitter.com/A3usLd3xb4

— nicholas rabchenuk (@rabbitnutz) August 12, 2014
The shrine has continued to grow overnight.
Bostonians honor Robin Williams at the bench he shared with Matt Damon in "Good Will Hunting" in the Public Garden. pic.twitter.com/CEU5sBksUl

— Laura Crimaldi (@lauracrimaldi) August 12, 2014
Fans in Boulder, Colorado, traveled to the place where many were first introduced to Robin Williams – the home used in the TV show
Mork and Mindy
.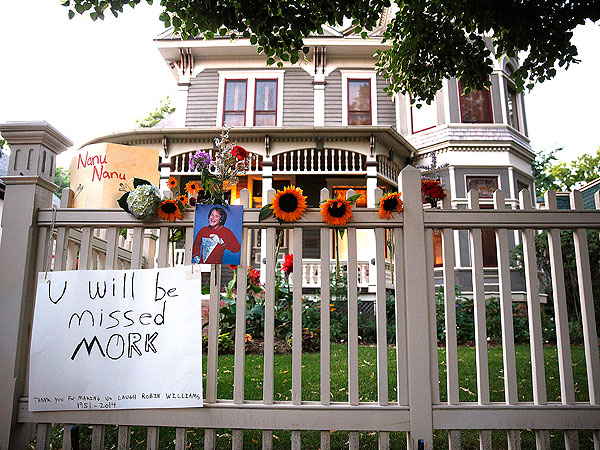 A memorial made of flowers and candles is also starting to fill the steps of the San Francisco home used in
Mrs. Doubtfire
.
We're live at the Mrs Doubtfire house for @GMA - the growing memorial and latest on the investigation coming up pic.twitter.com/77xTmfcmL6

— Cecilia Vega (@CeciliaVegaABC) August 12, 2014
People leaving flowers at Robin Williams' Mrs Doubtfire house in San Francisco. pic.twitter.com/dGdmhv4oQl

— Michiel Vos (@AmericanVos) August 12, 2014
A stand-up comedian turned film icon, Williams is being honored at comedy clubs around the country as well, including West Hollywood's Laugh Factory and the site of San Francisco's now-defunct The Other Café.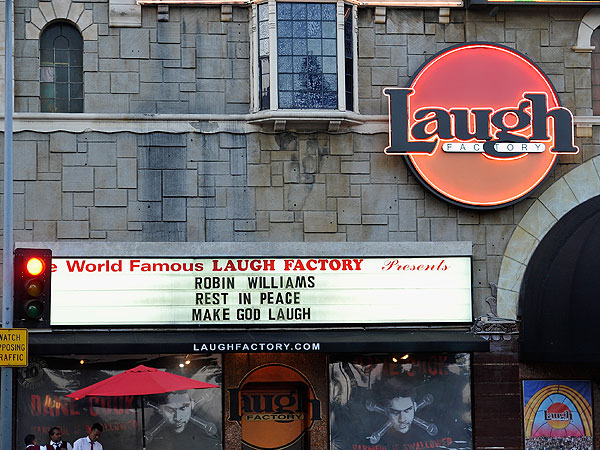 My neighbors are laying flowers at the former location of the Other Cafe in SF, where Robin Williams got his start. pic.twitter.com/3vSNDzP1bF

— Steve Silberman (@stevesilberman) August 12, 2014
Admirers are also visiting Williams's homes in the California Bay Area to reflect upon how this amazing performer and personality has touched their lives.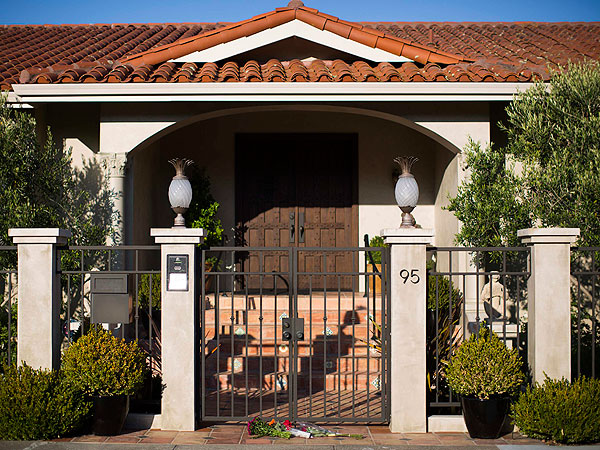 Stephen Lam / Reuters / Landov
Note and flowers left at Robin Williams old house in Seacliff pic.twitter.com/Dm8flqm5o7

— msug (@msug) August 12, 2014
Williams was a man who will be remembered fondly, as the scope of these tributes show, and he won't soon be forgotten by the many fans whom he made smile.
For more on Robin Williams's tragic death and his legacy of comic genius, pick up the latest issue of PEOPLE, on newsstands Friday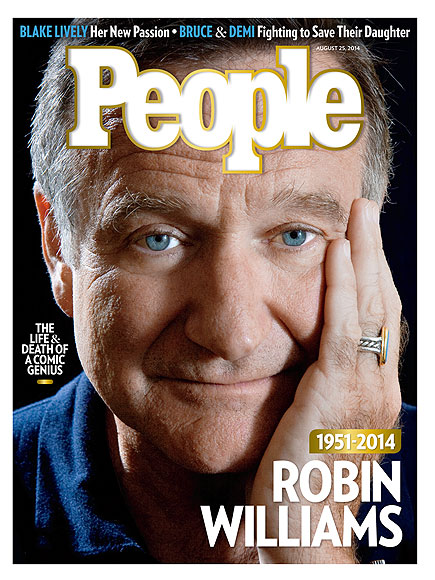 If you or someone you know is considering suicide, please contact the National Suicide Prevention Lifeline at 1-800-273-TALK (8255).The Williams family is asking well-wishers to send contributions to charities close to the actor's heart in lieu of flowers. Suggested organizations include St. Jude Children's Research Hospital, Challenged Athletes, USO, the Muhammad Ali Parkinson Center, the Christopher and Dana Reeve Foundation and Glide Memorial Church in San Francisco.
Remembering Robin Williams: His Roles