Ronda Rousey
is known for
body-positive attitude
– and ready to challenge anyone who tries to
body shame
her
to a fight
– so it was a major surprise to her fans when she
posted a photo
where her arm was photoshopped to appear smaller.
Her fans flocked to Instagram to ask why the
former UFC champ
would make her arms look less muscular.
"I have to make an apology to everyone – I was sent a picture to share on social for Fallon that was altered without me knowing to make my arms look smaller," she
posted on Instagram
Thursday night, eight hours after posting the original photo.
"I won't say by who – I know it was done with severely misplaced positive intentions – but this goes against everything I believe and I am extremely proud of every inch of my body," Rousey, 29, continued. "And I can assure you all it will never happen again. I could not be more appalled and hope you all forgive me."
A rep from the UFC
later clarified
that the image was altered by someone on Rousey's team, and it was not done by anyone from
The Tonight Show with Jimmy Fallon
.
Rousey was named one of
three cover stars
for
Sports Illustrated
's Swimsuit Issue, with Rousey posing in
just body paint
– a first for the magazine's cover.
RELATED VIDEO: Ronda Rousey Reveals You Can Go to the Bathroom After Having Your Body Painted!
After the cover reveal Saturday, she told PEOPLE that growing up she was
embarrassed by her muscular arms
.
"In high school, people would be asking me to flex and grabbing my arms to the point where I was wearing zip up hoodies to cover my arms, even if it was 90 degrees out," Rousey said. "You shouldn't be self conscious about being yourself. And there's many different kinds of beauty and I'm glad it's being shown."
But now she's thrilled to have her strong body type be a model for other women.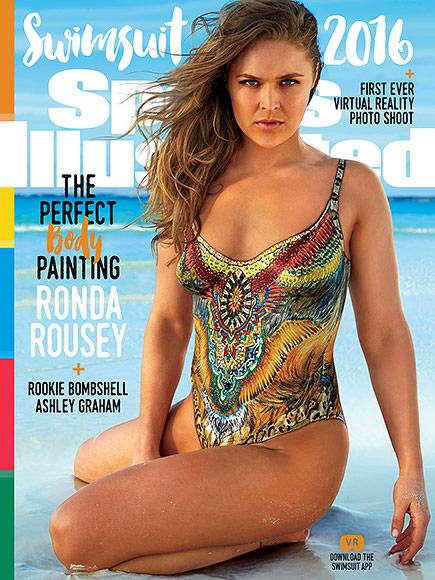 Frederic Pinet / Sports Illustrated
"This is like a dream I forgot to have and ended up having it anyway," Rousey told PEOPLE about posing for the cover alongside curvy model Ashley Graham and two-time
SI
model Hailey Clauson. "And it really is just an honor to be in a real historical issue like this that is celebrating all body types of women."
"I really feel like media presents a very cookie cutter image for women to aspire to, which for certain body types it's just not realistic or healthy," she added. "I love that all the covers are three different body types in their healthiest form."