A series of photos have been released from a private June 1 meeting between two fathers whose children died in a
mass shooting
at the University of California, Santa Barbara, last month.
In the days following the May 23 shooting, Richard Martinez, whose 20-year-old son Christopher was one of six people gunned down by Peter Rodger's son Elliot (who shot himself), suggested a meeting between the two men.
"I lost my son. He lost his son. We have that in common," Martinez has told the
Los Angeles Times
.
The pair expressed an interest in making sure others don't face a similar tragedy.
The
men met
at a Santa Barbara coffee shop and shared their grief. The photos show the pair embracing.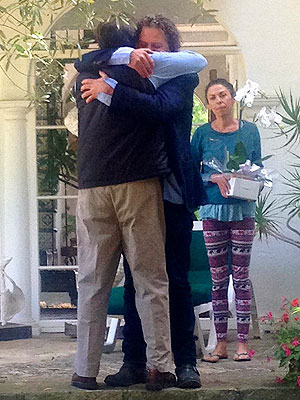 "We plan to work together so other families such as ours will not suffer as ours have," Martinez
tells KEYT-TV in Santa Barbara
. "This was a private conversation between grieving fathers who've reached common ground."
•
Reporting by MELODY CHIU