"I thought it was important that you believe that these people are in a world where ideas are sexy and where knowing someone's mind is the most attractive thing that can happen," says writer/director Rebecca Miller on casting her new film
Maggie's Plan
.
As you can see in this exclusive trailer above, it's indeed quite a cast, starring
Greta Gerwig
as Maggie, a pragmatic New Yorker who works at the New School and has decided to have a child on her own... right when she meets and falls for a "ficto-critical anthropologist" (
Ethan Hawke
), who is married to a Danish academic (
Julianne Moore
). Of course, that plot description only scratches at the surface of this screwball comedy about modern love that has been making the rounds on the film festival circuit en route to U.S. theaters on May 20.
Miller shot the film around New York State, taking particular advantage of the city. "I'm a third generation New Yorker so I have this deep love for the city," she says. "The story has several love stories in it but one of them was certainly my own with New York City."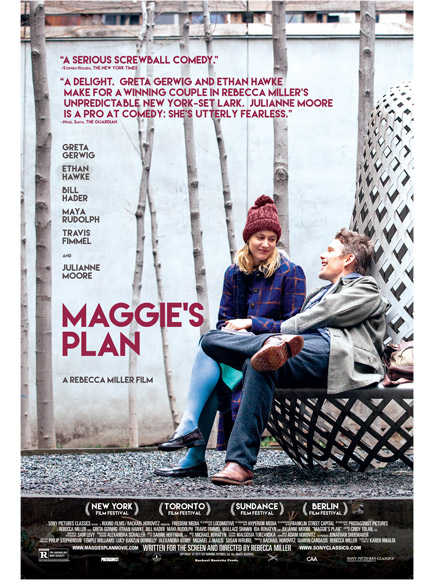 But it was when production shifted upstate that another story emerged, at least off-screen. "We go up this mountain and there we are at the top with Julianne Moore and there are two paparazzi on this mountain in the middle of absolutely nowhere," says Miller with a laugh. "There were no snow tracks! I think they dropped from a helicopter." (Indeed,
here are the photos
.)
Maggie's Plan
is out on May 20; check out the trailer, which is debuting exclusively on
Entertainment Weekly
and PEOPLE, above.