Dayo Okeniyi
's first big audition was for a little project called
The Hunger Games
. And ever since he landed the role of strong but silent tribute Thresh, his career hasn't stopped soaring, skyrocketing him out of Panem and straight into the sci-fi future of
Terminator Genisys
.
Between blockbusters, Okeniyi, 27, landed a part as a by-the-book rookie cop pulled into a law enforcement scandal in
Shades of Blue
, NBC's new
Jennifer Lopez
drama.
"It was amazing, because to be honest, I was nervous about it initially, just getting on a show with her," he tells PEOPLE of Lopez, who also developed and produces the series. "Because she's the lead of the show, she's in every scene, and with her schedule doing
American Idol
and she has a residency in Vegas coming up, will she really do the job to really dive in?"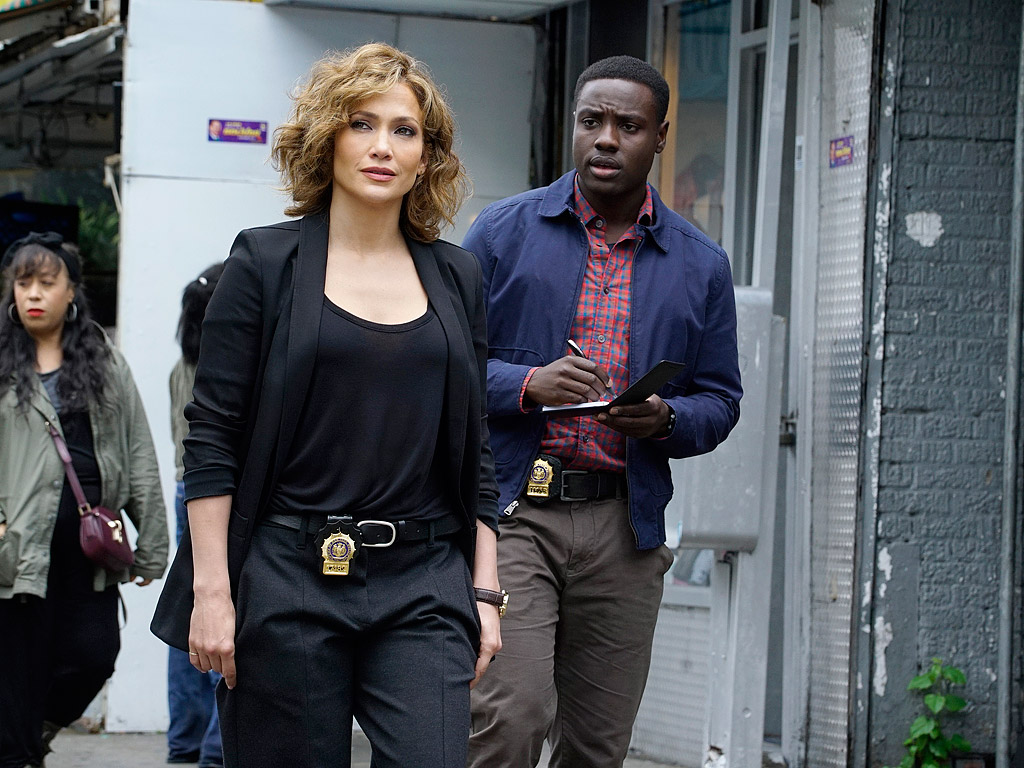 As he quickly learned, the singer/actress/age-defying glamazon really is still Jenny from the block.
"She came into that table read and she knew her s---!" he raves. "She knew the story in and out, she knew every scene so intimately."
Although she's got the swagger of superstar, he says she's refreshingly down-to-earth – and always the first person on set.
"Three weeks into the show was her birthday, and she had the whole cast come over to the Hamptons to her house. We were on a yacht with her," he says. "It's almost hard to believe, because when you see her there's this diva image. She's so larger than life. So to be in her house just chilling with her and her kids and just being so open about talking about the craft and talking about the show, she really really loves the show and really wants it to work and is so passionate about it."
Of course, Lopez, 46, isn't the only A-lister he's learned from: Before J.Lo, there was J.Law.
"At the time, nobody knew who
Jennifer Lawrence
was. I mean, we were in North Carolina. We would go to Applebees and nobody knew who the hell anybody was!" he says of filming the 2012 first
Hunger Games
movie. "I stole so much from Jennifer, it's not even funny. Just how she calms herself down before a scene and how she doesn't take it too seriously, the lightness of it and to keep it fresh, because you're shooting the same scene 20 times a day, it can become stale."
Below, read five reasons why Okeniyi says you should tune in to
Shades of Blue
on Thursday.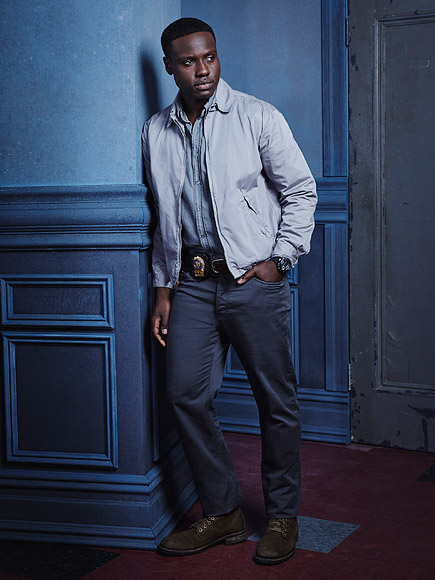 1. It's bold.
When he got the script for
Shades of Blue
, Okeniyi wasn't looking for a TV gig after signing on for
Terminator
.
"When I read it, my character was so human that I really, really dug that," he says. "He's a rookie cop, and the first episode is his first day on the job. He's very idealistic and has these ideas of what it's like to be in law enforcement and the responsibility of it and not abusing the power of it. I mean, he's bright-eyed, bushy-tailed. And I just loved the fact that in the first act, all that goes out the window because he's thrown into a situation where life hits him really hard right away. And throughout the course of the first season, he's trying to not go down the deep, dark rabbit hole of what it's like to be a corrupt cop in that blue tape of how the police protect themselves no matter what."
Without giving anything away, Okeniyi says the plot is so intense and "raw" that he was shocked NBC is "letting us do this stuff."
"People are going to see stuff that they're not expecting," he says, chuckling gleefully. "I read it and I really thought this could only work on HBO or Netflix. So the fact that NBC has the balls to roll the dice on this one and to roll so heavily with the names involved, I was like, 'Yes!' "
2. It's got a star-studded – and diverse – cast.
The credits boast Hollywood heavyweights like
Ray Liotta
and
Drea de Matteo
. – and they're not just big names.
"It's so diverse," he says of the cast. "I remember on set just going, 'Is Ray really the only white person on our show?' It's crazy! Because Drea's Italian, and even Ray is Italian. Jennifer's Puerto Rican, I'm from Nigeria, Africa, and Hampton Fluker is African-American and Sarah Jeffery is multiracial. Annie Chang is Asian on our show, she plays one of the detectives. It's so awesome. Even if the show doesn't succeed, just the experience of this summer was so cool to work with people that really cared about the writing."
3. It's fast-paced.
The 13 episodes cover about 15 action-packed days, Okeniyi says, noting that he doesn't consider
Shades of Blue
to be a police procedural like
Law and Order
or
CSI
.
"It's a lot of drama, a lot of stuff happening really quickly, and hat also speaks to the characters," he explains. "Everyone is constantly in a corner because it has this cat-and-mouse narrative. Even on set, just waiting for the next episode to come to read what was going on, I was like, 'Oh my god!' "
4. It's true to life.
To prepare for his role, Okeniyi watched tutorial videos on weapons handling, raiding rooms and police interrogations ("God bless YouTube!" he jokes) – and had retired police officers on call to answer questions.
"When you're doing a show about crooked cops and how they bend the rules, you have to know thoroughly what those rules are and how you can bend them in a way that it reads true," he says.
Plus, the themes of
police brutality
,
gun violence
and
criminal coverups
have never been more timely – though Okeniyi says he doesn't see the officers as good or evil (There's "shades of blue" in between, get it?)
"The really great thing about the show is it gives a viable reason for why they're doing what they're doing. So it's not necessarily that they're crooked, it's just really the circumstances they find themselves in and then the police culture on top of that about we protect our own no matter what. It's a layered show," he says. "And when you have a first episode where you have somebody kill a black guy on accident? Turn on your TV. It's happening every day."
5. Did we mention J.Lo?
Here's
one
more anecdote about what a pleasure he had working with the triple-threat.
Okeniyi recalls a day when he and Lopez were shooting a conversation between their characters, with only his face visible in a tight shot.
"We're in the middle of the scene I see her hand go like this," he says, subtly motioning forward with his finger. "I was like a foot behind my mark! That's the detail that she's so precise about stuff. After the scene, she was like, 'Yeah, yeah, yeah, I got you, papi.' She's just so cool and so professional."
"I think maybe it's because she's a dancer," he adds. "Just physically as an actress, she's so astute, it's crazy. She will hit her line to a T. She's just great. She's great to watch and knows her s---. At the end of the day, a prepared actor is just everything, and so her being a nice person on top of that is just a spoil of riches."
Shades of Blue
premieres Thursday at 10 p.m. ET on NBC.