Felicity Jones
is going to a galaxy far, far away.
The actress, 32, became a Sundance sensation in 2011 with her turn in the cult romantic hit
Like Crazy
, and made headlines for her acclaimed performance in
The Theory of Everything
. And now with her latest role in
Star Wars: Rogue One
, as the rebel fighter Jyn Erso, Jones has officially taken her stardom to the next level.
So who is
Star Wars
' latest heroine? Here are five things to know about Jones.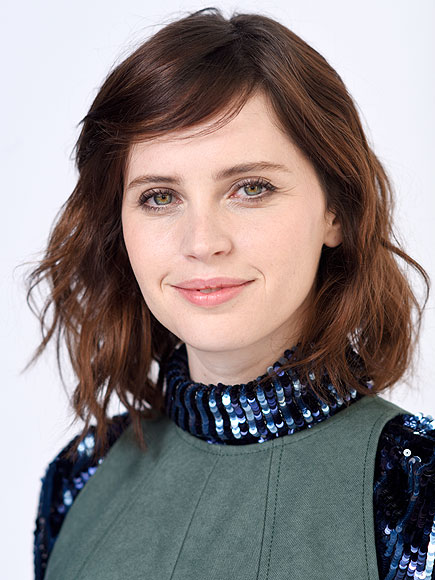 She's an Oscar-nominated actress.
Jones earned an Oscar nod for her performance in the 2014 film
The Theory of Everything
. Starring opposite
Eddie Redmayne
(who
took home
the Best Actor award for the role), Jones previously told PEOPLE she felt a "particular sense of responsibility" portraying Jane Hawking, the wife of famed scientist
Stephen Hawking
.
She got her start on the television show The Worst Witch
At just 13 years old, Jones landed her first breakout role in the British television show, in which she played the brash, witchy bully Ethel Hallow. The show focused on a group of girls attending a school for witches. "It was a bit like
Harry Potter
, but without the boys," she said while appearing on
The Tonight Show
.
She studied at Oxford University
After taking a gap year in school to appear in the BBC series
Servants
, Jones studied English at Oxford's Wadham College, and graduated with an undergraduate degree in 2006. During her time at Oxford, she met sculptor and internet artist Ed Fornieles, whom she went on to date for nearly 10 years before splitting in 2013.
She used to be a model.
During her transition from child actor to Hollywood star, Jones dabbled in modeling. She appeared in several fashion spreads and at one point was the face of Dolce & Gabbana and Burberry. Though she is focused on her acting career, she still makes sure to catch her favorite designers at fashion week, telling Stylist UK, "a fashion show is like a 10-minute play. There's all this anticipation and then the whole thing is finished. It's almost like a dream, like, 'Did that really happen?' It's exciting."
She admires actress Helen Mirren.
Jones starred alongside Mirren in the 2010 adaption of
The Tempest
, and she couldn't help but be impressed by the veteran actress. "I just love the way she works – in a very straightforward, un-flashy way – and she achieves great things," Jones told
Interview magazine
. "The way she behaved was something I was to emulate."