As a huge
Star Wars fan
and designer of cosplay armor for over 10 years, Kevin Weir knows the ins and out of the costuming world. So when he noticed a lack of legitimate
female stormtrooper
armor, he set out to create the FEM7 kit.
"I felt there was a void in women's cosplay armor that characterized the female form while giving a sense of power when wearing it," Weir, 40, tells PEOPLE. "I wanted to design a look which covered the body and was pleasing to look at. The armor also needed to appear it served a purpose."
It took the Los Angeles native – who sells his creations on his website
Imperial Surplus
– about seven weeks of designing, collaborating with friends, and getting input from the women in his life, including his wife Brooke, to complete the project.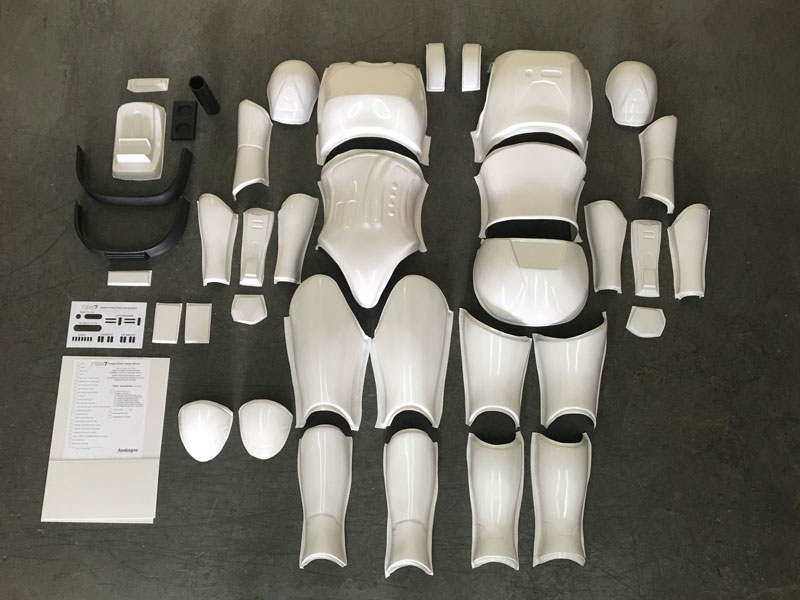 "Having good friends who all cosplay has been fantastic to discuss ideas with," he says. "Their excitement, feedback and involvement encourage me to do my best work."
Here's Your First Look at Star Wars: Rogue One
Much of his inspiration for FEM7 came from studying armor designs from past
Star Wars
movies, like
Star Wars: The Clone Wars
, as well as the "new look" of the First Order stormtroopers like Captain Phasma (played by
Gwendoline Christie
) in the latest,
Star Wars: The Force Awakens
.
"I wanted to bring that all together, and have something that was smooth and organic-looking with intertwined hard geometric shapes," he says. "Most of all, I wanted something that could appear likely to fit into the
Star Wars
universe."
A highlight for the Memphis College of Art graduate was debuting his armor on women from the
Star Wars
costuming club 501st Legion at the
Long Beach Comic Expo
last month.
"It was a bit surreal for me to finally see an idea in my head take shape," he says. "Seeing them walking around and being asked for pictures was a wonderful feeling and a great accomplishment. I am so grateful I can share and use my talents and passion for the art I create to help bring people together in their love for
Star Wars
and costuming."