First Lady
Michelle Obama
has a very special guest by her side as she watches
President Obama
deliver his final State of the Union address from the House chamber at the U.S. Capitol on Tuesday night.
Refaai Hamo – a 55-year-old Syrian refugee who fled to Turkey in 2013 after a Syrian government anti-personnel missile killed seven of his family members, including his wife and one of his daughters – was one of
23 guests
who sat in the First Lady's box in the House of Representatives gallery.
Hamo's story caught the president's eye after he was featured on the popular website
Humans of New York
last month as "The Scientist."
The son of a farmer and a housewife, Hamo did construction work at night to pay his way through college. He holds a doctorate and worked as a civil engineer and consultant to corporations in Syria, according to
Detroit News
.
"I was determined to become a scientist through my own personal will," Hamo told Humans of New York. "I graduated from university at the top of my class. I was given a scholarship to pursue my PhD."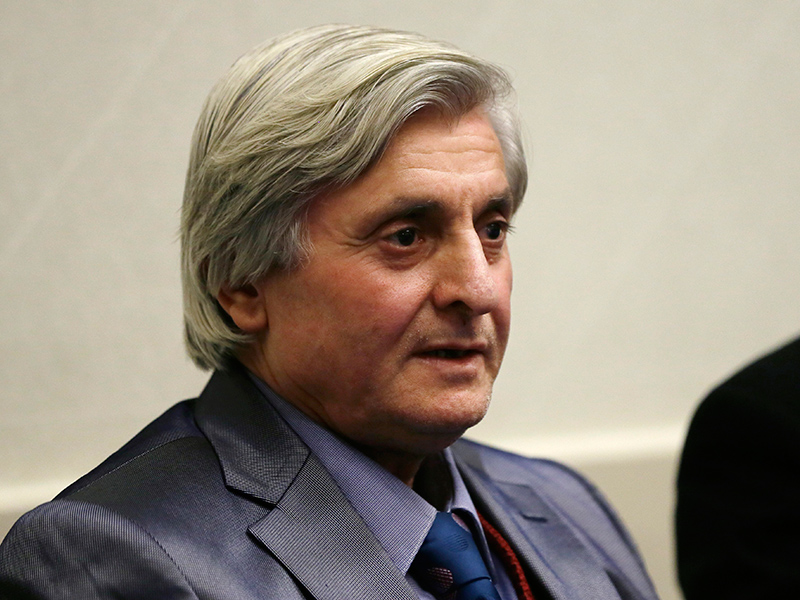 He married his college sweetheart and together they built a family – one that was tragically torn apart at the hands of his own government. After the bombing, Hamo fled to Turkey but was not allowed to work because he didn't have a residence permit. He was diagnosed with stomach cancer but had trouble getting treatment without health insurance. After two years in Turkey, Hamo was granted refugee status to move to Troy, Michigan, right outside Detroit. Hamo and his three daughters and son arrived on Dec. 17 and moved into a condo.
"I suffered for my dream," Hamo told Humans of New York. "I gave everything. If I had 100 liras, I would spend it on a book. My ultimate goal was to become a great scientist and make a lasting contribution to humanity."
Hamo received an outpouring of support after his story was posted to Humans of New York's Facebook page. The president himself commented on the post, calling Hamo "an inspiration." "As a husband and a father, I cannot even begin to imagine the loss you have endured. You and your family are an inspiration," Obama wrote. "… I know that the great people of Michigan will embrace you with the compassion and support you deserve. Yes, you can still make a difference in the world, and we're proud that you'll pursue your dreams here. Welcome to your new home. You're part of what makes America great."
"I was thrilled when I heard that President Barack Obama is welcoming us into the United States," Hamo said in a statement, according to
USA Today
. "I felt that hope was revived as well as the strength to continue my dreams and ambition in my new country. I am so proud and honored to be in this country and look forward to one day becoming an American citizen so that we can be part of making America a strong and great country."