The entire
Cruz family
took a hit on Tuesday night.
Texas Sen. Ted Cruz
suspended his presidential campaign
after
losing the Indiana GOP primary
to
Donald Trump
Tuesday – and gave his wife a couple of accidental whacks in the process.
While delivering his concession speech from Indianapolis, Indiana, Cruz unintentionally delivered the one-two punch, bumping and then elbowing Heidi Cruz in the face. The 45-year-old was hugging his father and Heidi when the impacts happened – a moment forever memorialized on video.
While Cruz had been adamant that he would battle it out with Trump until the end in hopes of a contested convention this summer, he
said on Tuesday
that his "path has been foreclosed."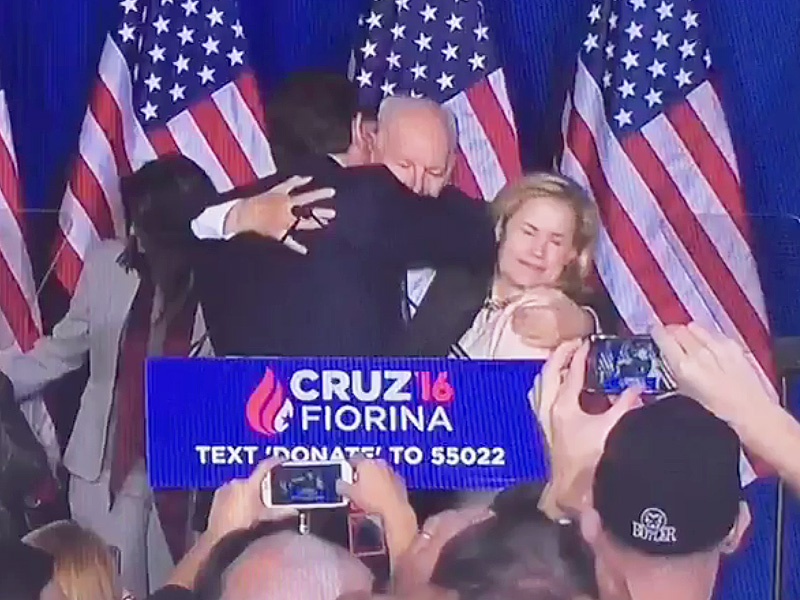 "But hear me now," he told supporters. "I am not suspending our fight for liberty. I am suspending our fight to defend the constitution; to defend the Judeo-Christian values that built America."
WATCH: Voters React to Ted Cruz Dropping Out of the Presidential Race
Ahead of Tuesday's primaries, Cruz didn't hold back his disdain for Trump, calling the billionaire businessman "utterly amoral," according to
NBC News
.
"This man is a pathological liar," Cruz charged, adding that Trump was also a "serial philanderer."