A lawsuit filed in Florida's Palm Beach County Courthouse seeking to block the return of an iPhone to the family of one of
two boys lost at sea
in July may soon be dropped if both families give consent to allow a full investigation of the phone's data.
On July 24, longtime friends Perry Cohen and Austin Stephanos set out on a boating excursion from Florida's Jupiter Inlet – something they'd done many times before growing up in coastal South Florida. But as night fell and a storm brewed, the boy's families lost contact. Cohen and Stephanos, both 14, would never be seen again, despite a weeks-long search by the US Coast Guard and dozens of others who combed sea, air and land for clues to the boys' disappearance.
Eight months later, however, crewmembers aboard a Norwegian freighter spotted Stephanos' 19-foot Seacraft
boat overturned and floating in a shipping channel
about 100 miles off the Bermuda coast. Hidden inside the boat's compartments were the boys' tackle and other personal effects, including Stephanos' iPhone, which since has been airmailed back to the Florida Fish & Wildlife Conservation Commission and quickly became the source of a potential legal battle.
Soon after the discovery, state investigators announced that, because the teens' disappearance is not considered a criminal case, the items would be returned to the families. The Cohen family, however, quickly challenged that decision, saying that all items, particularly Stephanos's iPhone, should be held by law enforcement until a full forensics investigation can be completed. On Monday, Pamela Cohen filed a lawsuit with the Palm Beach County Court, naming Austin's father, Blu Stephanos, and the Florida Fish and Wildlife Conservation Commission as defendants and seeking to block the return of the iPhone and other items found pending a forensics investigation. The complaint argued that because Perry's own phone was broken that day and he had sent messages to his family on Austin's iPhone, both families have a privacy interest in its contents. It also cited highly publicized issues with retrieving data from the iPhones of the suspects in the December 2 terrorist attack in San Bernardino, California.
"Plaintiff believes the information on Austin's iPhone must be collected by technology experts who have the expertise required to extract such data without unnecessary risks of losing such information inadvertently or due to inexperience in such highly technical matters," the complaint reads. "It is now well known that multiple attempts at entering a security passcode on an iPhone will result in the destruction of information on the iPhone. This was the subject of great public awareness and litigation between the FBI and Apple in the wake of the horrific San Bernardino terrorist attacks."
Both boy's families took to social media to state their cases. Cohen plead with the Stephanos family to give their consent to allow the FFWCC to keep the phone in its custody until all potentially retrievable data including text messages, photos and GPS location information could be extracted and analyzed. Blu Stephanos posted assurances that his family was working with the phone's manufacturer and independent IT specialists to get the phone operational again and would share any relevant information retrieved with the Cohen family and the proper authorities.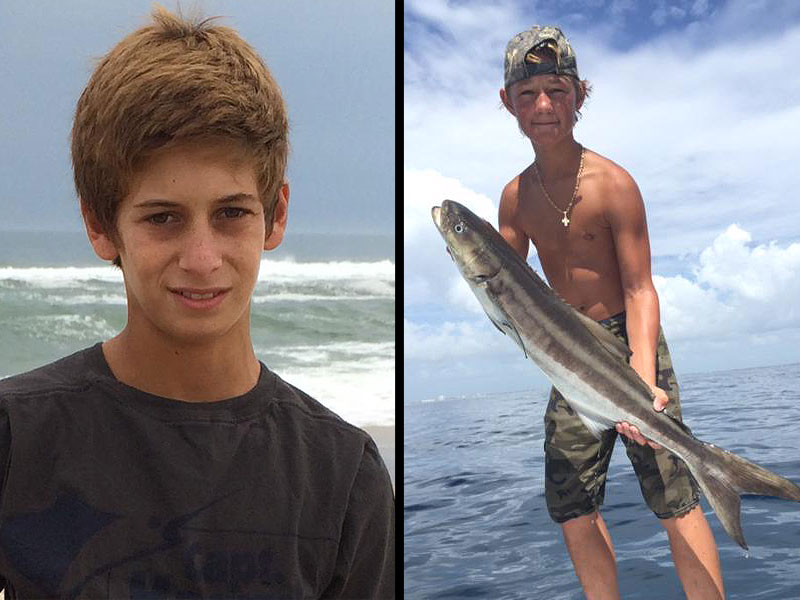 Now, it looks as if there may be a quick resolution to the lawsuit.
"In the interest of cooperation and to help both families learn more details about what happened to our boys, we accept the offer of Blu Stephanos to share the contents of the iPhone with us and the FWC," Pamela Cohen said in a written statement released Tuesday. "Therefore we will be withdrawing our lawsuit as soon as FWC receives the written consents it needs from both families to put the iPhone in the hands of the best impartial iPhone extraction experts available, in a proper legal chain of custody."
Cohen also posted on Facebook a copy of her signed consent, which reads: "I hereby consent to the put the iPhone in the hands of the best impartial iPhone extraction experts available, in a proper legal chain of custody, and for the FWC to retain this iPhone and any information retrieved by such experts that may be helpful in determining what happened to my son, and to confidentially share that information with the families of both boys."
"They want to drop the case," Cohen's attorney, Guy Bennett Rubin, told PEOPLE on Tuesday afternoon. "They have signed a consent to the FWC and they've asked the other family to sign the exact same consent. As soon as we receive those consents, we will drop the case. We have no interest in litigation anything. Our only interest is in getting as much information as there is to find out what happened."
While awaiting a response from the Stephanos family, Rubin filed a motion with the Palm Beach County Court for an emergency hearing on the injunction requested in the lawsuit. Judge Gregory M. Keyser will preside.
Meanwhile, "One day at a time, one issue at a time," Rubin said when asked how his clients were coping with the loss of their son and the possibility of finally getting answers they've desperately prayed for. "They have a very successful business which is probably a welcome distraction but this is their priority. Mom, Pamela is just an incredibly strong and composed woman that I admire greatly. I don't see clients like this often. She's very determined to speak for Perry because he can't."