Teresa Giudice
made her fitness a priority during her nearly yearlong prison stay – and now, she's got the figure to prove it.
The reality star and
mom of four
showed off her toned physique in a black, cleavage-baring, lace-up dress Wednesday night at 49 Grove in New York City, where she celebrated the launch party for her
tell-all prison memoir
.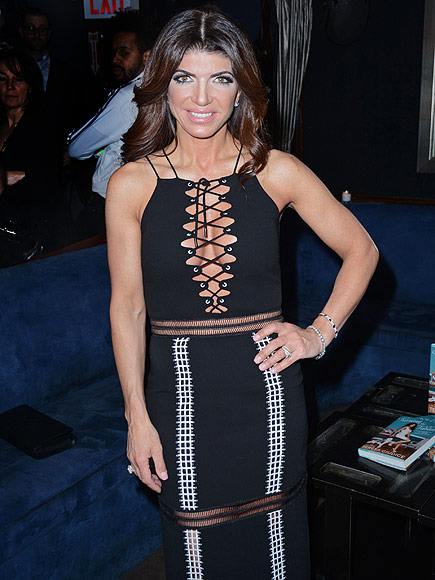 Her husband
Joe
, 43, was also in attendance in a show of support for the Bravo star's book,
Turning the Tables: From Housewife to Inmate and Back Again
, which chronicles her sentence at Danbury Federal Correctional Institution, a minimum-security satellite camp for women.
And, according to posts on Twitter, Giudice's sister-in-law
Melissa Gorga
, as well as fellow New Jersey Housewife
Jacqueline
and
The Real Housewives of New York
's
Dorinda Medley
joined her at the event.
How much do you love this @melissagorga @JacLaurita @Teresa_Giudice togetherness? #RHONJ Photo by #SteveYGardner pic.twitter.com/DXrUMh7Ig5

— Steve Y. Gardner (@SteveYGardner) February 18, 2016
Thank you @DorindaMedley for coming out last nightpic.twitter.com/jY1HnEOI5r

— Teresa Giudice (@Teresa_Giudice) February 18, 2016
In a recent
exclusive interview with PEOPLE
, Giudice, 43, explained that working out became a vital way to pass the time in jail and helped her get in the best shape of her life.
"I tried to stay busy. I would work out three times a day. That was my thing," Giudice said, explaining that her day started out with daily yoga sessions (the prison held two classes each morning in the TV room), then different workouts depending on the season.
"In the wintertime I would go to the gym, and in the spring and summer I was constantly on the track walking or running," Giudice added.
RELATED VIDEO: Teresa Giudice Taught Exercise Classes in Prison!
But of all the workouts, the
Real Housewives of New Jersey
star said yoga was the one that changed her life.
"It got me though this whole ordeal, and I can't live without it now. I already signed up to get
certified as a teacher
," she said.
And it all paid off, said the star: "I was bigger. Now I'm leaner and more toned. I think I only lost 8 lbs. because it's mostly muscle, but I'm a size 2 now."
RELATED VIDEO: Teresa Giudice Tells All!
As for her
diet
, Giudice said eating healthy wasn't always easy: In the morning, the options were oatmeal or bran cereal. For dinner, the choices ranged from hot dogs to tacos, and occasionally salad would make it onto the menu.
"In the beginning I tried everything, and then I started staying away from the meat," she said, adding that she "was starting to cut out the carbs, so it worked out anyway."