Four sorority sisters from the University of Georgia were killed and a fifth left in critical condition after a car accident on Wednesday night.
According to a statement from Oconnee County Sheriff Scott Berry, three of the girls died at the scene and another two were taken in critical condition to a local hospital where one more student succumbed to her injuries.
In the car were Kayla Canedo, Christina Semeria, and Halle Scott, all 19, as well as Brittany Feldman 20, and Agnes Kim, 21, who was driving the car and is the only surviving victim.
According to the
Athens Banner-Herald
, the accident happened shortly after 9 p.m. on a two-lane highway. The girls' Toyota Camry crossed the center lane and was hit on its passenger side by an oncoming car.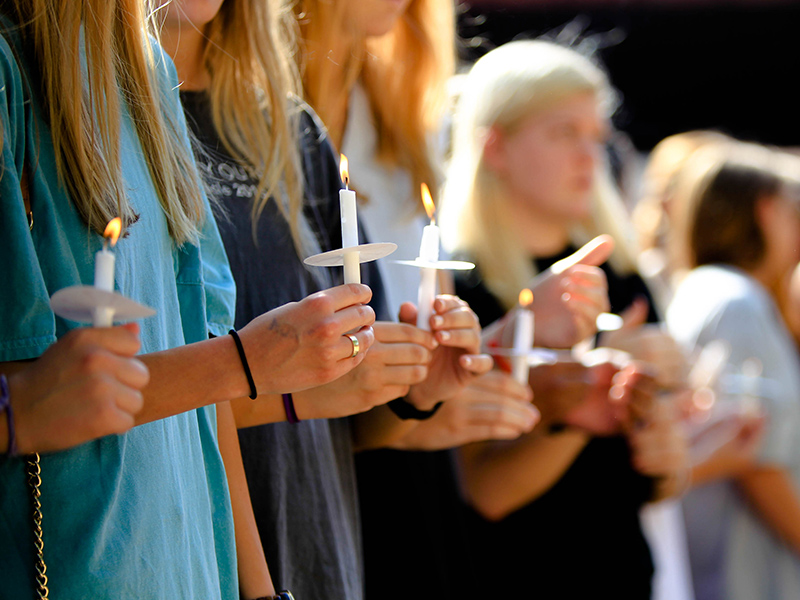 Taylor Carpenter / Atlanta Journal-Constitution via AP
Police are reportedly unaware of what caused the car to drift over the middle lane, but they do not believe alcohol played a role in the crash.
The driver of the second vehicle was identified as a 27-year-old woman. She was taken to a hospital and treated, but has since been released, the
Herald
reports.
Crowd at Tate Plaza continues to growpic.twitter.com/MawgYg5tQV

— UGA (@universityofga) April 28, 2016
Very somber with breaks of soft laughter. These women are fondly remembered by our Bulldog family #UGAstrong pic.twitter.com/prr9qz0ajd

— UGA (@universityofga) April 28, 2016
Sharing a lengthy statement after spending time at the hospital, Berry said that friends, other sorority sisters and family members had gone to the hospital to mourn the loss of the young ladies, as well as pray for the recovery of Kim.
"We grieve with them and we pray for comfort and solace during these unimaginable circumstances," Berry said in the statement on Facebook. "The surviving occupant of the car is in critical condition and we pray for her healing as I am sure you do."
On Thursday, the University of Georgia issued a statement asking the school community to "keep these students and their family and friends in your thoughts and prayers."
While addressing the media, the university president Jere Morehead called the accident "truly devastating."
Thursday evening the school held a community gathering where a huge group of students came together to pay their respects. The school also offered counseling services to anyone who might need them.
The accident is still under investigation by Georgia State Patrol.