If wedding bouquet-catching were an Olympic sport, a special spot would be reserved for Jamie Jackson at the top of the podium.
The 37-year-old Salt Lake City, Utah, woman has been to more than 80 weddings, catching the bridal bouquet a record 46 times, edging out other single women in the room like a defensive back intercepting a touchdown pass.
The irony, of course, is that Jackson is still single.
"I've pretty much crushed that 'next-to-be-married' myth," she tells PEOPLE. "I've had boyfriends, sure. But I'm liking the single life. Besides, if I were married, I'd have to give up my favorite sport."
While she didn't set out to notch a world record – she says she's been to so many weddings due to her family's connections to musical theater and their church – she decided to apply for it after learning that the previous wedding-bouquet-toss record holder, Stephanie Monyak from Pennsylvania, had caught only 15 bouquets.
"I got in touch with her and she says she's now going to more funerals than weddings," says Jackson. "So I figure I have this thing in the bag."
She's sent all the documentation to the Guinness Book of World Records and is waiting to hear back.
In the meantime, she's just having fun.
"I can't help it – it's now an obsession," says Jackson, who used to work as a wedding planner and is now an athletic trainer – a job that keeps her in prime physical condition to run for the roses.
"At every wedding I get invited to, I just have to have that bouquet," she says. "I plot out my strategy as soon as I get there."
It all started in 1996, when Jackson attended her cousin Justin Green's wedding in Layton, Utah.
"I'm kind of competitive by nature, so when his new bride tossed her bouquet, I went for it," she says. "Some single girls might shy away from it, but not me. After that wedding, I just knew that I could do it again."
And has she ever.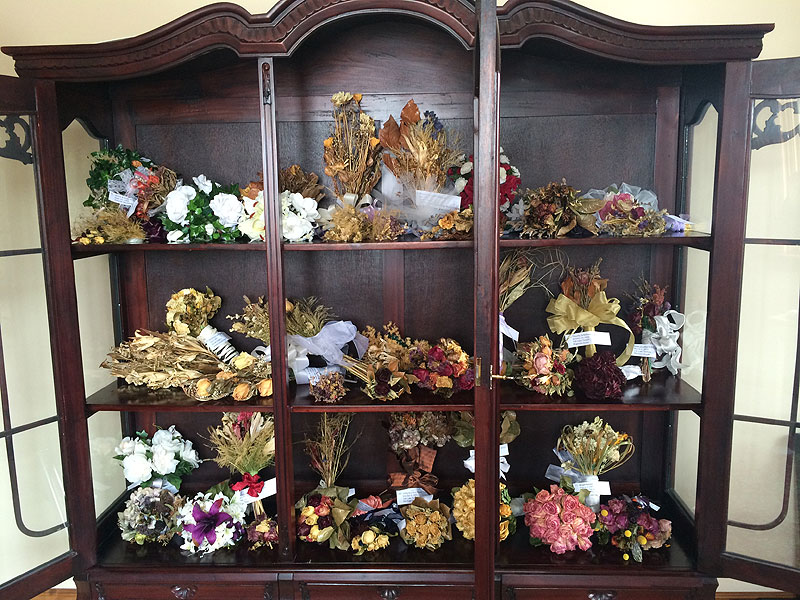 A display cabinet in the Victorian home that Jackson shares with three other single women is full of colorful bouquets, sprayed with clear lacquer so they'll look fresh for time and all eternity.
"Jamie is definitely a force to be reckoned with in the bouquet toss," says Nichole Keddington, 30, a close friend of Jackson's in Salt Lake City.
"Some girls might be a little bitter that they'd caught so many bouquets and had never thrown their own, but not Jamie," she says.
"She's excited for all her friends and truly enjoys helping them with their weddings as well as having fun herself," says Keddington, whose bouquet Jackson caught last October. "She's a true gem."
Former high school chum Bethany Hall, 35, of Herriman, Utah, who was married 12 years ago, agrees.
"Jamie is spunky and aggressive, but always kind," she says. "It was so much fun to see her short and petite body (Jackson is 5' tall) leap into the air and catch my purple rose bouquet. Over the years, she's really turned her hobby into an art form."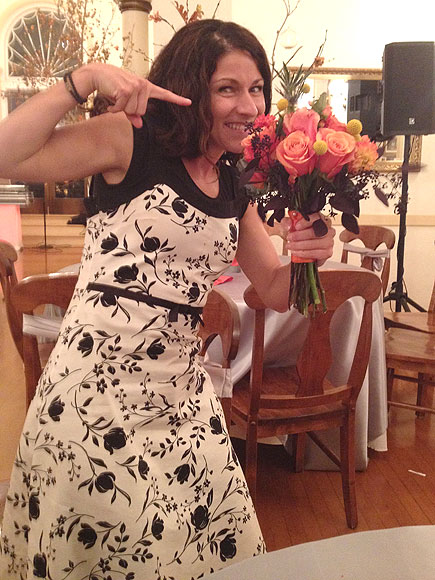 Without revealing too many secrets, Jackson, known to friends as "The Bouquet Slayer," says the key to her success is simple.
"Position, position, position," she explains. "You have to be in the front if you want the best chance of catching the bouquet. Because usually when the bride tosses it, she throws it straight up and it will hit a ceiling or a chandelier then go straight down."
Kicking off her high heels also helps, she says, "especially if I feel like it's going to get aggressive out there and I'll need a good grip."
Jackson has fought for the bouquet only twice – both times were with her twin sister, Melissa, also single.
"It was a battle and she won both times," she says. "But at the end of the day, she has two bouquets. And I have 46."
She laughs when people compare her situation to the movie
27 Dresses
, about a woman who has saved all of her bridesmaid dresses.
"A movie called
46 Bouquets
? I like the sound of that," she says. "But hold on a minute. I still have some more to catch. I'm hoping to make it an even 50."