At 6 feet tall and 334 pounds, Marine Corps veteran and champion weightlifter David "The Beast" Douglas, 29, is a formidable opponent who turns heads wherever he goes.
But the Palmdale, California, father of five admits he is no match for a 12-year-old girl who stands 3 1/2 feet tall, weighs 30 pounds and is affectionately known as his "little sis."
Lindsay Ratcliffe of Flat Rock, Michigan, is among only an estimated 150 children in the world to have
progeria
, a rare, fatal genetic condition that causes premature aging at 8-10 times the normal rate, with most of those afflicted dying of heart attacks or strokes at about age 14.
"You would never know that she was fighting something so hard because she is always smiling or giving a sarcastic answer to make you laugh," Douglas tells PEOPLE. "I'm just another guy who lifts weights. But Lindsay lifts spirits, puts smiles on people's faces and pumps love into their hearts."
•
Need a little inspiration? Click here to subscribe to the Daily Smile Newsletter for uplifting, feel-good stories that brighten up your inbox.
The unique relationship between Lindsay (also called "Beauty" by Douglas) and "The Beast" recently went viral when Douglas posted a photo of the pair walking hand-in-hand at the Mall of America in Bloomington, Minnesota, after a weightlifting event.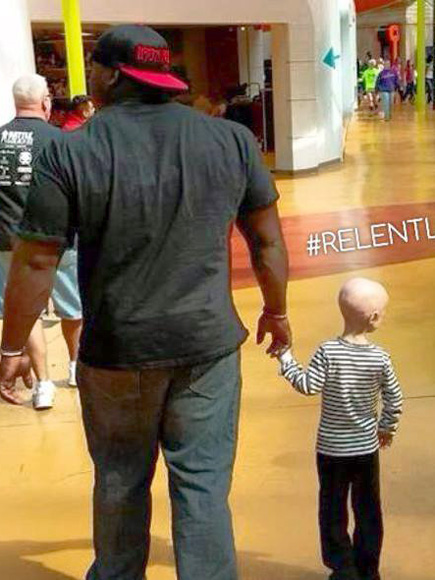 Lindsay had convinced Douglas to accompany her on the mall's indoor roller coaster, even though the powerlifter was terrified.
"She said, 'It's okay – you can hold on to me," he tells PEOPLE. "She knew that she was literally the only one on this earth who could make me do something like that because I wouldn't tell her, 'no.' It was a humbling moment."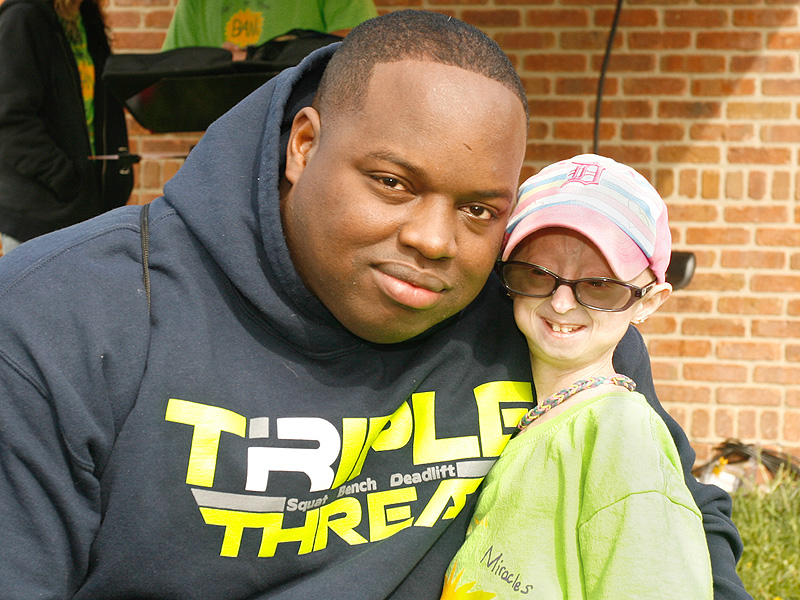 Courtesy the Ratcliffe Family
"Lindsay's been my 'lil sis' since day one," adds Douglas, who met the girl and her parents, Joe and Kristy Ratcliffe, in 2013 when he volunteered to participate in a weightlifting event put on by the charity
Relentless Powerlifting
, in Detroit, near their home. "She's pulled me out of rough spots just by thinking of her. That's a priceless gift. I've made it my duty to help her out in any way I can."
Lindsay was 4 1/2 months old when she was diagnosed with progeria after her parents noticed that she couldn't straighten her legs because her skin was too tight and appeared aged-looking. Although devastated, the Ratcliffes, who have no other children, were determined to give their daughter a normal, happy life.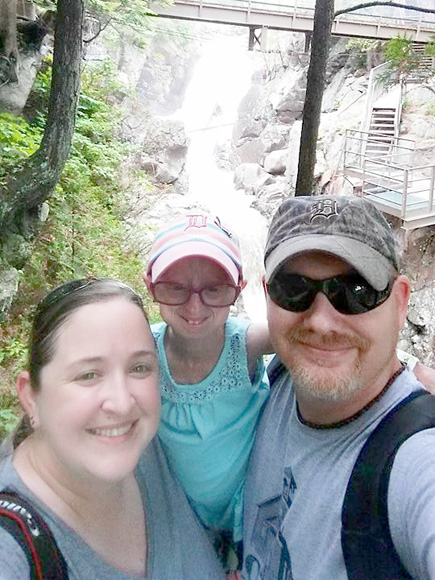 Courtesy the Ratcliffe Family
"We've never talked down to her – we treat her like a normal, everyday kid," Joe Ratcliffe, 37, an Army veteran, tells PEOPLE. "Lindsay is extremely smart and handles herself well. We couldn't be more proud of all she's accomplished."
On the honor roll at her junior high school, Lindsay loves ballet, hip-hop and hiking and dreams of becoming a marine biologist.
"She's an explorer – she loves to get out into the woods and get dirty," Kristy Ratcliffe, 34, a childcare provider, tells PEOPLE. "We've made it a goal to take her camping in all 50 states and have about 10 to go. With warm weather coming up, we'll be camping all summer long."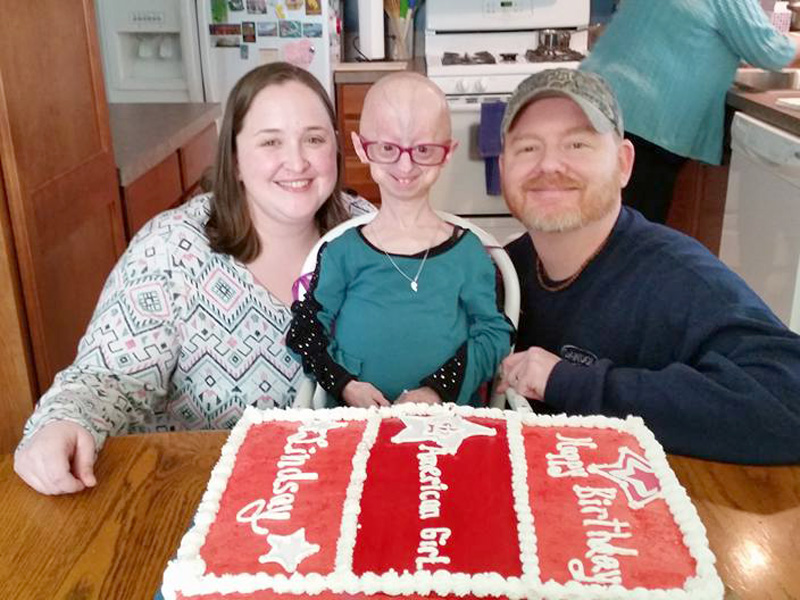 Courtesy the Ratcliffe Family
More visits are also planned with Lindsay's "big brother," who is married with five children ranging in age from 3 to 10. The pair regularly chat via FaceTime and surprise each other by showing up unexpectedly now and then.
"Lindsay is normally very shy if she doesn't know people, but the second she gets comfortable, you get the typical sass and sarcasm that you get with any 12-year-old," Kristy tells PEOPLE. "She and David clicked immediately. He's a big guy, but he's also a softie. He's become family."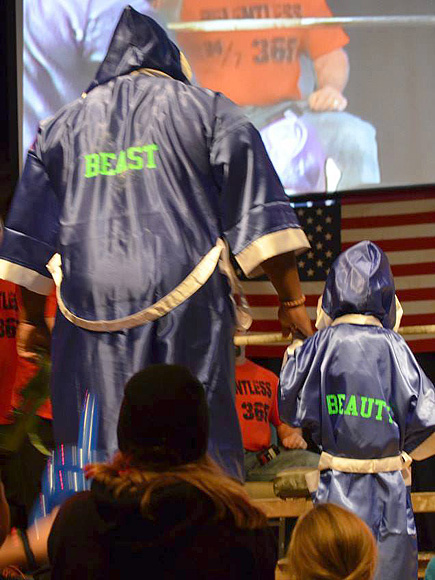 "He's like a big teddy bear," adds Joe. "It's the funniest thing in the world to watch them together, because she has him wrapped around her little finger. There's such a strong bond there. David genuinely wants to help."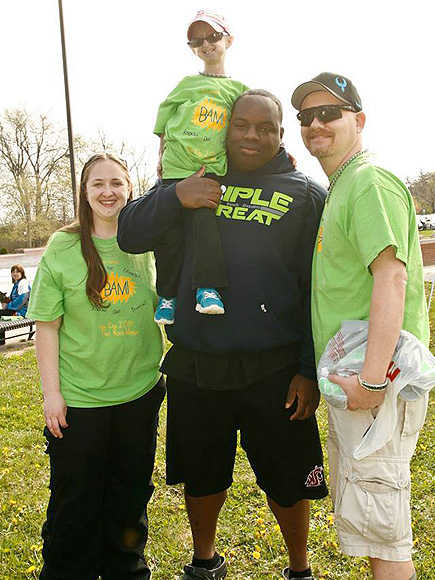 Courtesy the Ratcliffe Family
When the retired Marine learned that Lindsay is among only 15 children in the United States to have progeria, he stepped up to help the Ratcliffes in their crusade to raise awareness. The couple will be holding their 11th annual
Miles for Miracles
walk – led by Lindsay – in Flat Rock on May 7, with proceeds benefitting progeria research.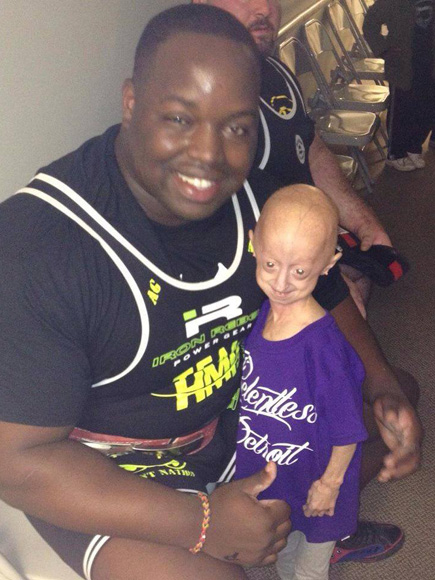 After spending time with Lindsay, "it helps me to rebuild my thought process on negative situations in life and learn how to handle them," Douglas tells PEOPLE.
"Lindsay and her family have changed my life in so many ways," he says. "The love they have shown to me and how much they've accepted me into their family will forever be something I talk about and try to recreate for others until the day I die. I am blessed to be a part of them, and even more blessed to be around this little girl."