Racquel Smith attended a Friday public viewing for husband Will Smith, still carrying her own wounds from the shooting
that killed the former New Orleans Saints star
on April 9.
Racquel, in dark sunglasses, riding in a black wheelchair, appeared in public for the first time following the fatal shooting last weekend.
At Friday's viewing at the Saints training facility in Metairie, Louisiana, she spent time with Will's former teammate Pierre Thomas, among others.
Will's casket was adorned by white flowers, below a large image of him on the field.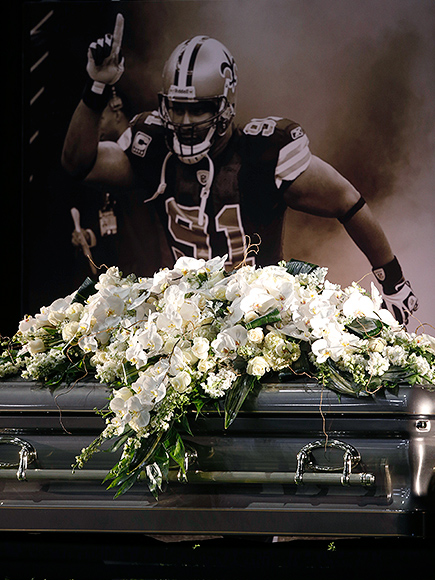 In the wake of his death, the Smith family has been surrounded by public and private support, including
from Saints officials
, Will's
former teammates
, and
Racquel's friend
Kim Kardashian West
.
Police have alleged that Will was shot and killed, and Racquel wounded in her legs, by 28-year-old Cardell Hayes following a fender-bender crash Saturday, April 9, that triggered some kind of altercation between the men.
•
Want to keep up with the latest crime coverage? Click here to get breaking crime news, ongoing trial coverage and details of intriguing unsolved cases in the True Crime Newsletter.
Hayes was arrested soon after the shooting and charged with second-degree murder. His lawyer, John Fuller,
has said
, however, that he had a "strong suspicion" Will may have been "under the influence of some kind of mind-altering substance" that night.
"It would be safe to say that not only did my client feel threatened but citizens that were out there on that block felt threatened as well," Fuller said.
A fully loaded 9mm pistol
was recovered from Will's vehicle
, police said, but Smith family attorney Peter Thomson
has said that
"at no time during this event" did Will "ever brandish or carry" the gun, and that he had a state license to carry it concealed.
Thomson also dismissed the implication that Will may have been intoxicated that night or that the violence was precipitated by an earlier hit-and-run involving the Smiths and Hayes.
Thomson alleged that Hayes showed "no remorse" while firing on the couple.
Hayes is held on a $1 million bond and will next appear in court, for a preliminary hearing, on April 28.