In 1960, Daphyne Watson was thrilled when she heard an announcement at her elementary school in Long Island, New York, calling for any girls interested in joining a Girl Scout Brownie troop to line up in the hall after class. Watson, then 7, had long admired other girls' Brownie uniforms and was looking forward to wearing one of her own.
But before she could get a chance to sign up, her second-grade teacher pulled her aside. "I'm sorry, Daphyne," the teacher told her, "but you'll have to get out of line. Little black girls can't be Brownies."
Crushed and in tears, Daphyne took the bus home. She never told her parents about what happened "because I didn't want to upset my mother," recalls Watson, now 63. "There were only two black families in our town and the world was very different than it is today. In some parts of New York at that time, it was just like living in the south."
Watson, who eventually graduated from college and started a successful career in social work, moved to San Diego in 1989 and raised three children as a single mom. She's now focused on her role as the executive director of Mental Health America of San Diego County, but she was taken back 55 years last summer when her 8-year-old granddaughter, Spring, came over to show off her new Brownie uniform.
"I told Spring that I was so proud she was a Brownie because when I was a girl, I couldn't participate because of the color of my skin," she tells PEOPLE. "It was the first time I'd ever said anything about it."
Both Spring and Watson's daughter, Sophonya Simpson Adams, 41, were stunned.
"I cried all the way home," recalls Adams, a health care consultant in San Diego who is a leader for Spring's troop. "I couldn't imagine any teacher or person in authority doing that to a child. My heart just ached for my mom. Her entire life, she has always been a leader, helping others. She has lived her entire life as a Girl Scout."
Saddened by the news, Spring turned to her mother in the car after their visit and asked, "Mommy, what can we do?"
"It wasn't right that my grandma couldn't be a Brownie," Spring tells PEOPLE. "I knew we had to do something about it."
At the next meeting of Brownie Troop No. 4044, Adams told the other two troop leaders and 12 girls her mother's story. "Before I could even finish," she says, "everyone was saying, 'When are we going to do something about this? She couldn't be a Girl Scout then, so let's make her a Girl Scout now.' "
Without telling her mother, Adams called Girl Scouts of the USA to find out how a wrong could be righted – five decades later.
"We didn't want her to be made an honorary scout – we wanted her to be made an official Girl Scout," Adams tells PEOPLE. "They told me we'd have to hold an investiture ceremony so she could take the pledge, making it all official."
So on February 13, Adams and her troop of girls decorated the auditorium at
Frances Parker School
– where Spring is in the second grade – bought a cake and held a surprise ceremony for Watson.
"I thought I was going there for a school meeting," says Watson, "when suddenly my daughter gets up and tells my story and says that they are going to make me an official Brownie in their troop. I was just floored. It was such a beautiful experience, seeing these young girls stand up for what is right."
Each of the girls presented Watson with a patch to welcome her into Troop No. 4044. "I presented my patch for the many years she gave back to her community," says Maggie Krongard, 8, who was impressed to learn of Watson's 30 years in social work.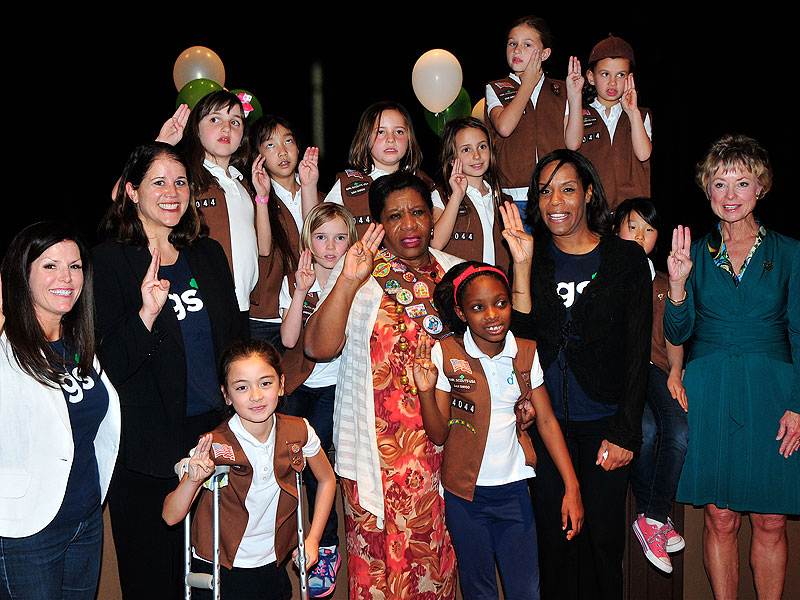 Courtesy Troop 4044 and Paul Nestor.
Adds another Brownie, Keira Dunn, 8: "I just knew that it was right for her to become a Girl Scout because she wasn't treated right in the old days."
A spokesperson for the
Girl Scouts of the USA
says the organization couldn't be happier that Watson was finally able to take the Girl Scout pledge.
"We are so proud to call Daphyne a Girl Scout for her lifelong commitment to social services and her continuous involvement with Girl Scouts to ensure that all girls have the opportunity to thrive," says Sarah Gormley, chief marketing officer for GSUSA. "In 1956, Martin Luther King Jr. described Girl Scouts as a 'force for desegregation,' and we're proud to continue to advocate for Ms. Watson and all girls."
As for Watson, she now attends troop meetings with her granddaughter whenever her schedule allows, and she just finished her first Girl Scout cookie sales campaign. "I sold eight boxes," she says proudly, "which I thought was pretty good for the first time."
Her granddaughter laughs. "I sold 500 boxes," says Spring. "So my grandma has some catching up to do."
Know a hero? Send suggestions to heroesamongus@peoplemag.com. For more inspiring stories, read the latest issue of PEOPLE magazine