He boasts the perfect Hollywood pedigree as the son of
Kurt Russell
and
Goldie Hawn
– but now, Wyatt Russell, 29, is joining the family business. The actor, 29, is starring in the
Richard Linklater
's '80s romp
Everybody Wants Some!!
, which follows a group of college baseball players partying during a long weekend.
So who is the youngest son of the Hawn-Russell dynasty, which also includes half-siblings Kate and Oliver Hudson, and Boston Russell? Here are 5 things to know: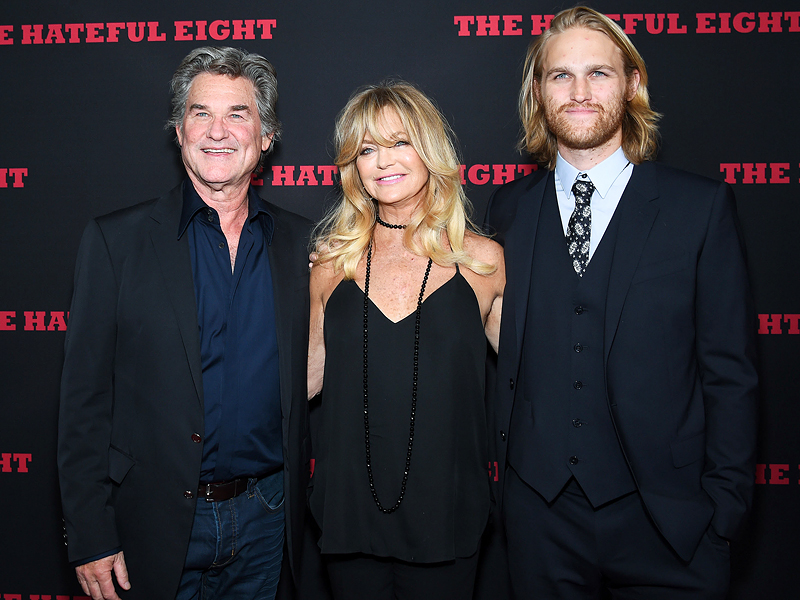 1. His background as a professional hockey player helped prepare him for the role.
"I think it was imperative, to be honest," Russell says. "Coming from that world, I was able to go back and reflect on what those experiences in my real life taught me. To be able to portray what I learned as an athlete through my character was really fun and very fulfilling. In hockey there are no second chances, but the great thing about acting is that there actually are. If you do a scene and you think you can do better – take two!"
2. He formed a close bond with his fellow cast mates.
"[It was] the most incredible experience of my life, and I think most everyone says the same thing," Russell says of acting with cast mates like Ryan Guzman and Tyler Hoechner. "Before filming, [Linklater] took us to a ranch in Texas for about three weeks, and we made a bunkhouse and just hung out together. Everybody fell into a bromance with each other."
3. He didn't have to join the acting world to cement his bond with his parents and half-siblings Kate and Oliver Hudson and Boston Russell.
"Having parents that have been through the wars of films and having a brother and sister who have done it at the highest level, you gain an appreciation. But we've always had closeness as a family. That's our anchor."
4. His parents gave him advice about joining the acting world.
"The best advice was that there's no real advice. 'There's no magic pill I can give you, there's no magic thing I can say to make you good or make you feel comfortable.' It was literally the basics: be on time, know your lines and be a nice guy."
5. He's a dead-ringer for his dad in younger days.
"I think it's hard not to [see the resemblance]. I love my dad more than anybody, so I take it as a compliment. The Russell side of my family is a clan with some serious genetics."