What makes a perfect plus one?
Zoe Kazan
's new project
The Walker
is on a comic journey to find out.
The
What If
star teamed up with real life best friends
Carey Mulligan
and Rightor Doyle, to help turn Doyle's idea for a web series,
The Walker
, into a reality.
Four years after filming the episodes,
The Walker
is
now on Refinery 29
as the lifestyle digital media company's first scripted comedy series.
The show, which you can get a peek at below, tells the story of Walker, a gay man who is consistently tapped by straight ladies to be a plus one to events. Realizing his gift for being a stand-in date, Walker decides to turn his skill into a service for famous ladies looking to take a guaranteed good guy to a big event.
Kazan talked to PEOPLE about the new web series, along with the benefits of working with your friends and the challenges of braving Hollywood's many events.
How did you become involved with The Walker?
Rightor and I have been friends for almost ten years. He told me about this project when it was just a tiny pearl of an idea in his head. It was the first thing he ever wrote, and I was really impressed. When he asked me to act in it, it was a no-brainer – such a fun opportunity to make something with friends.
What is your favorite part of the show?
I especially like the storyline between Walker and Betty Gilpin's character, Roz. Betty is one of the best and funniest actresses I know – Rightor says she's his muse. I love watching her in this.
How is this series different from other projects you have done?
Well, it felt more like doing an art project with friends – something we were doing for fun, and because we all love Rightor and wanted to support his vision. There was a real informality to it – we all kind of threw ourselves in and played around.
What is your favorite part about the show?
We shot this four years ago, so there's something special for me about getting to see this group of people I love – some of my closest friends – captured at this particular moment of time. And it's also rewarding to get to see Rightor shine. I've known for years how multi-talented and funny and soulful he is – and now everyone else gets to see that too.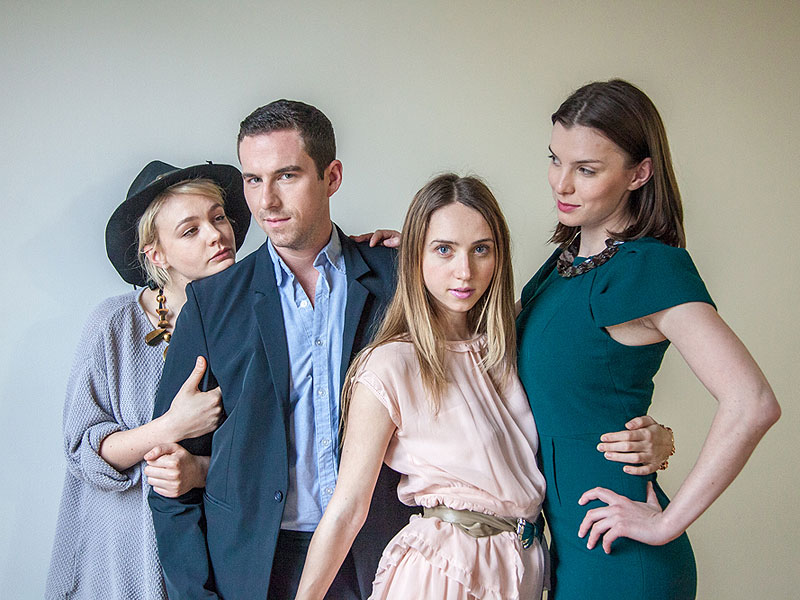 Who do you usually bring when you have a plus one to an event?
My boyfriend [actor Paul Dano]. And, honestly, Rightor.
How did you know Rightor Doyle before starting the show?
We met through a mutual friend, Serena Merriman, almost a decade ago. We had both just moved to New York. It was platonic love at first sight. Within minutes of meeting, it was as if we'd known each other our whole lives.
What is your favorite thing about celebrity events? The worst thing?
My favorite and least favorite thing about all parties is meeting new people. I love that electric moment when you bond with a new friend, but there's nothing worse than having to make small talk all night when you're not feeling it.
What is your advice to single ladies who have a +1 to a party and don't know who to bring?
I like to bring a friend who I know can take care of him or herself socially; he or she can be your home base, but you're still free to mingle. But honestly, my best advice is to wear something you feel great in and go alone! It'll force you to step outside your comfort zone and make new connections.
Any other projects in the works?
I'm currently shooting a horror movie called
There Are Monsters
that I'm so excited about. It's really different for me. And this October, I'm in
Our Brand Is Crisis
, a dramedy starring
Sandra Bullock
, who truly is the
most
beautiful person, inside and out.