People Top 5
LAST UPDATE: Tuesday February 10, 2015 01:10PM EST
PEOPLE Top 5 are the most-viewed stories on the site over the past three days, updated every 60 minutes
Obsessed with Plastic Surgery
Why Do Some People Go Under the Knife Time and Time Again? Four People Tell Their Stories
The former farm boy has had 37 cosmetic procedures to help him feel he fits in the Beverly Hills beauty industry
Steve Erhardt, 49
There's nothing in the Beverly Hills city charter that says residents have to have cosmetic surgery, but tell that to a beauty school grad from rural Pennsylvania who found himself working in an upscale salon there. Twenty years ago, when Steve Erhardt took a job with celebrity stylist José Eber, "I saw the [cosmetic] work up close in my chair," he recalls. "Everyone was so beautiful. I wanted to be beautiful too." Getting a client's recommendation for a surgeon, he began with a nose job—making it narrower with a shorter tip—and had a cleft put into his chin. Pleased with the results, he returned to the same doctor within a few years for an eye lift. The surgeon, Erhardt says, "told me to go away and come back in 10 years." He found a more willing surgeon in Dr. Nikolas Chugay, a Beverly Hills-based osteopath certified in cosmetic surgery. In the last dozen years, says Chugay, who has sometimes imposed a waiting period on Erhardt but never turned him away for any of his 30 surgeries, "we've done just about everything on him. He's very smart about giving himself time to heal." Still, even strangers approach Erhardt to implore him to stop having plastic surgery. His family, says Erhardt, who has run his own salon in Hollywood since 1999, "doesn't want to talk about it. Maybe I'm a little obsessed, but I'm just trying to look presentable." Go below the surface, however, and Erhardt admits that he tends to get work done when he's lost someone. "When my grandmother and stepsister died in a plane crash, I had a face lift. My mother just died, and I think I'll get a cheek lift. The world just cannot see me this down. I don't want to look sad and old."
STEVE ERHARDT'S PROCEDURES
His cosmetic work has cost him $250,000 over a period of 20 years
2 NOSE JOBS
2 EYE LIFTS
3 BODY IMPLANTS
1 FACE LIFT
3 FOREHEAD LIFTS
10 MOUTH IMPLANTS
4 FACE TATTOOS
7 LIPOSUCTIONS
2 HAIR TRANSPLANTS
PLUS Botox and Restylane
3 times a year
A self-described surgery and shopping addict, she racked up $200,000 in debt
Heidi Moore, 48
Ever since she was raped at age 16 by two men, Moore has been trying to erase herself. Cosmetic surgery was one way to do it. Before each surgery, says Moore, "I always thought that when I wake up I will not be me anymore." When the anesthesia lifted, though, she was still herself, but with a new chin or bigger breasts, sometimes to her regret. She recalls her second breast augmentation surgeon telling her, "'You're a sexy little thing, you can handle a DD.' I didn't want to be that big, but I was a compliant patient." Moore ran up $200,000 in debt—through surgery and out-of-control shopping—in part by stealing her mother's identity. "I didn't ruin her credit," notes Moore, a student who lives with mom Ann, 80, in San Pedro, Calif. By juggling her debt from one card to another and covering the minimum due on each, "I always paid the bills." But in September 2005 she was busted by a credit card fraud investigator. Though Moore was "relieved," she felt compelled to answer a TV show ad looking for untreated addicts. Moore landed on A&E's
Intervention
, where she was confronted by her mother and two girlfriends. She agreed to a month at a residential facility undergoing cognitive therapy and a 12-step program. Now she sees a therapist weekly and avoids old temptations: She no longer watches
Dr. 90210
. Still, Moore would like one final surgery. "I want my breasts made smaller. I hate them. I got them bigger so people would look at them, not me. Now I want people to see who I am."
HEIDI MOORE'S PROCEDURES
In six years she spent $100,000
EYE LIFT
2 LIP IMPLANTS
CHIN IMPLANT
CHEEKS RESCULPTED
LIPOSUCTION on neck
TUMMY TUCK
2 BREAST AUGMENTATIONS
DERMABRASION (multiple)
PLUS multiple Botox, Restylane and laser treatments of wrinkles
Once suicidal over imagined flaws in his appearance, he found a cure looking in the mirror
Stephen Fode, 39
I was so obsessed with trying to look as good as I thought I should, I couldn't go out," says Fode, a former salesman at Nike. "When I tell people I couldn't keep a job or have a girlfriend because I didn't think I was perfect enough, they don't get it." Fode, who lives in Glendale, Calif., wasn't always paralyzed by his insecurities about his looks: He had actually done some modeling during college. But when a then-girlfriend suggested he get a nose job, he did. He soon added a chin cleft, then several lip-plumping procedures, including implanting cadaver flesh, a once common but, today, little-used technique. Still he remained dissatisfied. He bought thousands of dollars worth of clothes—only to keep them in boxes "to wear when my hair was good enough, my nose not too big, my skin clear, my weight just right." Scrutinizing his appearance took over his life; he lost his job, and at age 21, moved back in with his mother, Marlene Hartje, using a trust fund left after his father's 1975 death to pay for additional procedures. "He would say, 'I want to die,'" recalls Hartje, who for 10 years searched out therapists for her son. "I talked about my life, my father," says Fode, but nothing helped: "I didn't think I could live much longer." Then, he was referred to UCLA professor and psychotherapist Eda Gorbis, who diagnosed Fode with BDD, which causes patients to fixate on tiny or imagined flaws and can drive them to suicide. "When she told me about BDD," says Fode, "I knew I had it." After a week of hospitalization, during which he received intensive therapy, he began working daily with Gorbis, who treated him with cognitive therapy and antidepressants as well as a novel technique using warped "fun house" mirrors to shift his perception of himself. "I suddenly realized how out-of-whack my self-image had become," he says. After a year of therapy, Fode moved out on his own and continues to look for a job. Though he still gets Restylane wrinkle-filling injections twice a year, he hasn't had surgery in over five years. "I can have a life now," he says. "I now understand it's a disease. I wasn't vain. I was sick."
STEPHEN FODE'S PROCEDURES
$125,000 in 12 years
NOSE JOB
3 LIP IMPLANTS
CHIN CLEFT ADDED
ABDOMINAL LIPOSUCTION
COLLAGEN INJECTIONS
RESTYLANE INJECTIONS
SILICONE INJECTIONS
BOTOX INJECTIONS
SKIN RESURFACING
PLUS "thousands" of laser treatments and peels, and collagen, Restylane and silicone injections
After surgery to correct a breast deformity, she kept fixing and fixing
Twila Solari, 44
Only Sissy Spacek in Carrie had a worse time in a locker room. In sixth grade, Twila Solari was changing for gym when, she recalls, "my friend points and yells, 'Look at your boob!'" Solari suffered from Poland syndrome, a rare congenital disease that caused her left pectoral muscle to be concave. As a result, her left breast appeared "tubular." At age 19, she underwent corrective surgery: A doctor placed an implant over the muscle below her left breast, trying to match it to the right. It wasn't done well, she says. "It looked like there was a hump," says Solari, a Temecula, Calif., stay-at-home mom to son Lance, 16. (Husband Lonny Solari is a Marine First Sergeant deployed to Iraq.) In the 25 years since then, Solari has had six surgeries by five doctors on her breasts to fix the problem: adding a second silicone implant, taking out both and replacing them with saline, changing the size and the positioning. Along the way, she began adding other procedures—chin implants, lip implants, eyelid lifts, liposuction—and not simply as add-ons when she was on the table for breast surgery. Her first was a nose job in 1984, and again Solari was disappointed. "The doctor gave me a scoop nose—it looked worse than what I was born with." She had that fixed too. Some family members grew concerned. "My husband and I were a little afraid she was getting addicted to surgery," says Carlyn McKenny, who is married to Twila's cousin. Solari's current surgeon, Richard Ellenbogen, didn't think so. "Twila had a lot of surgery, yes," says Ellenbogen, who practices in Beverly Hills. "An addict? No. She was obsessed about getting it right." Ellenbogen last operated on Twila's face in February and her breasts in June. At last, she says, she was satisfied: "I couldn't believe it. I was pretty."
TWILA SOLARI'S PROCEDURES
$150,000 in 25 years
CORRECTIVE SURGERY ON BREASTS (1 implant, 1 lift)
2 IMPLANTS TO FIX THE FIRST PROCEDURE
NOSE JOB (plus 2 repairs)
BREAST IMPLANT REMOVAL, REPLACEMENT
SURGERY TO CORRECT REPLACEMENT PROCEDURE
CHIN IMPLANT (plus 1 correction)
LIP IMPLANT
DENTAL VENEERS
EYELID LIFT
FOREHEAD BOTOX INJECTIONS
LIP IMPLANT REMOVAL
FOREHEAD LIFT
FAT LIPOSUCTIONED FROM ABDOMEN, INJECTED INTO CHEEKS
LIP LIFT AND FAT INJECTION
BREAST IMPLANT CORRECTIVE SURGERY
For more information about plastic surgery addiction, go to WWW.PEOPLE.COM/MAGAZINE
Contributors:
Maureen Harrington/Los Angeles.
It doesn't take a trained eye to spot someone who's had too much work done on his face. But when does a person move beyond simply sporting frozen features into the realm of obsession? "There is such a thing as too much plastic surgery," says Dr. Roxanne Guy, president of the American Society of Plastic Surgeons. Too much, she says, is when patients repeatedly turn to the scalpel "to fill an emotional need." They may run up debts of hundreds of thousands of dollars and alienate family and friends in order to undergo multiple invasive and potentially risky procedures. Are they addicted? "It's not an official diagnosis," says Dr. Katharine Phillips, a psychiatrist at Rhode Island's Butler Hospital body image program. "But certainly patients can feel very driven to get cosmetic procedures; that it is their only hope." In some instances, patients may be suffering from body dysmorphic disorder, a debilitating preoccupation with slight or nonexistent flaws that afflicts 1 to 3 percent of Americans, but up to 15 percent of cosmetic surgery patients. With a high suicide rate, BDD "is not vanity," says Phillips. "It's a serious illness." Rather than more surgery, says Guy, people suspected of BDD "need to be referred for a psychological evaluation. Part of our ethical standards is not to operate if there isn't a need." The individuals on these pages—driven to cut and recut their faces and bodies for a variety of reasons—share stories of confronting their fixations.
Advertisement
Today's Photos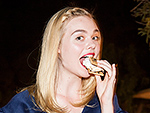 Treat Yourself! 4 Preview Issues
The most buzzed about stars this minute!