People Top 5
LAST UPDATE: Tuesday February 10, 2015 01:10PM EST
PEOPLE Top 5 are the most-viewed stories on the site over the past three days, updated every 60 minutes
A House in Harmony
Singer Melissa Etheridge Hits Just the Right Note with Partner Julie Cypher
"Are you home for lunch or just for a second?" Etheridge asks her live-in lover, Julie Cypher. "Afternoon off," replies Cypher as she drops her keys next to a gallery of family photos on the grand piano. While those close to Etheridge have known for years about her sexual orientation, she didn't come out publicly until a year ago January, when, during a gay inaugural bash for Bill Clinton, she declared herself a "proud" lesbian to a packed house in Washington. "It just came out," remembers Etheridge. "The crowd roared."
Etheridge was equally pleased by the show of fan support for the hit album she released late last year,
Yes I Am
. The title track is not, she insists, a declaration of her sexual preference. Still, it does signify an important affirmation. Says Etheridge: "It's a love song for Julie."
The two met in 1988 when Cypher was working as an assistant director on Melissa's "Bring Me Some Water" video. Etheridge admits to an immediate and "very physical" attraction, but her suddenly blushing partner says her own initial feelings were less clear. "I was drawn to her," says Cypher, shooting Etheridge a smile. "But it never occurred to me that I could be a lesbian."
Cypher was, in fact, in the middle of a four-year, childless marriage to 1987's
La Bamba
star Lou Diamond Phillips. When her feelings grew too strong to ignore, she told Phillips about Etheridge. "It was," says Cypher with considerable understatement, "a surprise." Phillips and Cypher separated in 1990 (when Cypher and Etheridge started dating) and divorced a year later. Phillips married model Kelly Preston last April. Though Phillips has declined to comment about the breakup, Cypher says the two remain close, often socializing together. "It took a lot of hard work," she says, "but now we're really good friends."
The bond between Cypher and Etheridge is deeper—despite the differences between them. Etheridge dresses down, eschewing even lipstick ("I hate wearing it every day"); Cypher, with her nouveau-shag hairdo and dangling silver necklaces, embodies California chic. "Look at her, head to toe she matches," exclaims Etheridge. And then there is the bathroom thing. "She's always telling me to pick up the towels," adds Etheridge, an admitted slob. "We're very opposite. Julie is focused and I float."
Etheridge's personal ascent didn't come as effortlessly as her singing. She and her sister, Jennifer, 36, a housewife in Kansas, were born and raised there by John, a high school psychology teacher who died of cancer three years ago, and Elizabeth, a housewife now living in Arkansas. Melissa got her first guitar at 8 and taught herself to play. At 15, she joined an otherwise all-male band that played rough local bars where occasionally, she says, "chairs would fly."
Her inner life was equally tumultuous. She says she knew by her teens that she was gay, but she told no one. "It's bad enough being straight and dealing with adolescent sexuality," she says. "It was very hard, very lonely." When she was 19, Melissa came out to her mother. Recalls the elder Etheridge: "I didn't quite know how to deal with it." Soon maternal instincts guided the way. "I saw how lovely her friends were and how happy she was," says Elizabeth, "and that's always been my main concern."
Cypher's family—her father, Dick, 66, a retired oil executive, and her mother, Betty, 65, a housewife, who live in Oklahoma City, and sister Melanie, 35, a paralegal in Dallas—reacted similarly. "When I called them and said, 'I'm in love with a woman,' they were, like, 'Ooooh, uh, okay,'" says Julie. "It was a surprise," says Betty. "She had been married, after all. But I met Melissa and liked her, and that made it more understandable." Adds Dick: "It's not that big a deal now." Besides, he notes, "Melissa makes great pancakes."
These days, while Melissa is on tour, Cypher is awaiting the release of her directorial film debut, Teresa's Tattoo, a comedy starring their pal, singer k.d. lang, and Cypher's ex-husband, Phillips. Together Etheridge and Cypher are planning an even more demanding project: parenthood. "I'll keep the how we're gonna have kids to ourselves," says Etheridge. And what kind of parents would these two women be? Says the singer: "Straightfoward and honest."
PETER CASTRO
JOHN GRIFFITHS in Hollywood
Contributors:
John Griffiths.
Advertisement
Today's Photos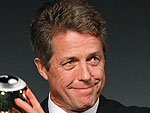 Treat Yourself! 4 Preview Issues
The most buzzed about stars this minute!