People Top 5
LAST UPDATE: Tuesday February 10, 2015 01:10PM EST
PEOPLE Top 5 are the most-viewed stories on the site over the past three days, updated every 60 minutes
Weight & See
After Nearly Dying from Anorexia, Actress Tracey Gold Has Regained Her Appetite for Life
Bonnie is, to be sure, thankful that her daughter has found a loving fiancé in Marshall, a 28-year-old production assistant on the CBS sitcom Hearts Afire. But beyond that, Bonnie is profoundly grateful that 24-year-old Tracey, who for six seasons (1985-92) played the ebullient Carol Seaver on the highly rated ABC sitcom Growing Pains, is alive.
There had been, after all, many moments when it seemed that Tracey would become not a bride but a fatality—a victim of anorexia. "It was like a rubber band," says Bonnie of her daughter's struggles with the disease. "Tracey would get just so far, think she had made so much progress, then the rubber band would snap back."
The insidious eating disorder, whose main characteristic is self-induced starvation, affects some 8 million Americans and claims thousands of lives annually. (See pages 56 and 58 for related stories.) Thus, a little more than two years ago, when Bonnie caught a glimpse of her daughter changing clothes in her dressing room, she was frozen with fear. At an emaciated 90 pounds, the 5'3½" actress looked sepulchral. Despite her brave pronouncement—"They've stabilized my weight," she told PEOPLE in February 1992, after a month of therapy, "and I'm healthy enough to know that I don't want to lose any more"—she suffered a relapse within six months. Her weight plummeted to 80 pounds, and, she says, "all life meant was losing weight, counting calories."
To Marshall, even worse than his girlfriend's inward agony ("I couldn't be there for him," Tracey says, "I could only be there for my anorexia") was his own feeling of powerlessness. "Tracey went through hell," he says, "and I had to sit there helplessly watching it. Nothing I could say would register." What finally did register was Gold's catching sight of her 80-pound self in the mirror one night in September 1992. "I saw somebody," she says, "who would die of anorexia, and I had a panic attack." The diuretics and laxatives she had taken to purge herself made her heart beat even more rapidly, and Gold sat up all night, afraid to go to sleep because she was terrified she would never wake up.
That marked a turning point: Tracey Gold chose to fight to save her life. Today she is decidedly healthier. But she still weighs in at a mere 92 pounds—17 pounds below the minimum weight guidelines for her height as set forth by the Department of Health and Human Services—and the pace of her recovery has been painstaking. "It took me months to make even the slightest bit of progress," she says. "I had gotten to the point where I wasn't eating anything all day." Her adoptive father, Harry, 40, says he now realizes that recovery from anorexia "is a gradual thing, not one great revelation." (The Gold family also includes Missy, 23, onetime costar of the sitcom Benson, who's now studying for a doctorate in psychology; Brandy, 16; Jessie, 9; and Cassie, 5.)
But while Hairy says, "I see Tracey making progress," her Growing Pains dad, Alan Thicke, isn't totally convinced. "I wish I could see her heavier still," he says. "It's my fantasy to see her chunky and say, 'Tracey, I'd like to see you drop a few pounds.' " He's likely to have quite a wail. True, Gold, now rosy-skinned, has lost the ashen complexion she says she had when she was "skinny, skinny, skinny." And, no longer hiding her undersize frame in oversize clothes, she's dressed in a form-filling sweater and pants as she sits in the kitchen of her family's San Fernando Valley home, just blocks from the three-bedroom ranch house she and Marshall bought last October. But Gold admits her wedding dress had to be "scaled down to my size"—size 1. And it's unlikely she'll be eating more than a bite of wedding cake at the elaborate reception she's planning. Even now, says Bonnie, Tracey "sees a lump of butter and shudders." Moreover, it's a Diet Coke Tracey is sipping as she ticks off her daily food intake: for breakfast, cereal; for lunch, frozen yogurt or a fruit salad; for dinner, pasta. She claims she no longer gets "freaked out" when her weight fluctuates. But she has not topped 93 pounds in 16 months, and she continues to climb on the scale daily.
Still, she has gone all that time without a relapse, and there have been breakthroughs, such as the day last October when Gold went to an Italian restaurant and "pretty much ordered off the menu without giving a million different directions to the waitress." In November, however, Gold did make a scene in a restaurant—with fisticuffs. As Gold tells the story (which made tabloid headlines), she, her parents and about a dozen friends, in New York City to shop for Tracey's wedding dress, were celebrating Bonnie's 47th birthday at Elaine's, an Italian restaurant and celeb hangout on Manhattan's Upper East Side. Bonnie got a craving for a cheeseburger, but since burgers aren't on Elaine's menu, a friend dashed out and brought one back from a local takeout place. Bonnie admits she continued "sneaking bites"—even after a waiter told the Golds that owner Elaine Kaufman didn't want an imported burger eaten on her premises. Kaufman, was, in fact, so enraged, says Tracey, that she let loose a stream of profanities as the Golds were leaving. "I lost it," Tracey concedes. "I have a temper and, yes, I hit her."
The spat was only the latest example of the way food has complicated her life. She was only 12 when her pediatrician first diagnosed her anorexia. Four months of psychotherapy seemed to get the problem under control—and then some: by the lime Tracey turned 19 in 1988, she tipped the scales at 133 pounds. This time, she saw an endocrinologist, who put her on a diet of a scant 500 calories a day so she could achieve her ideal weight of 113. She reached that goal in two months, but during the next three years her weight kept dropping, until in January 1992 Tracey was forced to leave Growing Pains and enter an L.A. hospital specializing in eating disorders. After three days, she signed herself out: "I knew if! didn't, not only was Tracey the anorexic going to take over but my mind was going to snap."
Two new men in her life kept that from happening. One was Dr. Michael Strober, head of the eating-disorders clinic at the University of California at Los Angeles, whom Gold began seeing for two hours every day starting in late January 1992. (She's now down to monthly visits.)
The other man was Roby Marshall, whom Gold started dating after they spotted each other in, ironically, a studio cafeteria in late 1989. "My response to Tracey," says Marshall, "was that she's like a bundle of the life and energy that I want to be near." No wonder; Marshall has had to deal with far more than his share of personal tragedy. In 1984, his mother, Maria, was shot dead in a picnic area off a New Jersey highway. The person behind that murder, it turned out, was his own father, Robert Sr., who had hired a hit man so he could collect $1.5 million in life insurance he held on his wife. The macabre tale became the basis for author Joe McGinniss's 1990 best-seller Blind Faith, which in turn became a two-part 1990 NBC miniseries. It was his work as a consultant on that movie that brought Marshall into the lunchroom and into Gold's life.
But when Tracey got on a scale in May 1992 and saw her weight had climbed to 95 pounds, not even Marshall's love could still the panic she felt at being just 5 pounds short of 100. As is common among recovering anorectics, approaching triple digits on the scale triggered Tracey's terror and a relapse. "It's not that I felt fat," Tracey says. "I just felt that if I gained any more, I wouldn't have the same control over my weight." She fell into a cycle of starvation and self-denial. "I was always saying," she recalls, " 'Well, I don't want to eat this now because there might be something I'd rather eat later.' Of course, that time never came." Over the next three months, her weight would drop to 80 pounds.
Nothing Marshall did could distract Tracey from her obsession with her weight. "I tried everything," he says, "from breaking up to taking her to Hawaii." Finally he decided to propose marriage, hoping that might "light a fire." His proposal was as public as it was hopeful. Last May 6, ABC's news show PrimeTime Live aired an interview with Gold in which she discussed her battle with anorexia. At its conclusion, coanchor Diane Sawyer announced that Marshall "is so convinced" Tracey is on her way to recovery that "after the story airs...he's going to ask Tracey to marry him." Recalls Gold: "At that moment Roby got down on one knee and had my ring and placed it on my finger and said, 'Will you marry me?' I was so excited I couldn't breathe. It was magical."
The magic has continued. "My whole life is changing," says Gold. "I want to move on. I want to be a wife. I want to be a mother." She also wants to resume the career she put on hold to wage a full-time battle against her anorexia. Last February, she traveled to Wilmington, N.C., to star in the CBS TV movie Labor of Love—the true story of Arlette Schweitzer, who bore her own grandchildren as a surrogate mother for her daughter Arlette (played by Gold). Not only was it her first acting role since Growing Pains, it was a recovery milestone: "I went away on location for a month," Gold says, "and I did great. I ate on the set. I had not even a smidgen of relapse."
Still, Gold recognizes that she is not yet "a normal person about food." The daily struggle she wages is captured in the pride with which she offers up her latest achievement. "There have been occasions," she says, "when I've had to eat dinner and nobody's been home. But even though nobody would know if I didn't eat, I sit down, watch TV and I eat it all, and it's wonderful. It's a feeling of accomplishment, you know?"
SHELLEY LEVITT
JOYCE WAGNER in Los Angeles
Contributors:
Joyce Wagner.
Advertisement
Today's Photos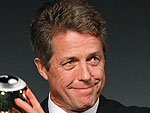 Treat Yourself! 4 Preview Issues
The most buzzed about stars this minute!