People Top 5
LAST UPDATE: Tuesday February 10, 2015 01:10PM EST
PEOPLE Top 5 are the most-viewed stories on the site over the past three days, updated every 60 minutes
Miracle Mama
Six Years After Breast Cancer, a Triumphant Ann Jillian Defies the Odds and Awaits Her First Baby
So she saw one specialist. Then another. And a third. After repeated tests, they pronounced her perfectly healthy. But the indigestion persisted. "I was worried that something was growing inside of me," she confides, her face relaxing into a grin. "And something was. A baby."
Eventually a gastroenterologist ordered a pregnancy test. When a nurse told her she was two months pregnant, the actress says she laughed and cried and "whirled like a dervish." Adds Jillian: "I remember walking out of the doctor's office thinking. 'Hmmmm, the world will know what I've been up to.' "
Today, Jillian, 41, is slightly more sedate as she nestles into a puffy white sofa in the picture-filled living room of her rambling white brick house in Sherman Oaks, Calif. With her husband and manager, former Chicago police sergeant Andy Murcia, 50, at her side, Jillian makes no secret of her joy at being twice blessed: once by surviving cancer and now by conceiving her first child—after age 40. "This baby is a miracle. It's like God nodding and saying, 'I'm pleased with what you've done,' " she says, swallowing hard to control her tears. "God gave me back my life, and I am living my reward." She pats her slightly rounded stomach. "This baby comes with hope—hope for a future for every woman out there who loses her breast to cancer," Murcia adds, "and hope that she might be able to have a kid later on."
Jillian's good fortune is all the more precious because, until a few years ago, breast-cancer patients were generally advised not to become pregnant, even if they had been free of cancer for more than five years. "It was fell that the high levels of estrogen associated with pregnancy promoted a recurrence of the cancer," says Dr. Anthony C. Cahan, chief of breast surgery at Beth Israel Hospital North in Manhattan. Yet in recent studies, he says, "There was no higher rate of recurrence in those who got pregnant than in those who didn't." Still, he warns that the scenario for each woman may be different depending on her type of breast cancer. "The data on the subject are not all in."
No wonder then that Jillian's first phone call upon learning of her pregnancy was not to her husband but to her oncologist, Dr. Barry Rosen-bloom, who assured her that her medical history would not affect her pregnancy. He added, she says, that there was no need to worry about birth detects due to the chemotherapy she had gone through in 1985 because six years had passed since that treatment.
After leaving the doctor's office, an exhilarated Jillian picked up her ear phone and called Murcia, who at first thought she was joking. In their 15-year marriage, they had never used contraceptives—Jillian is a devout Catholic—yet she had never conceived. When she bubbled, "Honey, I'm pregnant!" he replied, "Yeah, right. When you want to talk seriously, give me a call.
Only after Jillian's oncologist phoned Murcia to congratulate and reassure him did reality sink in. When Ann arrived home, Andy still seemed stunned In the news. "He was flushed, his chin was down to the ground, and he was quiet," she says. "Then we looked at each other and started laughing. Now I call him big Daddy, and he calls me Little Mama."
As parenthood looms, the giddy couple spend hours trying out names for the baby (Hope and Andrew Howard lead the shortlist) and shopping for a larger, more child-proof residence—on a quieter street and with no swimming pool. Jillian sketches tiny outfits in a leather-bound book and expands her wardrobe at the nearby Pea in the Pod maternity boutique. Meanwhile, Murcia tends to his wife's every need, squeezing her fresh orange juice, feeding her peanut butter on toast in the middle of the night, even watching as she crosses the street. The couple bill and coo, touch and tease each other. Murcia says that in ultrasound tests the little squiggle on the screen looks just like him. She agrees. He hints that he might faint during the birth. She replies, "No way, José. Daddy is going to see what Mama is going through."
Elation pervades the couple's wisteria-trimmed home, where six years ago there was only anguished uncertainty. It began in January 1985, when Ann, then 35, discovered a pea-size lump in her left breast while showering. After several inconclusive tests, she postponed a biopsy until after a Las Vegas club date. By the end of March, soon after she returned to Los Angeles, a cancerous mass had also grown in her right breast. In April her surgeon, noting that he'd never witnessed such a rapid growth of breast cancer, performed a double mastectomy, removing both breasts and the lymph nodes from under her armpits in a 5½-hour operation.
While Jillian was in surgery, Murcia, also a Catholic, was on his knees in the Cedars-Sinai Medical Center chapel trying to negotiate a deal with God. "I prayed, 'God, take care of her for me, and I will be there with you every Sunday.' " He smiles and adds, "Now I'm literally afraid not to go to church." To survive her ordeal, Jillian too relied on faith. "I said, 'Please, God, don't let me die. I'll fight like you've never seen anybody fight for this gift of life.' "
The couple's close friend, actor Dick Van Patten saw a change in Ann after her surgery. "She seemed more subdued," he says. "She lost her bubble. Now that she's pregnant, the bubble is back. It's wonderful to see." In her first trimester, Jillian still has bouts with indigestion, although she keeps to a disciplined regimen: no caffeine, no greasy food, yogurt instead of her preferred vanilla malts. She takes brisk walks to control her weight and says she is considering "aerobics for mommies." The couple is signing up for Lamaze classes too, although Jillian might be relieved to have a C-section. She has harbored a fear of childbirth since age 6, when she came across pictures of a baby being born and was told years later by her mother that the pain was "like my back was breaking."
"Ann and I call it the 'big ouch!' " says Murcia, who was previously married and has a daughter, Denise, 28, by his first wife and a grandchild, Amanda Catherine, 10 months. "Whatever happens." says Jillian, "Andy will be there." They don't plan on videotaping the delivery, à la
Demi Moore
, but Jillian wants a tape recorder with her because, she says with a chuckle, "I'd like to hear what I say to Andy."
Jillian, who continues to have her blood tested periodically as part of her postcancer care, will have amniocentesis later this month and then be apprised of the baby's sex and any medical complications. "I just want our baby to be healthy and to have all the opportunities it can possibly have," she says. "If it's a girl, I'll teach her, from the time she's budding, about doing breast self-examinations as part of her daily ritual. It's a must."
Murcia minor will not only be savvy but well-traveled, if Mom and Dad are any indication. The couple tour occasionally with Ann's musical act, and Jillian, whose ABC movie Mario and the Mob airs this season, lectures frequently about her experience with cancer. She and Andy don't plan to let the baby slow their pace, although Jillian is cautious. "Maybe I'll say, 'You can do without me for a couple of years. I want to be with the baby.' " Perhaps. But Jillian has already scheduled a singing engagement with the San Diego Symphony two weeks after the baby's expected arrival in February.
Besides, show business is second nature by now. Jillian was born in Cambridge, Mass., to a Lithuanian machinist and his wife but moved to California at age 6 when her parents, impressed by their tot's talents, decided to prime her for a movie career. At 11. Jillian landed her first substantial role: Dainty June opposite Natalie Wood in Gypsy. But it wasn't until 1979, when she was 29, that Jillian got her big break—as a bombshell in the Broadway smash Sugar Babies, costarring Mickey Rooney. That was followed by one platinum blond-sexpot role after another.
A double mastectomy is hard enough for any woman to accept, but for someone who (despite a lovely singing voice) has built her TV stardom on jiggle, it could have been especially devastating. Yet Jillian is comfortable with her decision not to have reconstructive surgery—simply because she is unwilling to subject herself to more physical trauma. "I was more flamboyant before, but that was all outward," she says. "Inside, I remained the same. My cancer allowed me to explore who I really was." In fact, she observes, "Now I feel like a woman who's able to handle whatever life has dealt her. There's not a part of me that's not grown-up."
"There is no self-pity in Ann," says Dick Van Patten's wife, Pat. During Jillian's ordeal, "Andy was the one who would call us up, worried. She was always strong. Now she's so happy and excited. The word is grateful; she seems so grateful for everything that's happening."
As the baby's arrival approaches, Jillian and Murcia pray each day that their child will be healthy. "We feel that everything's okay," Murcia says cautiously, "but there is that 1 percent chance that something could go wrong. Other than Down syndrome, there are certain problems that doctors can treat while the baby is still in the womb. We know one thing—we're going to have the baby."
"No matter what," vows Jillian, "there was never a question in my mind that I'd take any steps to change this. I'm going to protect this little life with everything I possibly can." She and Murcia gaze out at the rose garden she nurtured while recovering from cancer surgery. "There are so many women out there that I represent," she says thoughtfully. "The important message here is that life goes on," her husband adds. "There can be a lot of blue skies."
MARJORIE ROSEN
VICKI SHEFF in Los Angeles
Contributors:
Vicki Sheff.
Advertisement
Today's Photos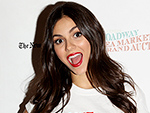 Treat Yourself! 4 Preview Issues
The most buzzed about stars this minute!