People Top 5
LAST UPDATE: Tuesday February 10, 2015 01:10PM EST
PEOPLE Top 5 are the most-viewed stories on the site over the past three days, updated every 60 minutes
Isn't It Romantic?
Among Friends, Fireworks and 50,000 Flowers, Jennifer Aniston and Brad Pitt Pledge a Lifetime of Love and Milk Shakes
Jennifer Aniston
and William: Bradley Pitt read marriage vows they had composed themselves. Some were lighthearted: Pitt, for example, pledged to "split the difference on the thermostat." Aniston, getting a little misty, promised to always make his "favorite banana milk shake." When the time came to recite more traditional vows in unison, the bride displayed comedic timing befitting Rachel Green, the sweet scatterbrain she plays on
Friends
. Pitt and the celebrant waited calmly for her to join in, but instead, Aniston missed her cue. "Oh!" she exclaimed, after a beat. "I've never done this before!"
Take Two, however, was a wrap—and moving. "With this ring, I thee wed," the duo declared together, "so that all the world may know my love for you."
As if the world hadn't caught on already. Aniston, 31, and Pitt, 36, came out as a couple two years ago—furtively at first, then with the paparazzi-be-damned assurance of two luminaries in love. The much anticipated wedding, with some 200 guests, 50,000 flowers, four bands, a gospel choir and fireworks, deftly mixed romance and exuberant celebration. "Jennifer looked beautiful," her father,
Days of Our Lives
actor John Aniston, 67, told PEOPLE after escorting his daughter, who wore a glass-beaded, floor-length, silk-and-satin, low-backed gown designed by Lawrence Steele, down the aisle. "It was a spectacular wedding."
Others who no doubt felt the same way included
Friends
Courteney Cox Arquette (with her husband, David), David Schwimmer (with his steady, actress Mili Avital), Matthew Perry and Lisa Kudrow (castmate Matt LeBlanc, stuck in Budapest filming
All the Queen's Men
, sent his regrets); Edward Norton (who starred with Pitt in
Fight Club
) and his girlfriend, actress
Salma Hayek
; and pals
Cameron Diaz
, Kathy Najimy and comic David Spade. (One apparent no-show: Aniston's mother, Nancy, whose comments about her daughter to a tabloid TV show four years ago led to their estrangement; she reportedly didn't make the invitation list.) Despite the high-watt turnout, says one guest, the event had a most un-Hollywood vibe. "It was an emotional service," says the guest. "It was not like a business thing. It was friends and family and celebration." During the ceremony, says L.A. County Sheriff's Dept. Lt. Thorn Bradstock, who helped organize security, "they were all laughing. Other times, people were clapping." Throughout, he adds, "there was a big smile on Brad's face."
The telltale grin first appeared in early 1998, when Pitt met Aniston on a dinner date brokered (only in Hollywood!) by their reps. For months the pair avoided being photographed together, which wasn't surprising: Pitt's 2½ year relationship and subsequent breakup with
Gwyneth Paltrow
(who confidants say was upset by news of the Pitt-Aniston nuptials) had played out publicly and painfully. "We just wanted to keep it special. Keep it ours," Pitt later told
Rolling Stone
. Eventually, more sure of themselves, they gave up that strategy. By last fall Aniston was flashing a diamond-and-platinum engagement ring from Italian jewelry designer Silvia Damiani (for whom Pitt, who spent seven months conferring about the design, does Italian television and magazine ads). To some friends, they already sounded like an old married couple. "They finish each other's sentences—they're two peas in a pod," says director James Gray (
Little Odessa
), who last dined with them in April, when Pitt was trying unsuccessfully to quit smoking. "Jennifer was telling him to wear his patch," Gray recalls. "She's trying to get him not to smoke, but she smokes. He says, 'Don't smoke either, honey!' and she says, 'Well you quit first!' They're perfect together."
And so it was that the perfect couple began orchestrating their perfect wedding, which event planners estimate may have cost $1 million. (Not a problem for Pitt, who raked in $40 million last year, nor for his bride, who'll take home $750,000 an episode for the next season of
Friends
.) Milan-based dress designer Steele, formerly of Prada, also created pale-green slip dresses for the bridesmaids and cream silk frocks for the flower girls. Aniston teamed her gown (knockoffs are already in the works) with a specially crafted pair of four-inch ivory suede Manolo Blahnik heels and topped it off with a circular veil draped from a pearl-and-Swarovski-crystal crown. She wanted the look "to be sexy but pretty," says a source. "And definitely designed to show off her toned arms."
As the day approached, an army of workers descended on the five-acre Malibu property that the couple had rented for the occasion from Marcy Carsey, producer of
Roseanne
and
The Cosby Show
. Tents were erected, lanterns hung, linen laid on a canopied bridal walkway. Florists from La Premiere of Beverly Hills set tables with roses, wisteria and tulips and floated lotus flowers in a specially built slate fountain ("Brad," said one worker, "wanted the Zen garden look"). Candles made from brown sugar, imported from Thailand, helped illuminate the reception tent. "Jennifer wanted tons of candles," says an insider. "We made it very romantic."
Meanwhile, the bride-to-be was busy with her own preparations: The first order of business? Heading to Beverly Hills' Canale Salon, where both Aniston and her fiancé got matching "brother-and-sister" blond highlights. The day of the wedding, tress-trimmer Chris McMillan (creator of the mid-'90s Rachel shag that spawned countless copy-cuts) styled Aniston's naturally wavy hair straight while the show's makeup artist Robin Siegel applied a look that "was really soft and natural," says one observer. "You didn't look at her and see Rachel. You saw a beautiful bride."
Guests, who had been contacted weeks earlier by phone and then mailed invitations, began turning up at Malibu High School shortly before 5 p.m. to board shuttle vans for the five-mile ride to the site. Security-conscious—all the more so since a stalker was arrested in Pitt's home in January last year—the couple required staffers to sign a document making them liable for a penalty of up to $100,000 if they talked about the wedding. With safety in mind, they arranged with the FAA to have an inspector on-site in case the airspace above the property became overcrowded with helicopters.
Inside the gates, guests were greeted with classical music from a string quartet and served iced tea and punch before taking their seats on a lawn. At 6:30 p.m, a six-piece band backed up by a 40-member gospel choir began singing Al Bowlly's 1930s classic "Love Is the Greatest Thing." Then Aniston, carrying a loose bouquet of Dutch Vendela roses, made her entrance preceded by petal-throwing and bubble-blowing flower girls, a ring-bearer and two bridesmaids: actress Andréa Bendewald, 30, an old buddy from her days at New York City's famous performing arts high school, and documentary filmmaker Kristin Hahn-Stringer, 31, one of the first friends Aniston made when she moved to L.A.
Next to Pitt, who wore a four-button black tux by Paris designer Hedi Slimane, stood his Prada-clad brother—and best man—Doug, 33, a computer-company owner, who caused a moment of levity by dropping the ring. Their father, Bill, 59, acted as the second groomsman. (Pitt's mother, Jane, 59, watched from her seat close by with his sister Julie, 31, a homemaker. Brad had paid for the entire clan to be flown in for the event from his hometown, Springfield, Mo.)
When the 15-minute ceremony was complete, the party spilled onto the lawn. As the newlyweds posed for photos, guests nibbled on shrimp, gourmet pizza and caviar washed down with Dom Pérignon champagne. A band, Gypsy Magic, played Latin jazz. It was a lovely moment. "[Brad and Jennifer] were laughing and smiling, holding hands," says a witness. "The sun went down over the ocean and there was a red sky."
At about 8 p.m. guests made their way into the reception tent, where one side opened onto a view of the Pacific. A slide show of Aniston and Pitt growing up over the years flashed on an outdoor screen. Partyers dined on lobster, crab, peppercorn beef, risotto and pasta and raised a glass to the newlyweds. (When the party began running low on lobsters, champagne and ice, staff from the catering company Along Came Mary scurried to a local store to re-supply.) During one toast, former
Saturday Night Live
star Jon Lovitz playfully suggested, in not so many words, that perhaps some editing was in order and heckled from his seat that the speaker sounded like a "dying cat!"
When the speeches were done, Dakota Horvath, 12, a pint-size Sinatra-style singer whom Pitt first heard at a Beverly Hills nightclub back in 1994, took the stage. As he crooned "The Way You Look Tonight," Pitt and Aniston hit the dance floor and were soon joined by Norton and Hayek. "Then everyone started coming up and dancing," says Horvath. "When I got off the stage, Brad and Jennifer came over and were hugging and kissing me."
Ten o'clock? Time for fireworks. Guests stepped outside as a 13-minute display of pyrotechnic hearts and smiley faces, set to songs by Radiohead, Garbage and Jeff Buckley, cascaded overhead. "They wanted it big, grandiose," says James Souza, whose Rialto, Calif.-based company orchestrated the display, "the greatest effects that we had."
That was spectacular—but far from the finale. Still to come: the bouquet toss (Aniston's first attempt ricocheted off a hanging lamp back into her hands); the garter throw (Pitt extracted it from his giggling bride's thigh with his teeth); and the cutting—and consumption—of the six-tier, white-frosted wedding cake. "They were looking into each other's eyes when they fed it to each other," reports Horvath, "and they were laughing with cake in their mouths."
At one point, accompanied by actor Dermot Mulroney on mandolin, guest Melissa Etheridge sang an acoustic version of Led Zeppelin's "Whole Lotta Love." A Greek bouzouki band played traditional music, while Pitt, Aniston, her dad and about 30 others circle-danced. Throughout the night, guests clinked glasses to demand that the newlyweds kiss. Thoughtful hosts, they obliged. "Everybody danced with everybody," says one guest. "The feeling in there was of love and commitment."
So what does the script call for next? After a five-month summer hiatus, Aniston was due to return to the
Friends
set on Aug. 8. Pitt, whose next movie,
The Mexican
, is due next year, will begin filming
Ocean's Eleven
in January. And no one would be surprised if the couple became a family tout de suite. Aniston, who has been known to cry at the sight of a friend's baby, once declared that she wanted three children—pronto. "I love everything about them. Their backs, necks, smell, all their fits," she told
Cosmopolitan
in 1997. "I want to be a young mom too." But that's the future; right now there's a moment, a day, a memory to be savored. "I've known her a long time, and she and I would talk about the day she gets married," says hairstylist Chris McMillan. "There were big expectations, and this went way beyond that, way beyond. It was a great and happy day."
Anne-Marie O'Neill
Lorenzo Benet, Michelle Caruso, Tom Cunneff, Michael Fleeman, Julie Jordan and Elizabeth Leonard in Malibu, Pete Norman in London and Heather O'Brian in Milan
Contributors:
Lorenzo Benet,
Michelle Caruso,
Tom Cunneff,
Michael Fleeman,
Julie Jordan,
Elizabeth Leonard,
Pete Norman,
Heather O'Brian.
Advertisement
Today's Photos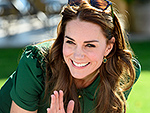 Treat Yourself! 4 Preview Issues
The most buzzed about stars this minute!