People Top 5
LAST UPDATE: Tuesday February 10, 2015 01:10PM EST
PEOPLE Top 5 are the most-viewed stories on the site over the past three days, updated every 60 minutes
Luner Takeoff
Jamie Luner, Grown Up and Trimmed Down, Vamps It as Savannah's Nastiest Vixen
Apparently viewers agree. Since its Jan. 21 debut, Savannah has been the WB network's most successful show and was recently renewed for a second season. And though it stars a trio of well-rounded beauties, the scene stealer—as befits a Spelling production—is the one with the heart of stone. Luner says she was originally auditioning for the more sympathetic role of journalist Lane MacKenzie, when Spelling suggested she read for Peyton—who, in the first episode, sleeps with her best friend's fiancé, then helps him dress the next morning for his wedding. "I'm a chameleon," says Luner. "The Spelling bad girl was the part I really wanted."
That mid-audition flip isn't the most dramatic transformation Luner has been through. From 1988 to 1990, she played Cindy Lubbock, a chubby—by TV standards—teen on the ABC sitcom Just the Ten of Us. Luner says she decided to lose weight after an episode "in which my dad and I got locked in a food locker and ate ourselves sick. I didn't see it as funny." She went to a nutritionist, who put her on a healthy diet—mostly fruits, vegetables and water—and she began exercising regularly. In six years she has shed 40 pounds.
"I have more energy now," says Luner. "And I'm happier." But while she may deny herself seconds on desserts, she still gets a great deal of pleasure from food. In 1994, Luner—who took weekend classes in French gourmet cooking at the Epicurean Cooking School in Los Angeles after her sitcom was canceled—began apprenticing in the kitchen of the L.A. restaurant Drai's. "I grated carrots," she says, "until my fingers turned orange. Eventually I was in charge of making salmon puff pastry." But preparing food doesn't tempt her to overeat. "It's the most therapeutic, thing," she says. "I see it as an art."
It's also a family tradition. Growing up in Beverly Hills, Jamie and her older brother David, now 27 and the owner of two ceramics stores, feasted on their mother Susan's potato latkes and on breakfasts made by their father, Stuart, a woman's-clothing sales rep. Performing, too, was in the bloodlines. "When I was nearly nine months pregnant with Jamie," says Susan, a former children's-theater actress, "I was playing the wicked witch in a production of Snow White in San Francisco. Jamie came out singing and dancing!"
Well, maybe not. But three years later, after an amicable divorce, Susan signed her with a talent agency; Jamie's first gig was sneezing on cue opposite Suzanne Somers in a tissue commercial. By her sophomore year at Beverly Hills High, when she won a local Shakespeare competition, Luner knew she wanted to act for a living. Performing, she says, "gave me such a high. My body was tingling." In 1987, after a brief appearance on Growing Pains, she moved with her mother to New York City, where she attended the Professional Children's School. She headed back to L.A. after winning the Just the Ten of Us role.
When the show was canceled in 1990, a trimmed-down Luner appeared in a few TV movies before winning her role in Savannah last year. "The snake always gets the best lines," says Spelling. "Jamie does them beautifully." Adds costar Robyn Lively (Lane MacKenzie): "Jamie's very outgoing and energetic. She lights up the set." Now living in Lilburn, near where the cast has temporarily settled during production, Luner shares a modest apartment with boyfriend John Braz, 31, a personal trainer and independent filmmaker she met last year in a Santa Monica coffee shop he was managing.
Luner dreams of someday opening a restaurant. But for now she has her middle-aged admirers to satisfy back on the set. The woman reaches out. "You're doing a wonderful job being bad," she says. The actress smiles and affects Peyton's grits-thick southern drawl—"Well, thank you." As she swishes away, the woman locks her arm firmly around her husband's. You can't be too careful around a Spelling snake.
DAN JEWEL
MEG GRANT in Lilburn
IT'S A COLD FEBRUARY DAY IN LITTLE Lilburn, Ga., just outside Atlanta, but few on the set of Savannah—Aaron Spelling's new prime-time melodrama, centered around a wealthy southern family—seem to notice. All eyes are on 24-year-old Jamie Luner, the 5'9" redhead in a body-hugging, size-4 suit who stars as villainous Peyton Richards, a housekeeper's daughter with a penchant for back-stabbing. As Luner slinks by a middle-aged local couple who have come to watch the day's shoot, she turns with a seductive smile. The husband blushes and lets out a breathless whisper: "Pure sex!"
Advertisement
Today's Photos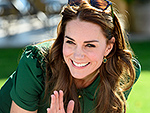 Treat Yourself! 4 Preview Issues
The most buzzed about stars this minute!