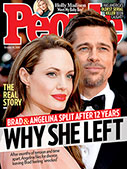 This Week's Issue!
People Top 5
LAST UPDATE: Tuesday February 10, 2015 01:10PM EST
PEOPLE Top 5 are the most-viewed stories on the site over the past three days, updated every 60 minutes
Picks and Pans Main: TV
New on DVD
BY JENNIFER WULFF
TV MOVIE
If you're looking for a fix of Chandler Bing sarcasm, which has been absent since
Friends
departed, this isn't the place to find it. Instead, Matthew Perry is all sweet sincerity as the star of this by-the-book but entertaining TV movie. Of course, he's also very good.
Clark (a real-life teacher starting his own school this fall) heads to Harlem intent on inspiring some unruly sixth graders. He starts by posting up credos like "Dream big!" and "Take risks!" in the classroom. They promptly trash the joint. Though he's beaten down repeatedly by the brats, Clark eventually proves that foul attitudes are nothing a little double Dutch can't cure. He skips rope with them, raps U.S. history lessons and teaches math by way of Texas hold 'em until all are fully engaged.
It feels a little tidy, and sure enough, a post-credits disclaimer states that "certain time lines have been altered for dramatic purposes." But the movie still earns high grades for giving those feel-good goose bumps you get knowing guys like Ron Clark really do exist. Now break for recess before I get all mushy on you.




A&E (Mondays, 10 p.m. ET)
REALITY
See Gene do yoga, see Gene get acupuncture, see Gene change the kitty-litter box. Then see me yawn. I can't be the only one who's over these "reality" shows that manufacture moments in an effort to be outrageous. But what else can he do? The Kiss star and his longtime partner, former Playboy playmate Shannon Tweed, are loving parents to a pair of well-behaved teens. Which is why scenes like Dad flirting with a gaggle of Hooters girls get more play than sweeter ones, like when he gives son Nick, 17, advice on how to gain fans for his own fledgling band. "When a vacuum cleaner salesman comes knocking on your door, he's not selling a vacuum cleaner—he's selling himself," he says, sounding very Dr. Phil. "You buy him, you buy the vacuum." I'd buy this show if it focused on this side of Simmons.




TLC (Mondays, 10 p.m. ET)
REALITY
"It makes me feel gross." Any time a woman says that about her husband touching her? Not good. Camden and Torrey haven't slept in the same bed for six years and are on the brink of divorce. Enter Dr. Robi Ludwig, a psychotherapist with 15 years of marital counseling behind her. (Call her a Supernanny for adults.) Her exercises with the couples, who agree to undergo seven days of therapy, are a bit goofy—talking to each other through a megaphone, building a raft together—but they do lead to improved communication, which seems to be what most of the couples are lacking. To make this series something a viewer could stay committed to, though, I'd want to see some follow-up past the one-week mark. Even Star and Barbara could put the gloves down for that long.




(VH1, Sundays, 9 p.m. ET)
REALITY
Sure, it's always funny to see
Fit Club
's overweight (and often underemployed) stars step on that silly, Jolly Green Giant-size scale. But this season inspires more sympathy than laughs, mostly because of the four moms who signed on not just to lose baby weight, but to live longer for their kids. "I want to be the best that I can be for her," says tearful former
Baywatch
babe Erika Eleniak of her infant daughter.
Fit Club
itself is certainly in the best shape it's ever been. With motivated, supportive
Club
-mates like Carnie Wilson,
The Sopranos
' Vincent Pastore and
Family Ties
' Tina Yothers, Eleniak will be back in that red bathing suit in no time.




In September, Perry reunites with his
Whole Nine Yards
costar Amanda Peet (left) in NBC's
Studio 60 on the Sunset Strip
, a drama set at a late-night comedy show. "My fallback position used to be 'Try to be funny at all costs,'" says Perry, who plays a substance-abusing writer. "I was given the opportunity to be a bit more real here."
Last Comic Standing
(NBC, Aug. 9, 8 p.m. ET) Season finale. Yes, this means the rest of the summer will be free of airplane peanut jokes.
The Kumars at No. 42
(BBC America, Aug. 11, 9 p.m. ET) David Hasselhoff pops in at this faux talk show set in the home of an Indian-British family. The Kumars are so popular in the U.K., the Windsors may relocate to Canada.
Three Moons Over Milford
(ABC Family, Aug. 6, 8 p.m. ET) The moon splits into three pieces, causing folks to live each day like it's their last. Elizabeth McGovern stars.
Secret Lives of Women
(WE, Aug. 8, 10 p.m. ET) "Women Who Love Bad Men" is the episode title. How bad? Prison bad.
Sexual Healing
(Showtime, Aug. 11, 10 p.m. ET) Prudish? Stay away. For everyone else, this docu-reality series is worth a peek.
Christopher Meloni
AGE: 45 STATUS: Married, to production designer Sherman Williams, 46.
CURRENTLY PLAYING: Detective Elliot Stabler on
Law & Order: SVU
, which is back for its eighth season on Sept. 19.
ON HIS FIRST EMMY NOD It just hit me in the last couple of days. I'm like, "Man, thanks for inviting me to the party!" I'm just rollin' with it. I don't want to jinx her, but I think Mariska [Hargitay, a three-time nominee for
SVU
who hasn't won] will hit it this year.
ON HIS SEX-SYMBOL STATUS If you're a guy in someone's living room saving women, saving children, people are connected to you. My wife has a crush on Will Smith, so I don't go stomping around the house.
ON BEING A DAD TO SOPHIE, 5, AND DANTE, 1 Do you know
Olivia the Pig
? I love that book more than my kids do. I turn into a 5-year-old: "Let me read
Olivia
! Please, please, please!"
ON SVU'S NEXT SEASON We're introducing Connie Nielsen to the mix, and hey, baby, all I can say is sparks are gonna fly!
One Week
therapist Dr. Robi Ludwig shares her thoughts.
What's wrong with a couple spending the night in front of the TV? Too much TV can lead to couples avoiding one another. It's also easy to fall into a rut of doing the same thing every night, which can be monotonous.
But not all TV is bad, right? Of course not. Comedy especially can be great for lifting both your spirits. And some TV can lead to increased discussion, which is always a good thing.
Is it wise to have a TV in the bedroom? One study showed that couples with a television in the bedroom had a decreased amount of sexual activity. You might want to consider getting rid of it so that other things can happen.
Laguna Beach
, Second Season
Fun extras like casting tapes and deleted scenes make this three-disc set of the MTV series, like, so cool. Newbies beware: Keeping up with these kids' relationships may cause headaches, nausea and mild discomfort.
Prison Break
, First Season
Who knew busting out of maximum security lockdown would be so hard? Just about every plan goes awry for Michael Scofield (Wentworth Miller) and crew. Stock up on snacks, go into solitary confinement and blast through all 22 episodes before the Aug. 21 second-season premiere.
TNT (Aug. 13, 8 p.m. ET)
Advertisement
Treat Yourself! 4 Preview Issues
The most buzzed about stars this minute!