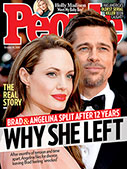 This Week's Issue!
People Top 5
LAST UPDATE: Tuesday February 10, 2015 01:10PM EST
PEOPLE Top 5 are the most-viewed stories on the site over the past three days, updated every 60 minutes
WE FELT IT ALL YEAR LONG, THANKS TO THE REPEAT OFFENDERS OF 2006
4 IDENTICAL DE LA RENTAS
First Lady faux pas: Laura Bush wore the same suit as three guests at a Dec. 3 White House gala.
3
NAOMI CAMPBELL
ASSAULT CHARGES
The model was accused of attacking two maids and a former assistant in 2006.
4 PAM AND KID ROCK WEDDINGS
They tied the knot in Saint-Tropez, Beverly Hills, Nashville and Detroit, then split in November.
4
BEYONCE
B'DAY BASHES
The diva feted her 25th in (clockwise from top left) Tokyo, N.Y.C. (twice) and Toronto.
3
LINDSAY LOHAN
BOO-BOOS
The accident-prone actress had a traumatic year.
FRACTURED ANKLE
FRACTURED WRIST
SCRATCHED MERCEDES
UPS & DOWNS
FOR DAVID HASSELHOFF
JAN. 12
Hasselhoff files for divorce from his wife of 16 years, Pamela Bach.
MARCH 23
Bach's request for a restraining order against her soon-to-be-ex is unsealed, revealing domestic abuse allegations, which Hasselhoff denies.
MAY 4
The couple agree to joint custody of their teen daughters Taylor-Ann, 16, and Hayley, 14.
JUNE 21
America's Got Talent premieres—with Judge Hoff presiding.
JUNE 29
Hasselhoff severs a tendon in his right arm in a freak shaving accident. (He hit his head on a chandelier that shattered, cutting his arm.)
JULY 4
A seating mix-up at Wimbledon prompts rumors of a Hoff ejection, denied by his rep.
JULY 21
Theater critics, take note: The actor says he'll star in David Hasselhoff: The Musical.
SUMMER: His corny-cool "Jump in My Car" video—costarring Knight Rider's KITT—storms the Web, and a "Don't Hassel the Hoff" clothing line is greenlit.
JULY 26
Hasselhoff misses a flight from London to L.A. Tabloids report he was bumped because he was drunk. He says a mix of painkillers and antibiotics made him too ill to fly.
NOV. 3
Springtime for Hasselhoff! The actor signs up for the Vegas production of The Producers. (He'll play the director.) His Sin City debut? Feb. 8, 2007.
CATCHPHRASES!
"Soul Patrol!"
—
TAYLOR HICKS
"Does that make me crazy?"
—Gnarls Barkley
"Wikiality"
—Stephen Colbert
"Deal or no deal?"
—Howie Mandel
"Seriously?"
—
Ellen Pompeo
"Save the Cheerleader. Save the world"
—THE CAST OF HEROES
BORAT'S TOP FIVE PHRASES
1. "Very nice"
2. "Wa wa wee wa"
3. "I like"
4. "High five"
5. "Sexy time"
Familiar Names
SAME NAME, BIG DIFFERENCE. WELCOME TO FAME 2.0
Shiloh
OLD
NEW
Howard Stern
OLD
NEW
Betty
OLD
NEW
Ryan Starr/Ryan Star
OLD
NEW
Kenny Rogers
OLD
NEW
Sasha Cohen/Sacha Baron Cohen
OLD
NEW
FedEx
OLD
NEW
MAN TEARS
BACHELOR, JOCKS, RUNWAY REBEL ... EACH DISSOLVED INTO PUBLIC PUDDLES OF EMOTION
ANDRE AGASSI
Retiring from tennis after the U.S. Open.
JEFFREY SEBELIA
Learning he wouldn't be disqualified on Project Runway.
TIGER WOODS
Winning the British Open after his father died.
LORENZO BORGHESE
Making the final cut on The Bachelor.
DAVID BECKHAM
Resigning as captain of Britain's soccer team.
GETTING FIRED!
NO JOB IS SAFE—JUST ASK THESE EXECS, STARS AND ONE POOR LITTLE PLANET
TOM CRUISE
from Paramount.
DONALD RUMSFELD from the Cabinet.
CAROLYN KEPCHER from The Apprentice.
PLUTO from the solar system.
FLOYD LANDIS from his cycling team.
LINDSAY LOHAN
from Island Records.
STAR JONES REYNOLDS from the View.
THE TOP OF 2006
CONSUMERS DIDN'T ALWAYS LISTEN TO THE CRITICS WHEN THEY WANTED TO BE ENTERTAINED
TOP 10 BOX OFFICE WINNERS
1. Pirates of the Caribbean: Dead Man's Chest
$423 million
2. Cars
$244 million
3. X-Men: The Last Stand
$234.4 million
4. The Da Vinci Code
$217.5 million
5. Superman Returns
$200 million
6. Ice Age: The Meltdown
$195.3 million
7. Over the Hedge
$155 million
8. Talladega Nights: The Ballad of Ricky Bobby
$148.2 million
9. Click
$137.3 million
10. Mission: Impossible III
$133.5 million
Source: Rentrak Corporation Ranking as of 12/8/06
FAVE MASTERTONES
1. SEXY BACK
JUSTIN TIMBERLAKE
2. SMACK THAT
AKON
3. LIPS OF AN ANGEL
HINDER
4. MONEY MAKER
LUDACRIS
5. CHAIN HANG LOW
JIBBS
6. MY LOVE
JUSTIN TIMBERLAKE
7. IRREPLACEABLE
BEYONCE
8. MONEY IN THE BANK
LIL SCRAPPY
9. WALK IT OUT
DJ UNK
10. SHORTIE LIKE MINE
BOW WOW
Source: Nielsen RingScan Ranking as of 12/3/06
MOST GOOGLED CELEBRITIES
1. Channing Tatum
2. Chris Brown
3.
Shakira
4. Dane Cook
5.
Anna Nicole Smith
6.
Jessica Alba
7.
Oprah
8. Daddy Yankee
9.
Britney Spears
10.
Jessica Simpson
Source: Google Ranking as of 12/8/06
TOP-SELLING DVDs
1. Harry Potter and the Goblet of Fire
2. The Chronicles of Narnia
3. Cars
4. Wedding Crashers
5. King Kong
6. Walk the Line
7. The Little Mermaid
8. Over the Hedge
9. Chicken Little
10. X-Men: The Last Stand
Source: Nielsen VideoScan Ranking as of 11/26/06
MOST WATCHED TV SHOWS
1. Grey's Anatomy
ABC
2. Dancing with the Stars
ABC
3. Desperate Housewives
ABC
4. CSI
CBS
5. Dancing with the Stars/Results
ABC
6. CSI: Miami
CBS
7. NBC Sunday Night Football
NBC
8. Criminal Minds
CBS
9. CSI: NY
CBS
10. Lost
ABC
Source: Nielsen Media Research Ranking as of 12/3/06
TOP 10 BESTSELLERS
1. For One More Day
Mitch Albom
2. The End
Lemony Snicket
3. The Innocent Man
John Grisham
4. You: On a Diet
Michael F. Roizen and Mehmet C. Oz
5. Cesar's Way
Cesar Millan
6. Beach Road
James Patterson
7. State of Denial: Bush at War
Bob Woodward
8. Cell
Stephen King
9. The 5th Horseman
James Patterson
10. The World Is Flat, Updated Edition
Thomas L. Friedman
Source: Nielsen Media Research Ranking as of 12/3/06
DEJA VU
Advertisement
Treat Yourself! 4 Preview Issues
The most buzzed about stars this minute!