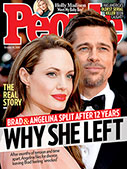 This Week's Issue!
People Top 5
LAST UPDATE: Tuesday February 10, 2015 01:10PM EST
PEOPLE Top 5 are the most-viewed stories on the site over the past three days, updated every 60 minutes
Stars of the Year
Katie Took a New Job, George Won An Oscar, and Kirstie Proudly Stepped Out in Her Bikini—for These Celebs and More, 2006 Was All About Hitting New Heights
Beyoncé
SHE RACKED UP HER SECOND No. 1 SOLO ALBUM AND FILMED HER FIRST DRAMATIC ROLE, IN THIS MONTH'S
DREAMGIRLS
'I feel like now I can be picky in what I do. I can take time to do it right'
KIRSTIE ALLEY
75 LBS. LIGHTER, SHE MADE GOOD ON HER PROMISE TO APPEAR ON
OPRAH
IN A BIKINI
'I don't think of myself as a role model for weight loss as much as a role model for tenacity'
MEREDITH VIEIRA
GOT A WARM WELCOME FROM CRITICS AND VIEWERS IN HER NEW GIG AS MATT LAUER'S COHOST ON
TODAY
'Sometimes I'll sit back and go, "Wait a minute, I was just talking to Laura Bush and now I'm throwing cake in Matt's face"'
GEORGE CLOONEY
HE WON HIS FIRST OSCAR, FOR
SYRIANA
, GOT A NOMINATION FOR DIRECTING
GOOD NIGHT
, AND GOOD LUCK AND EARNED HIS SECOND SEXIEST MAN ALIVE TITLE
'The secret to all of this is to first of all have a little bit of a sense of humor'
BARACK OBAMA
THE CHARISMATIC SENATOR (D-ILL.) PUT PASSION BACK IN POLITICS AND EMERGED A POTENTIAL PRESIDENTIAL FRONTRUNNER
'I feel confident that if you put me in a room with anybody—black, white, Hispanic, Republican, Democrat—give me half an hour and I will walk out with the votes of most of the folks ... I don't feel constrained by race, geography or background in terms of making a connection with people '
KATIE COURIC
WHAT IT FEELS LIKE ...
To Get My Mornings Back
'I sleep a little later, but I'm busier than ever. My alarm is now my 10-year-old daughter, who comes to my bedroom and yells, 'Mom, wake up!' I now get to make pancakes or scrambled eggs for my daughters Ellie, 15, and Carrie, 10 in the morning, though some days I can't get it together and we have cold cereal. Walking Carrie to school is such a treat—a short but sweet ritual I never experienced before I took on my new job at CBS News. Meanwhile, being able to occasionally go out at night is a real treat too, though getting up early was an effective excuse for heading home early in my former life. And I've discovered the joy of late-night TV again. Before, I could only stay up for the first 10 minutes of my favorite 10 p.m. shows, and Letterman was impossible. I'm a night owl by nature, so I'm definitely back in my element—if only I could sleep until 10 a.m. Maybe in my next life!'
PATRICK DEMPSEY
MADE NEUROSURGERY SEXY AS
GREY'S ANATOMY'S
DR. McDREAMY
'I haven't changed in the last year, but people's perceptions of me have'
AMERICA FERRERA
MIXING QUIRKY STYLE WITH IRRESISTIBLE ENTHUSIASM, THE PRETTY FACE BEHIND
UGLY BETTY
HELPED TURN THE ABC DRAMEDY INTO TV'S MOST ENDEARING NEW SHOW
'I never feel more confident or more pretty on the inside than when I'm being Betty. There's a light that shines from the inside'
MASI OKA
OKA, WHO HAS A 180 IQ, SHOWED OFF HIS ACTING GENIUS AS
HEROES
' ADORABLE TIME AND SPACE TRAVELER
'Don't tell someone they're a nerd or that they can only act. You can do whatever you want. The sky is limitless. Only you can create your dreams'
BREAKTHROUGHS
With killer performances, these newcomers made their mark
JENNIFER HUDSON
THE FORMER
AMERICAN IDOL
CONTENDER HAS EARNED SERIOUS OSCAR BUZZ FOR HER SCENE-STEALING ROLE IN
DREAMGIRLS
'In one year I got cast, rehearsed, played this part next to legends, and now the movie is coming out. It is scary but so exciting. I'm living my dream'
15 MINUTES IN THE SPOTLIGHT
Whether they dated Lindsay, got hired by Britney or took a shot from the VP, these names became notable
DANIEL POWTER
His "Bad Day" ballad earned him a good payday, thanks to
American Idol
playing it to salute the voted-out singer each week.
ABBIE CORNISH
Her relationship with film costar
Ryan Phillippe
came under scrutiny as he split from
Reese Witherspoon
.
HARRY WHITTINGTON
His February quail-hunting trip with Dick Cheney went awry when the VP shot him in the face by mistake.
THE MANNY
Perry Taylor, a U.S. Naval Academy grad, was Britney's au pair. He was last seen acting as
Jude Law
's bodyguard.
LANCE BASS
The former 'N Syncer came out of the closet in July and dated Amazing Race winner Reichen Lehmkuhl.
HARRY MORTON
As
Lindsay Lohan
's summer romance, the Hard Rock heir racked up a serious collection of paparazzi shots.
KIM KARDASHIAN
The clothing stylist won fame as
Paris Hilton
's pal and the first girl linked to
Nick Lachey
after his split with
Jessica Simpson
.
LARRY BIRKHEAD
Anna Nicole Smith
's ex has filed a lawsuit against Smith, stating that he's the father of her newborn.
TRACEE JONES
WHAT IT FEELS LIKE ...
To Give Up the $1 Million Suitcase
The Tennessee State University basketball coach was holding the big case on Deal or No Deal but took an offer of $265,000 instead
'It made me sick! I believed the entire time that I had it, but there's that little seed in the back of your mind that says, "What if you don't?!" I look at it this way: on a day you don't have to do anything and you can just win $265,000? That's a great day! One of the first things I'm going to do is get a car. I'm also going to take my family on vacation. Somewhere that without this opportunity, we never would have gone. Like Paris!'
Advertisement
Treat Yourself! 4 Preview Issues
The most buzzed about stars this minute!