People Top 5
LAST UPDATE: Tuesday February 10, 2015 01:10PM EST
PEOPLE Top 5 are the most-viewed stories on the site over the past three days, updated every 60 minutes
Ooh-la-la They're Engaged!
A Five-carat Ring, a Bended-knee Proposal and Plans for a Paris Wedding! Desperate Housewife Eva Longoria and NBA Star Tony Parker Bounce Back from Troubles and Head to the Altar
Eva Longoria
go down? "It was a big surprise!" Longoria tells PEOPLE. "I was heading home from a long day on the [Desperate Housewives] set. He had been playing in Utah, so I was just shocked to see him in L.A. I thought it was so weird, sort of, 'Why are you here? What's going on? Oh my God! It's happening!'" There at Longoria's home in the early-morning hours, surrounded by rose petals and candles, Parker fell to one knee—"I'm a traditional guy," he says—and, having already told both of their families, popped the question. "I cried my eyes out," says Longoria. "I was mostly touched by how nervous he was. I was like, 'You know I'm going to say yes. Why are you so nervous?' But I guess every man gets nervous at that point." Nervous? No way, says Parker: "I knew it was right. We've been talking for months about it, and I just knew. It was time."
And so it went that the Texas-bred
Desperate Housewives
star, 31, and the French-raised San Antonio Spurs point guard, 24, took their two-year relationship to the next level—something they quickly celebrated with close friends, who gathered at Longoria's L.A. home soon after the proposal. "We all shared the moment," says Beverly Hills jewelry designer Jean Dousset, a friend of the couple's who, with Parker, designed Longoria's five-carat-plus emerald-cut diamond ring boasting 247—yes, 247—accenting diamonds. "We toasted the couple with champagne. Eva was beyond happy. She was ecstatic."
Naturally, it didn't take the actress long to start spreading the news—especially among her Wisteria Lane neighbors. "Marcia [Cross] and Felicity [Huffman] and I are really, really close," Longoria says of her fellow
Housewives
. "Telling them was really exciting." On the set the day after the proposal, "Marcia came into my trailer and Tony was with me," she says. "She was like, 'Tony, what are you doing here?' And then she looks at my hand and went 'Aaaaaaaaaah!' She let out the biggest scream. We were laughing so hard." Huffman, who wasn't on the set that day, was tipped by Cross to contact Longoria. "I said, 'Is something wrong? Is she crying? What's the matter?'" recalls Huffman. "So I called going, 'Eva, are you okay, honey?' And she went, 'I'm engaaaaaged!'"
Not the type to conceal her excitement—or her ring, which her pal, actress Eva Mendes, calls "the size of a small cat!"—Longoria is already telling pals to save the date. "She said, 'We're getting married on 7/7/07,' and then she made me promise to go to Paris!" says
Housewives
creator Marc Cherry, adding that the soft-spoken Parker helps complement the outgoing Longoria. "We were at Marcia Cross's wedding [last year] and I asked Tony what kind of wedding he'd planned to have, and Eva joked and said it was going to be expensive. He kind of rolled his eyes at that. You could tell he gets a big kick out of her. He has a great sense of humor about her Eva-ness."
Still, the relationship hasn't been without its speed bumps. Originally, "I was going to ask her [to marry me] in France," says Parker of the early October trip to basketball training camp, which the couple had planned on taking together. "But obviously it wasn't the right time." Instead, Longoria met Parker in Paris a few days after her publicist issued a statement saying the couple were going through "a very difficult time," citing the pressures of their "extremely demanding careers."
Today both Parker and Longoria say that reports of a rift were overblown. "Any relationship goes through trials," says Longoria. "We were working through ours. Tony and my motto has been, 'Breaking up is not an option.'"
"It was the media," says Parker. "We learned a lot from that time. We learned to be strong together and believe in each other. If she is out dancing with a friend or I have lunch with a friend, it is just that—and nothing more than that. We were learning. Now we know." Adds Longoria: "We went through a second of re-evaluating what's important to us and making sure we were still on the right track. It was more of that kind of conversation. It wasn't an oh-my-God, do we really want to do this? It was figuring out what the next year entails: What are my priorities careerwise; what are his priorities careerwise? And then we said, 'Let's make sure we put each other first.' And we did." Did getting through the rough patch make them stronger? Says Longoria: "Everything makes us stronger."
The 6'2" Parker and the 5'3" Longoria have been key players in each other's lives since they met in the Spurs locker room two years ago. (Longoria told
Oprah
earlier this year that her dad, Enrique, had wanted to meet the team after a game.) "I knew from the moment I met her [that she was The One]," says Parker. "And then the more I got to know her, the more I was sure. She's funny, she's smart, she's beautiful." What's more, says Parker, "we want the same things—home life, family, children." Anytime soon? "This is the first step," says Parker, adding that the couple are building a home together in San Antonio that should be finished in 2008. "This is where our families are. This is where our home will be. We want that."
Family has always played a big role in Longoria's life. The youngest of four daughters raised on a ranch in Corpus Christi, Texas, Longoria headed to L.A. after graduating from Texas A&M University (her degree is in kinesiology, the study of human anatomy and movement). She broke into soap operas in 2000 and in 2002 married her onetime
General Hospital
costar Tyler Christopher, 34. The couple divorced in 2004, the same year Longoria scored her star-making turn as
Housewives
' feisty, often hilariously self-absorbed Gabrielle Solis. (For updates on the other
Housewives
, see box.)
As her stardom grew, so did interest in Longoria's love life, with reports linking her to everyone from former 'N Sync singer JC Chasez to actor Hayden Christensen to Mario Lopez, whom she cheered on during his recent Dancing with the Stars run. (Longtime friends, Lopez, 33, and Longoria have both denied reports of a romance, and Lopez told PEOPLE of the engagement, "I wish them nothing but the best.") "As far as fame goes, Eva went from zero to 60 in like, 2.2 seconds," says her stylist and close friend Robert Verdi. "If your life gets that crazy that quickly, it's hard to keep what's important in life in the right position. But she keeps everything in perspective. What's nice about Eva is that she wants everybody in her life to know everybody else who is important to her."
Especially, of course, the Belgian-born Parker, who was raised in Paris by his father, Tony Sr., who played pro basketball overseas, and his Dutch mother, Pamela, a former model. Fluent in French and English, Parker says Longoria has been quick to pick up his native tongue. "She's gotten quite good," he says. "She took a class and really studies."
So much so that when it came time to pop the question, Parker says he asked in both English and French—and Longoria notes that the wedding ceremony will be conducted in both languages as well. Although "we still have to discuss all the [wedding] details," says Parker, things are beginning to take shape. In fact, a location has already been booked—the two will be saying their vows at a castle just outside of Paris. "I wanted Paris as the backdrop," says Longoria, who won't officially confirm the 7/7/07 date. "It's the most romantic place in the world. We want it to be a fairy tale wedding." But it's not just the bride-to-be calling the shots. The couple have hired celeb wedding planner Mindy Weiss to help them coordinate, "and she said, 'I have never seen a groom like Tony,'" says Longoria. "He's excited to be a part of it. He's sitting in on meetings." Still, there's one thing the fashion-obsessed Longoria does not plan to delegate: the wedding dress. "I'm definitely excited about that," she says. "That's probably what I'm most excited about other than becoming Mrs. Parker—the dress!"
Contributors:
Alicia Dennis/San Antonio,
Bryan Alexander/Los Angeles,
Jed Dreben/Los Angeles,
Alison Singh Gee/Los Angeles,
Kim Peiffer/Los Angeles,
Ulrica Wihlborg/Los Angeles,
Lesley Messer/New York City,
Jeffrey Slonim/New York City.
How did Tony Parker's Nov. 30 marriage proposal to
Advertisement
Today's Photos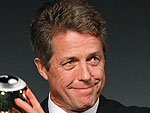 Treat Yourself! 4 Preview Issues
The most buzzed about stars this minute!