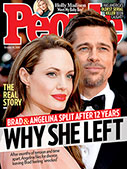 This Week's Issue!
People Top 5
LAST UPDATE: Tuesday February 10, 2015 01:10PM EST
PEOPLE Top 5 are the most-viewed stories on the site over the past three days, updated every 60 minutes
Picks and Pans Main: TV
Sleeper Cell's Michael Ealy
BY TOM GLIATTO
DRAMA
By now a brain-mapping CAT scan would probably determine that (1)
Grey's
move from Sundays to Thursdays has been cemented in viewers' minds, (2) the headlines over costar TR Knight's sexuality don't seem to have scarred, and (3) we have all accepted the fact that Denny, the hunk-invalid played by Jeffrey Dean Morgan last season, is still dead. The medical hit's new season took a while to recover from Denny's passing: I got sick of his lover Izzie Stevens (
Katherine Heigl
) drifting around in an indecisive fog of mourning. Then she found herself in an impulsive kiss with colleague Alex (Justin Chambers). Relief! Pheromones won't bring back Denny, but they're what generate the show's romantic magic.
Patrick Dempsey
has reunited (for now) with
Ellen Pompeo
, clicking together as happily as Legos.
Sandra Oh
and Isaiah Washington mesh more knottily—a Clintonian power couple hiding secrets from the staff. Close monitoring is warranted, and rewarded.




HBO (Dec. 10 and 17, 8 p.m. ET)
DRAMA
This miniseries about the 2004 tsunami that killed a quarter of a million people traces a small group of fictional survivors in Thailand. They search for loved ones in morgues, piles of rubble, hospitals. Yet they might be searching for the movie too. Why is it so slack, so undeveloped? There's one great performance: Sophie Okonedo (
Hotel Rwanda
), as a woman who has lost her daughter and nearly loses her mind. You feel the force of her grief as if it were a hail of stones.




Showtime (Dec. 10, 9 p.m. ET)
DRAMA
Season 2 of this terrorist thriller is more of a sprint, with eight hours across eight consecutive nights. Agent Darwyn Al-Sayeed (Michael Ealy), having saved L.A. from a stadium attack in season 1, is infiltrating a new cell, sniffing out a new plot. Mastermind Faris al-Farik (Oded Fehr) is behind bars, being tortured—but poised to strike back. The quickened pulse is a plus: The violence registers as sharp, stinging slaps.




ABC (Mondays, 9 p.m. ET)
REALITY
British nanny Jo Frost is back for a third season, taking charge of miserable families and straightening them out with a presence that's briskly maternal and physically formidable. Sound of Music fans may wonder whether she couldn't play both the Julie Andrews and Christopher Plummer roles at the same time. At any rate, the lady has yet to wear out her welcome with me. In the Dec. 4 premiere, Frost comes to the aid of a family in which the mother is an angry spanker at the end of her rope. One of her kids actually scribbles a note that reads, "Mom—die!" By the time Frost climbs back into her black taxi and drives off, peace has been achieved.




TNT (Dec. 3, 8 p.m. ET)
ACTION
Subtitled
Return to King Solomon's Mines
, this is the second Librarian comedy-adventure starring former
ER
star Noah Wyle. He plays Flynn Carson, an Indiana Jones type with a touch of Harry Potter. Flynn works in a secret repository of wonders (catalogued items include the sword Excalibur). This time, he's off to prevent an ancient book encrypted with destructive power from being read by the wrong eyes. Wyle runs around happily quizzical, like a puppy in a new park, and he has a light, attractive touch paired with Gabrielle Anwar, as a gorgeous archaeologist. The movie's not much, but he makes it a lark.




"He has a long way to go," says Pickens of his character, chief of surgery Richard Webber, trying to save his marriage after years of late hours (not to mention an affair). "He's human. He is such a human." Pickens doesn't have to worry about Gina, his wife of 22 years, getting annoyed at his work schedule. "God bless her, she's a big fan of the show," says Pickens, 54. "I'll come home and say, 'Oh, we have this or that coming up' and she'll say, 'I don't want to know!' We'll watch it together."
The Closer
(TNT, Dec. 4, 8 p.m. ET) A new two-hour murder case—plutonium and spies factor in—for Kyra Sedgwick as sexy, quirky Brenda Leigh Johnson.
The Victoria's Secret Fashion Show
(CBS, Dec. 5, 10 p.m. ET) Nothing says "holidays" like supermodel Gisele Bündchen in lingerie.
Justin Timberlake
sings.
30 Rock
(NBC, Dec. 7, 9:30 p.m. ET) Tracy (Tracy Morgan) goes off his meds just before a scheduled guest appearance on Conan O'Brien.
The Billboard Music Awards (FOX, Dec. 4, 8 p.m. ET) Performances by
Gwen Stefani
, the Killers and
Janet Jackson
. Appearances by
Carrie Underwood
and the cast of High School Musical.
Boston Legal
(ABC, Dec. 5, 10 p.m. ET) A custody case involving two young girls who happen to be white-supremacist singing stars.
The former
Roseanne
star, now 31, is getting rave reviews (and some raised eyebrows from a nude scene) in Broadway's
The Little Dog Laughed
.
DID YOU FIND DOING A NUDE SCENE DAUNTING?
I've been doing theater since I was a kid—it's pretty common. But we did need to choreograph a little. You don't want anyone catching a knee to the chin while you're tearing clothes off!
HOW WAS WORKING WITH ROSEANNE BARR?
Rose is a mom first, so she was maternal with us kids. She had a lot of gentle patience. I went on a date with one of her assistants and found out she was upset about it—it was her being protective of me.
SATURDAY NIGHT LIVE
: THE COMPLETE FIRST SEASON Eight discs of a legendary cast: John Belushi, Gilda Radner, Dan Aykroyd way back in—oh, time, you jester! 1975!
FLAVOR OF LOVE 2
Flavor Flav gives his heart—or at least his clock—to a lady named Deelishis in season 2 of VH1's hilarious take on reality romance.
ON THIS SEASON'S NEW TWISTS My character, [FBI agent] Darwyn, has a crisis with his faith and begins to lose himself. As an actor you throw yourself into a role, and that's what undercover work is, it's a role. He's starting to become like the guys he's trying to take down.
ON THE REAL-LIFE HUNT FOR TERRORISTS There's a disconnect over this war. We cannot fight with muscle—it's a war of ideas. There is a refusal to try and understand each other.
ON HIS CIVILIAN LIFE All my focus is on the show. Then it'll be catch-up-on-movie time. Rocky Balboa! I can't wait for the new Rocky.
ABC (Thursdays, 9 p.m. ET)
Advertisement
Treat Yourself! 4 Preview Issues
The most buzzed about stars this minute!