People Top 5
LAST UPDATE: Tuesday February 10, 2015 01:10PM EST
PEOPLE Top 5 are the most-viewed stories on the site over the past three days, updated every 60 minutes
Picks and Pans: Tv
Spotlight on
BY TOM GLIATTO
COMEDY
This hospital sitcom starts its sixth season with three couples expecting babies. That simple human detail gives a sweet grounding of reality to a show that otherwise tends to resemble a surreal vaudeville. The gags shoot out like pink candies from an out-of-control Pez dispenser. On the Nov. 30 premiere, young doctor JD Dorian (Zach Braff) passes out after guzzling wine: He's not coping well with the knowledge that he produced one of those babies in the course of a romance with fellow doctor Kimberly Wyatt (see box below). Then—bam!—he's spirited off to a Vegas wedding chapel by a posse of elderly gay men and winds up being squirted with goo by the Blue Man Group. At times the determination to bolt from joke to joke can feel ferociously cute. But the cast doesn't have a weak performance—I especially like that beautiful goose Sarah Chalke. And, once the babies arrive at Sacred Heart's delivery room, the diaper and breast-feeding punch lines should be, well, robust. Perhaps the best news about
Scrubs
' return is that it forms a new Thursday comedy block with prime time's most inventive sitcoms:
My Name Is Earl
(I've never liked it, but it's undeniably an original),
The Office
and the ratings-challenged
30 Rock
. Anyone needing a laugh can look there.




ABC (Tuesdays, 9 p.m. ET)
COMEDY
For a sitcom, it creates an odd sort of vibe, following a couple's wedding day with minute-by-minute attention as if it were The Path to 9/11. The series kicks off at 8 a.m., with bride-to-be Alice on the floor of her bedroom, doing abdominal exercises. After a few episodes we're up to 10:31 a.m., when a puff of wind blows away chits of paper the wedding planner has been laying out on a table to figure out the seating arrangements. There are small funny moments along the way, most of them provided by Wendie Malick as the bride's mother, her voice ringing with steel and sarcasm, and Stephen Rannazzisi as the best man, legally blind and left without his contacts after the bride's sister has accidentally swallowed them. Marla Sokoloff and Josh Cooke play the couple who, presumably at season's end, will walk down the aisle to the melody chosen by the groom: the theme from
What's Happening
!! I wish them luck, but my RSVP will have to say, "With regrets ..."




CBS (Tuesdays, 8 p.m. ET)
DRAMA
Now in its fourth season, and a solid ratings performer, this series about a Naval Criminal Investigative team based in Washington is relatively low-tech, and big developments in any given case unfold clunkily. Things blow up, people fall over balconies and so on, but
NCIS
is not exactly a throat-grabber. What makes it hum along nonetheless is the sense of friendly rapport and informality among a cast that includes Mark Harmon and the appealingly breezy Michael Weatherly as Agent DiNozzo. Aside from Lauren Holly, playing a boss lady with sometimes bristling tenseness, this crew doesn't seem all that far removed from the razzing electronics-store staff in
The Forty Year-Old Virgin
. Only they have security clearances.




Working in TV is unpredictable—and
Scrubs
? Crazy, inscrutable. "I could be killed off for all I know," jokes Banks, 32, who plays the doctor having the baby with Zach Braff. "One minute I'm operating on someone who has cancer, and the next minute I'm playing a piano with my head." As for her costar, "Zach is sexy, macho—manly and strong. He'd like those words."
Desperate Housewives
(ABC, Nov. 26, 9 p.m. ET) Wisteria Lane holiday block party! And Gabrielle (
Eva Longoria
) has a new guy.
Prison Break
(FOX, Nov. 27, 8 p.m. ET) The first half of the season ends, and things ain't looking good for brothers Wentworth Miller and Dominic Purcell.
Veronica Mars
(The CW, Nov. 28, 9 p.m. ET) Veronica (Kristen Bell) solves the case of the campus rapist.
Molly: An American Girl on the Home Front
Disney Channel (Nov. 26, 8 p.m. ET) The third movie based on the phenomenal line of dolls. This one, set during WWII, stars Maya Ritter.
Candles on Bay Street
(CBS, Nov. 26, 9 p.m. ET) TV movie with Alicia Silverstone as a woman who returns to her hometown after being gone for more than a decade.
1 Cast as a single mom with a Jekyll-and-Hyde personality, she gets to play up the sexy noir toughness she showed in the
Final Destination
movies. And to think: Just last summer I was lamenting the lack of sexy noir tough girls in prime time!
2 Because, unlike the other mutants, she has a "talent" that's intriguingly unheroic: her "bad" side rips into people like a weasel attacking raw bacon. Is it actually a superpower or a mental disorder?
3 Because these aspects make her not quite fit the overall
Heroes
puzzle. The show's catchphrase has been Save the cheerleader. But keep an eye on that mysterious sullen blonde.
Dan Rather
The former CBS anchor, 75, has just launched his own weekly news magazine,
Dan Rather Reports
, on the high-definition network, HDNet.
ON HIS NEW JOB Our goal is to pull no punches, play no favorites. I do not exempt myself from criticism, but I think American journalism has demonstrated that it is too tentative, too bowing to power.
ON KATIE COURIC Katie is a nice person and a very experienced television performer. I haven't seen a lot of the broadcast. I have said before that, from what little I have seen, they seem to want to do something like Today in the evenings. They are still in the formative stages of what they are doing. In my mind, it will be the end of February, early March before we see.
ON WHETHER HE HAS A LIBERAL BIAS I am independent with a capital "I." Fiercely independent. When you don't report the news the way someone with their own partisan agenda wants you to, they try to pin some negative label on you. When you work on stories such as the civil rights movement, Vietnam and Watergate, you make enemies, and your enemies don't forget.
ON HIS COMEDY CENTRAL ELECTION-NIGHT GIG I loved it. Let's face it, being with people as smart as Jon Stewart and Stephen Colbert is a risky business. They are equal-opportunity insulters, and I mean that as a compliment. What's life without risk?
NBC (Thursdays, 9 p.m. ET)
Advertisement
Today's Photos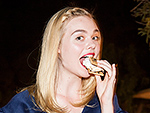 Treat Yourself! 4 Preview Issues
The most buzzed about stars this minute!