People Top 5
LAST UPDATE: Tuesday February 10, 2015 01:10PM EST
PEOPLE Top 5 are the most-viewed stories on the site over the past three days, updated every 60 minutes
WHAT'S NEXT?
Reese and Ryan go their separate ways—and Ryan defends himself
Since announcing their split on Oct. 30,
Reese Witherspoon
and
Ryan Phillippe
have been keeping quiet—and keeping their distance. While Witherspoon was in L.A. with their daughter Ava, 7, and son Deacon, 3, Phillippe has been out of town. And perhaps taking a break from the continuing speculation about what ended his marriage. Phillippe, 32, has not commented on reports that a relationship with Abbie Cornish—the Australian actress who costars with him in an upcoming film—played a role in the demise of his seven-year marriage to Witherspoon, 30. But his reps vehemently deny rumors of drug use. In an exclusive statement to Scoop, Phillippe says, "I'm not a perfect person, but I'm not guilty of a lot of the things I have been accused of. My priority is and always has been the health and safety of my family." It's no secret that Phillippe has always enjoyed hitting the clubs with friends. He and Witherspoon "would fight over that kind of thing all the time. He got away with a lot, and he knows it," according to a source at a Santa Monica bar that Phillippe used to frequent. His rep denies it: "Look, he went out, she went out, it wasn't a point of conflict." Others who know them say Phillippe often stayed at his Venice office after arguments with Witherspoon, sometimes "for days a time," says the source. "He said she hated that." Whatever happens next, says a Phillippe pal, "I know they love their kids to death. So they'll do what they can to keep it from turning ugly."
CHRISTIE'S GRACE-FUL NIGHT
Christie Brinkley knows how to dress for the occasion. At the Princess Grace Awards gala in New York City Nov. 2, the model channeled the royal stunner. "She's just so elegant and beautiful," Brinkley's daughter Alexa Ray Joel raved to Scoop. "She reminds me of Princess Grace." Alexa's not the only one who thinks so. Said a smiling Brinkley, "Her dad [Billy Joel] used to say that."
THE DISH ON SANDRA
Sandra Bullock
doesn't just make movies: Her latest production is Bess, a new upscale restaurant in Texas. She and husband Jesse James—who owns a burger joint of his own in Long Beach, Calif.—hosted a private opening of her first eatery Nov. 4 in Austin, where they have a home. Bullock "loves food, wine and being with friends," says Bess's executive chef, Brenton Childs, who created the menu of southern and bistro fare. Bullock named the restaurant, says Childs, for a fictitious southern woman she conjured who likes to entertain and feed people. But the rest is real—and all Bullock. "Everything," he says—from the leather banquettes to the antique books in the library—"came out of her head."
CELEBRITY KICKOFF
The newest red carpet pose has set off a knee-jerk reaction ...
Christina Aguilera
Joy Bryant
Brooke Hogan
Kristin Cavallari
Jane Krakowski
Emmy Rossum
PEOPLE.COM POLL
SCOOP ASKED, YOU ANSWERED
KEVIN FEDERLINE
FINALLY RELEASES HIS ALBUM
23,839 VOTES
91% MAKE IT STOP!
9% TURN IT UP!
CATHERINE ZETA-JONES
LOOKS HOTTEST ...
23,839 VOTES
83% CURVY
17% LONG AND LEAN
KATIE HOLMES
'S BFFS: WHOM WOULD YOU RATHER HANG WITH?
23,840 VOTES
36%
BROOKE SHIELDS
26% VICTORIA BECKHAM
38% SURI
BORAT
23,840 VOTES
58% FUNNY
42% RACIST
WHICH GOLDEN COUPLE'S SPLIT WAS MOST SHOCKING?
23,839 VOTES
Reese Witherspoon
&
Ryan Phillippe
65%
Hilary Swank & Chad Lowe 7%
Jessica Simpson
&
Nick Lachey
6%
Jennifer Aniston
&
Brad Pitt
22%
TYRA BANKS
'S BEST TV MOMENT
23,839 VOTES
20% DRESSING UP AS A MAN
44% WEARING A FAT SUIT
36% THE ON-AIR BREAST EXAM
DANCING WITH THE STARS
: WHO SHOULD WIN?
23,839 VOTES
27% EMMITT SMITH
50% MARIO LOPEZ
23% JOEY LAWRENCE
VOTE ON NEXT WEEK'S QUESTIONS AT WWW.PEOPLE.COM/POLLS
NICK & JESSICA: ONE YEAR LATER
MTV's reality couple have endured a public split and public affairs, and lived to sing about it
The Newlyweds were married for just three years when they announced their split last Thanksgiving eve (their divorce was final June 30). Today, both
Jessica Simpson
, 26, and
Nick Lachey
, 33, have clearly moved on. "The first few months were really hard," says a pal of Lachey's. "But Nick finally realized he was in a better place." Lachey, who is renovating a Bel Air bachelor pad, has amped up his music career with a gold-selling album and nationwide tour and he's found love again with MTV's TRL host
Vanessa Minnillo
, 26, who he's been dating for seven months. Simpson, meanwhile, decamped to her own Beverly Hills mansion and has kept busy with music and film (see sidebar). "She's doing great," says Simpson's stylist and BFF Ken Paves. And the still-single Simpson has a new plan for reeling in men: DVDs. "You ask a guy to bring over a movie they want you to watch and I think it would tell a lot about them," she tells Scoop. Although, she notes, "It hasn't worked yet." Up next for Simpson? A much, much less dramatic Thanksgiving in Texas with family.
CAREER HIGHLIGHTS
[This article contains a table. Please see hardcopy of magazine or PDF.]
JESS: HER YEAR IN HAIR
Looking muy caliente at May's ALMA Awards
At June's CFDA awards with an upscale updo
Working her extensions in August
Shorter and sassy with a bob in September
LACHEY'S LADIES
It's the real deal with
Vanessa Minnillo
, but Nick's had his share of rumored relationships:
Miss Kentucky Elizabeth Ann Arnold
Laguna Beach
's Kristin Cavallari
Los Angeles stylist Kim Kardashian
Main squeeze
Vanessa Minnillo
Q + A
A Great Deal
With a hit show in the bag—or in the case—Howie Mandel gets back to his comedic roots
He's got more material than his trademark "Ladies, please." And on Nov. 9,
Deal or No Deal
host and veteran stand-up comedian Howie Mandel, 50, will test it all out at the New York Comedy Festival.
Do you work your game show into your comedy routine?
Deal or No Deal
is the consummate family show. My stand-up is not. Don't bring your kids to see the
Deal or No Deal
guy live!
It's really that off-color?
I'm not filthy, but I don't edit myself.... I love that there are no boundaries. I go anywhere. Some evenings get more risqué than others. That isn't my act per se, but I don't want to be constrained by innocent young ears.
What do you and your family make of your sudden prime-time success?
Nobody is more thrilled and surprised than I am.... I thought it was the nail in my career coffin, you know, to be a game show host. But we're all excited. My son [17-year-old Alex] loves to bring his friends to the show and gawk at the models.
What's the hardest part about the job?
I'm a husband and a father. When I look into these people's eyes who've told me that they're in debt and their kid is going to college, and I say, "The offer is $250,000," and they adamantly say, "No deal!"—I'm thinking, "Are you nuts?" But I can't say that.
HOWIE, THEN AND NOWIE
Moptop Mandel from his St. Elsewhere days in 1982.
He was the voice of Gizmo in 1984's Gremlins.
Mandel said no deal three times before accepting Deal. Now? "I feel so lucky."
Contributors:
SCOOP CONTRIBUTORS Danielle Dubin,
Rennie Dyball,
Karen S. Schneider,
Charlotte Triggs,
Ashley Williams,
K.C. Baker,
Shermakaye Bass,
Carrie Borzillo-Vrenna,
Ivory Jeff Clinton,
Mark Dagostino,
Rita Farrell,
Dede Gallagher,
Laura Hahn,
Tiffany McGee,
Lyci.
Get Breaking Celebrity News Every Day PEOPLE.COM
Advertisement
Today's Photos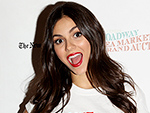 Treat Yourself! 4 Preview Issues
The most buzzed about stars this minute!