Archive Page - 12/1/12 39 years, 2,079 covers and 53,260 stories from PEOPLE magazine's history for you to enjoy
On Newsstands Now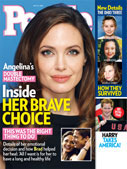 Angelina: Inside Her Brave Choice

New Details on the Ohio Three

Prince Harry Takes America!
Pick up your copy on newsstands
Click here for instant access to the Digital Magazine
People Top 5
LAST UPDATE: Tuesday May 21, 2013 07:10PM EDT
PEOPLE Top 5 are the most-viewed stories on the site over the past three days, updated every 60 minutes
We Can't Work It Out
Amid Charges of 'Fame-Digging' and Family Hostility, Friends Reveal That Paul McCartney and His Wife, Heather, Were on the Rocks Months Before the Official Announcement
Sunday Times
on May 21, her ex-fiancé Chris Terrill addressed her soon-to-be-ex-husband. "I should probably thank you for having taken my seat on a plane that was doomed to crash in flames," Terrill wrote to Sir Paul. "We have both been 'Heathered'—and that is something a chap never forgets.... I think she is someone who desperately wants recognition and is frustrated when it does not come the way she wants it. Her men suffer because of it, but then so does she."
The letter was but the latest and most personal attack yet on the second Mrs. McCartney, 38, whose marriage to Sir Paul, who turns the titular age of 64 on June 18, has long been held in contempt by much of the British press. Branded everything from a "fame-digger" by one McCartney pal to a control freak who forced her husband to dye his gray hair (yes, he does it; no, she doesn't make him, he has said), the model turned activist with the attention-grabbing past (see box) always seemed an unlikely match for the beloved ex-Beatle. And though friends say McCartney had finally had enough of their differences, the pop icon defended her against charges that she was merely after his estimated $1.6 billion fortune. In a May 17 posting on his Web site, McCartney blasted such "vicious rumors," declaring, "It's been suggested that she married me for the money, and there is not an ounce of truth in this."
The truth, say those who know them, is that the pair were just not compatible for the long haul. "I don't think it's laughable to suggest she was bored, but I also don't think it was a generational thing," says Heather's friend Phillip Goodhand-Tait, who adds that Heather told him as early as January that the relationship was on the rocks. "You've got two people who've both got tremendous interests that are going to take them in opposite directions."
A friend of McCartney's is even more blunt. "It is quite simple: It was never going to work," says the pal, noting that the two share strong, outsized personalities. Although the couple cited media scrutiny as the root of their breakup, "you can't have two like magnets pushing together," says the source. "You don't have two frontmen in a band, but there were two frontmen in the marriage." Adds someone who recently worked with the couple: "She has a real temper and he can be a bit stubborn, and it is maybe not the best mix."
The public fallout has taken its toll on Heather, who "has been in floods of tears," says one friend. "She is at a very low ebb both emotionally and physically." Amid intense speculation about the potential divorce payout (see box), both parents are now concentrating on protecting their 2 ½-year-old daughter Beatrice. "They are very sad," says Heather's friend Wendy Walker, senior executive producer at
Larry King Live
. "They speak every day and their focus is on Beatrice."
Despite simmering tensions, publicly, at least, the pair had seemed to be focusing on making their family life work. In an interview with Britain's
The Guardian
, published May 20 but conducted before the split, Heather painted a picture of their homebody marriage. Her last cry, she said, was "watching the film
Dreamer
with my husband asleep on my knee."
That kind of cozy scene stands in stark contrast to the frosty impression that Mills McCartney could make on others. At a November gala in Beverly Hills for her longtime cause Adopt-a-Minefield, the evening's hostess and her husband barely interacted. "I remember thinking they were very businesslike and stiff together, quite cold," says an attendee. Later, before a crowd that included Jay Leno, Alec Baldwin and Ray Romano, Mills McCartney struck a hostile note, according to several guests who were there. "She said, 'If any of you are here to hear my husband play, shame on you,'" says one attendee. "It was so uncalled for." By the end of the night, says another guest, "all anyone could talk about was what an angry person Heather seemed to be."
Friends of Mills McCartney express dismay at such a description. "Every time I talk to her, it's always about someone else she is trying to help," says one pal. In fact, it was Mills McCartney's philanthropy—and unmistakable chutzpah—that first drew the divorced ex-model and the legendary ex-Beatle together. After hearing her speak at a charity function in 1999, a little more than a year after the death of his wife Linda, McCartney told the
Daily Mail
, "I was very impressed ... so I found out her telephone number, like you do, and rang her up." Almost immediately, Mills called off her wedding to her then-fiancé Terrill, though she and McCartney didn't come out as a couple for almost a year. However, there was no escaping the long shadow cast by McCartney's 29-year marriage to Linda, who had died of breast cancer at age 56.
The couple's four adult children greeted their future stepmother with skepticism (see box), but when the pair tied the knot in an extravagant wedding in Ireland in June 2002, the family put on a united front. It wasn't long, however, before many longtime members of McCartney's inner circle began to chafe at the relationship. "It was partly her energy and vitality that made her attractive to him," says one friend, "but it was so egotistical and 'me, me, me' all the time that it just drove you mad." Still, the friend counters the popular perception that McCartney was whipped. "Paul is tougher than most people think," says the friend. "He's no pussycat and like everybody he has an angry side. He has got his way for 40 years, but then she came along and tried to out-boss him."
Certainly marriage to the erstwhile Cute Beatle comes with its own unique pressures. "Everything I've worked for in my life, tried to do and overcome, it's all just been forgotten," Heather told interviewer Michael Parkinson in '03. "It's all just, 'She's the bird of Paul McCartney,' and it's just knock, knock, knock. That's affected me really badly."
Others say tension stemmed from Mills McCartney's disapproval of her husband's public pro-marijuana stand. "Heather is quite conservative," says one friend. "She is not a trippy hippie and Paul is and has been for a long time. She hated that sort of thing." For his part, the more subdued McCartney often seemed uncomfortable with the promotional zeal his wife directs at her various causes. At one point in a recent BBC documentary on the couple's anti-fur activism, Mills McCartney storms the headquarters of the
Jennifer Lopez
design house Sweetface to protest its use of fur. "I'm Lady Heather Mills McCartney, Paul McCartney's wife!" she declares when asked to leave.
"She was always wanting him to use his celebrity [to promote her causes], and he just looked so utterly miserable when she asked," says a source who knows them. "He wouldn't say no to her, but he'd try to put her off a bit." Furthermore, "their styles of dealing with people were so different. He would listen to people and she keeps interrupting with statistics. It's very hard to get a word in when she gets started. You got the feeling he would have been happy with his music and his kids and his farm."
Sure, "he likes the farm," counters another friend, "but he is far more cosmopolitan and much more of a doer. It is so wrong to picture him in a rocking-chair kind of scene." In March he and Heather teamed up for a trip to Canada's Prince Edward Island to draw attention to the killing of baby seals for their skins. Though by some accounts they had already been shaky for months, on their way to a television interview, "they just started singing, 'All We Are Saying Is Give Seals a Chance,'" recalls Rebecca Aldworth of the Humane Society of the U.S. "They both sang together the whole way into the studio. It was very sweet."
As the pair now go their separate ways—he's at home after a vacation to France; she returned to England after a two-day visit to Slovenia, where she has friends from her activist work—they are focused on their little girl. "This separation will not stop Paul from being a good father, as he has always been," says May Pang, a longtime friend of McCartney's and former girlfriend of John Lennon. As for Heather, "She is a very strong person," says her friend Wendy Walker. "There is a lot of caring on both sides here. They are just hoping to have some time, like everyone who goes through this, to move on."
Stepmother Syndrome
"I think a second marriage is hard for the children, no matter who it is," McCartney acknowledged to the
Daily Telegraph
in 2002. "[My kids] find it difficult to think of me with another woman." The biggest challenge proved to be earning the respect of Paul and Linda's kids: fashion designer Stella, 34, musician James, 28, photographer Mary, 36, and interior designer Heather, 43 (Linda's daughter from a previous relationship whom Paul adopted). "There's always problems between stepmothers—think of Cinderella," Heather said on British TV in '03, adding that reports of friction were "made up." Still, the press quickly focused on her relationship with Stella, particularly when she chose a wedding dress by another designer and was seldom in the audience at Stella's fashion shows. According to one of Paul's friends, "[Paul and the kids] don't talk as much since he got married to Heather." Adds another pal: "We almost never saw a picture of [Heather and Stella] together. That says a lot."
Contributors:
Pete Norman/London,
Courtney Rubin/London,
Simon Perry/London,
Neil Michael/London,
Ellen Tumposky/London,
Liz Corcoran/London,
Oliver Jones/Los Angeles,
Kathy Ehrich Dowd/New York City,
Natasha Stoynoff/New York City.
Advertisement
Treat Yourself! 4 Preview Issues
The most buzzed about stars this minute!