On Newsstands Now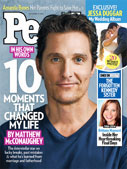 Matthew McConaughey: In His Own Words

Jessa Duggar's Wedding Album

Brittany Maynard's Final Days
Pick up your copy on newsstands
Click here for instant access to the Digital Magazine
People Top 5
LAST UPDATE: Tuesday February 10, 2015 01:10PM EST
PEOPLE Top 5 are the most-viewed stories on the site over the past three days, updated every 60 minutes
Soul Survivor
Jawing with Leno. Dancing with Degeneres. Greeting His 'Soul Patrol' Fans. Wooooooo! Taylor Hicks Revels in His American Idol Victory and Reflects on the Perseverance That Made Him No. 1
Taylor Hicks
already has fans in high places. "There's no mystery to this—he's a 'Bama boy," says Secretary of State Condoleezza Rice, a fellow Birmingham native, of her Idol worship. "We Alabamians have to stick together."
Chart-topping chanteuse Toni Braxton, who dueted with Hicks during the
American Idol
finale, says, "Taylor was my pick from the [beginning]. He's a soul white boy. Like a Hall & Oates kind of white boy. I think he brings old-style flavor back to the industry."
Even former
Idol
contestants croon Hicks's praises. "He has fun up there and he really sings from his heart," says Constantine Maroulis, class of 2005.
That let-it-all-hang-out attitude may be the key to Hicks's success. Back when he was singing on the bar circuit in 2003, "he would get the crowd going," says Donna Slater, entertainment director of Flora-Bama Lounge, a popular watering hole on the Florida-Alabama border. "At first he was a curiosity, with all his dancing and twitching around on stage, but then everyone realized this guy could really sing."
Well, not everyone. Until six months ago Hicks, 29, was still singing in bars and performing at bar mitzvahs and weddings—just to pay the bills. "A lot of people say it's an overnight sensation, but that's not true for me," says Hicks. "I've been waiting 10 years for this."
Even from his early days growing up in Birmingham, "he had the desire to perform," says his mother, Pam, who was divorced from his father, Brad, a dentist, when Taylor was 8. "There was a point—he must have been 7 or 8—that I heard him singing and I knew that he had a gift for music."
Susan Whitson, who taught ninth-grade English to Hicks—and is now press secretary to First Lady Laura Bush—also was well aware of the 15-year-old's musical aptitude. "Every once in a while he would bring his harmonica to class," says Whitson, "and on a couple of occasions I was like, 'Okay Taylor, why don't you get in front and play?'—he played a lot of jazz and blues. He always had good self-confidence."
Though he also had athletic talent, the music always won out. "When I was about 16, I would play high school basketball and then I would put on this big white hat and go into particular restaurants and play harmonica with bands," says Hicks. "I was playing one night and my folks came for dinner. They came up to me and said, 'What the hell are you doing here?' My dad said, 'Son, you know that you're a minor and I'm your father,' and I was like, 'Dad, don't sweat it. It's just the blues.'"
Although he entered Auburn University in 1995, ostensibly to study business and journalism, Hicks never really focused on his studies. "Taylor is very smart but he was not a good student—he'd come in to class on test day after playing at a club the night before, and he wouldn't have studied at all," says classmate Barry Jackson.
Even focusing on his professors' lectures proved torturous for Hicks. "I would sit in class and the muses would scream and kick and cry for me to come back," recalls Hicks. "Ultimately entertaining and making people happy is my calling."
Before he got on the
Idol
fast track, Hicks was so passionate about his music he'd spend hours peddling his low-budget CD recordings door-to-door to Birmingham radio stations and music festivals, to no avail. "You don't really knock on doors in this business, you knock them down," he says. Which is why "when American Idol's door opened slightly for me, I kicked it in."
In fact it took a full-on natural disaster for Hicks to get discovered. "I was in New Orleans as Hurricane Katrina was hitting," he says, "and on a taxicab ride out of town I called an airline company [Southwest]. They said we'll give you a ticket—one way—for anywhere in the country. So I went to Las Vegas. American Idol tryouts were there, and I auditioned and here I am."
Once he made it to Hollywood, even the petulant blowings of
Simon Cowell
, who told Hicks after his first audition that he'd never make it to the finals, didn't deter him. "I'll be honest with you," he says. "I bit my tongue a lot—a lot. I didn't appreciate [his put-downs], but really, it drove me."
Now, in the days after beating out
Katharine McPhee
before 43 million viewers, the crooner seems energized by the enthusiasm of his fans. Wherever he goes (accompanied by a bodyguard) he's greeted by well-wishers shouting "Woooooo!" and "Soul Patrol!" which is what Hicks dubbed his followers long before landing on Idol. They, in turn, have nicknamed him Gray Charles because of his salt-and-pepper mane. (The Hicks idolatry is so pervasive there's even a Web site dedicated to his pet goldfish Lamont and Ray.) "Sometimes the fans shake. I've seen some cry," says Hicks. In one mall he visited, several people had to be wheeled out on gurneys after fainting. There's now a subdivision of the Soul Patrol called Hicks Chicks. "I'm humbled and flattered" by their attention, he says. "I'm single. This is nice to hear."
"He has a charisma that attracts girls," says friend Chris Horner. "If he wasn't famous, they'd still like him. He looks 10 years older than the rest of us, but we'd go out and girls would focus on him."
For all the adulation, friends say Hicks has not had much luck with romance. He has dated a few women, they say, but most of his relationships have been casual, and he is currently unattached.
Part of his appeal lies in Hicks's sheer intensity. "I'm an energy ball," says Hicks, whose two front teeth are fake—the originals got knocked out when he was playing all-out in a high school basketball game. "You have to be if you're a performer. I love watching Mick Jagger perform and all those high-energy people because you get your money's worth."
Still, Hicks is trying to keep his newfound fame low-key. "He's not the type to get his head turned around by a little bit of attention," says his mom. "He's not doing this so that people will scream and chant his name. He's doing this because he has a genuine love for music."
After the initial press tour (including stops at
The Tonight Show
and
Ellen
) ends, Hicks is going back to sweet home Alabama to unwind with his family, partake of some good Southern cooking ("fried chicken and turnip greens," he says) and then return to L.A. to prep for the American Idols Live! tour, which kicks off July 5 in Manchester, N.H. Then, in the fall, he's expected to release his post-Idol debut album, to be overseen by industry legend Clive Davis.
Where Hicks goes from there is an open question. "If you come up with an album merely to satisfy the TV fans," says Davis, "you will sell a few hundred thousand and be over. He has to really move to the next step and show he is a recording artist and is involved in material that can compete with
Mariah Carey
, James Blunt, Usher and Alicia Keys." Hicks's edge, says Davis, "is that he is charismatic and soulful at the same time, and already knows how to use his stage [presence] in a very winning fashion."
"You have to take the opportunities that
American Idol
gave you and also remember that you are still a brand-new artist," says Melinda Newman, Billboard magazine's West Coast bureau chief. Hicks, she says, "can't take the
Idol
fan base for granted."
Not only is Hicks not taking his fans for granted, he's fantasizing about them and the sounds they'll make inside a stadium-size concert space. "As a [rising] performer, working at small venues and bars, you never get to experience the echo of the arena," says Hicks. "Now I'm gonna hear that echo and it's a dream come true."
Contributors:
Steve Helling/Birmingham,
Nancy Wilstach/Birmingham,
Carrie Borzillo-Vrenna/Los Angeles,
Monica Rizzo/Los Angeles,
Kimberly Lansing/Los Angeles,
Macon Morehouse/Washington,
D.C..
Newly crowned American Idol
Advertisement
Treat Yourself! 4 Preview Issues
The most buzzed about stars this minute!