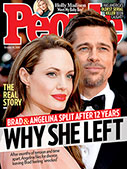 This Week's Issue!
People Top 5
LAST UPDATE: Tuesday February 10, 2015 01:10PM EST
PEOPLE Top 5 are the most-viewed stories on the site over the past three days, updated every 60 minutes
"The most meaningful tributes to Diana are her sons William and Harry"
Tammy Fisher
Cave City, Ark.
Thank you for your article about Princess Diana and her amazing sons William and Harry. It was refreshing to read a story that focused on the positive aspects of Diana and her children, rather than the many scandals that so tragically surrounded their lives. Diana was an extraordinary woman who did much good around the world. It is wonderful that her spirit lives on through her boys.
Victoria Borisch
Oshkosh, Wis.
After her marriage failed, Princess Diana was most fulfilled by her charity work and the fact that she could lend her celebrity status to make a difference. With Diana's influence, it is not surprising that William and Harry are carrying on her legacy and continue to work on behalf of the less fortunate.
Theoma Floyd
Crimora, Va.
It was not Diana's death that shaped her sons' lives, it was her life.
Amy Phillips
Loveland, Colo.
LOGAN ARGEL
I was deeply touched by your article Dear Logan. My father, a West Point graduate and Korean War veteran, was killed in an airplane crash six months before I was born. The only stories I have of him are the ones my mother told me and an essay written by a friend and read at his funeral. What I wouldn't give to have the kinds of insights into the man who was my father that only his close friends and fellow soldiers could give. Logan's dad is not the only hero in his son's life. Those who chose to honor him with a gift of memories for his son are also heroes.
Karen Hutson
Greensboro, N.C.
OPRAH
WINFREY
I read with distaste
Oprah
's comments at Howard University. How tacky of her to make a point that she "did grow up and get some really good white folks working for me."
Oprah
Winfrey has accomplished much during her life and is an inspiration for many women of all races. Why did she feel the need to include such a remark in her speech? Commencement is supposed to be a new beginning. The time to overcome is now,
Oprah
.
Patricia A. Gardner
Mission Viejo, Calif.
HOLLY ROBINSON PEETE
As a mother of an autistic child, it was wonderful to learn about Holly Robinson Peete and her son's successful battle with autism. Ms. Robinson Peete's story gives me hope that with all his therapies, my son will be a success story too.
Lisa Evankovich
Monroeville, Pa.
Holly Robinson Peete mentioned that her son was a normal child until he was inoculated for measles, mumps and rubella. This is a very controversial issue as researchers don't know exactly what causes autism. Research is inconclusive, with both sides strongly refuting the other. I have a 12-month-old son and have yet to have him vaccinated with the MMR shot.
Lisa Dufresne
via e-mail
KIDS HELP A HERO
Our story about Sudanese civil war refugee John Bul Dau, who was granted asylum in the U.S. and raised $180,000 to build a medical clinic in his hometown in Sudan, inspired some of our younger readers to pitch in. Last month students at Robert R. Lazar Middle School in Montville, N.J., held a walkathon, raising $23,000 for the clinic. "When I read the [congratulatory] e-mail I got from John over the PA, the whole school was cheering," says Judy Gothelf, a sixth-grade language arts teacher. John's saga also touched Arielle Levitt, 17, a student from Cold Spring Harbor High School on Long Island who organized a screening of a documentary on the Lost Boys of Sudan that resulted in $13,000 in contributions. Dau now heads the nonprofit John Dau Sudan Foundation in Salt Lake City and Syracuse, N.Y., which plans to provide a variety of health and education services in Sudan. "Rather than me being a model to them," says Dau, who was awed by the students' generosity of time, money and spirit, "these kids are a model to me."
DIANA'S BOYS
Advertisement
Treat Yourself! 4 Preview Issues
The most buzzed about stars this minute!