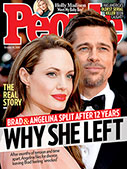 This Week's Issue!
People Top 5
LAST UPDATE: Tuesday February 10, 2015 01:10PM EST
PEOPLE Top 5 are the most-viewed stories on the site over the past three days, updated every 60 minutes
Ann Romney Unscripted
From Putting Family First to Beating Back MS, Presidential Candidate Mitt Romney's Wife Has Her Own Style


If their best-laid plans succeed, the Romneys won't just be nicknamed after a President and First Lady. Ann Romney, 58, is a traditional Mormon homemaker emerging as a potent political force for her husband, the multimillionaire venture capitalist and former Massachusetts governor competing for the Republican presidential nomination. She stars in his ads and is increasingly active on the campaign trail. The underlying appeal? With 38 years of marriage, five sons and 10 grandchildren, Mitt Romney, 60, is the clear "family values" titleholder among a top tier of GOP candidates all on second or third marriages, says American University political scientist Karen O'Connor. "Everything about the Romneys is pro-family."

For a woman of great resources (the Romneys are worth between $190 million and $250 million, according to his campaign), Romney folds her own laundry, does her own cooking and has never had more than a once-a-week cleaning lady "because of the feeling in the home when everyone there is just family," her husband explains. Her oldest son, Tagg, 37, recalls her making peanut-butter pancakes from scratch to indulge Ben, now 29, who wouldn't eat anything else. "My mom was Super Woman," he says. With her easy laugh and inviting, regular-gal style (she greeted this reporter in her kitchen, wearing jeans and red flip-flops), Romney makes the joys of wrangling five boys believable and shrugs off the "just a stay-at-home mom" judgment she sometimes feels from other women. "Motherhood was my career," she says. "I'm totally satisfied with that."


Traditional mom—but hardly average. The Romneys keep several horses, have a $2.5 million lake house in New Hampshire and launch their family swims in Lake Winnipesaukee from the stern of a 29-ft. powerboat. Romney also takes unabashed joy in earning a gold medal in Grand Prix-level dressage horseback riding. Raised without religion by her "great agnostic father," a Welsh-immigrant engineer and entrepreneur, she fell in love with Mitt in high school in the upscale Detroit suburb of Bloomfield Hills, Mich. When he left for a 2 1/2-year church mission in France, she studied with missionaries at home and was baptized a Mormon. Today, "We're practicing and active (in the church)," she says. "My kids don't drink and don't smoke. For me, that's a great blessing."

The biggest test of Romney's faith came after she was diagnosed with MS a decade ago. Walking was an almost impossible labor, numbness in her right side temporarily stole bladder and bowel control, and for days, she was too exhausted to get out of bed. "I thought, 'Couldn't I just have cancer and die?'" she says today. Aggressive steroid infusions brought the symptoms under control, though she still has weakness in her right side and occasional fatigue, and Romney is now drug-free, crediting holistic therapies—horseback riding, reflexology, acupuncture and meditation—with her remission. (Her doctor, Howard Weiner, says the remission is rare and her treatment unique.) She does Pilates and yoga, and she favors steamed fish as well as lots of fruits and vegetables and whole grains. "I eat as healthy as I can," she notes. "It is tough."

If she becomes First Lady, she will champion teen pregnancy prevention (stressing abstinence, she says, but recognizing "that is not the answer for everything") and faith-based programs for at-risk kids. And, of course, she wants to take a leading role with MS awareness and research.

Here, though, her openness hits some limits. She talks of privately counseling MS patients through the kind of despair she once felt, then reconsiders publicizing that fact. "I don't want to get a million phone calls," she says. But one who has benefited from Romney's counsel describes her as anything but guarded. "It was so great to be able to talk with her about all the weird sensations, the pins and needles," says Mary Canelas, a New Hampshire mother of four whose MS is aggressively debilitating. "She gave me hope at a very scary time." For Romney, it's her calling now. "The disease changed me. I recognize now that we all have burdens in life, and we need to learn to lighten each other's load."

For more from PEOPLE's interview, go to PEOPLE.COM/ROMNEY


Peeling salmon-pink shingles give the Romney home in the stately Boston suburb of Belmont that old-Brahmin look on the outside. Inside, the lady of the house, who dabbles in interior design, uses "family" as her decorative motif—from oil portraits to dozens of framed photos. Some childrens' drawings, taped to the windowsill above the kitchen sink, are inscribed in magic marker to "Mamie and Ike," which is what Ann and Mitt Romney call each other around family. "They are just enthralled with the Eisenhower administration and the solid core values of that sweet couple," says Ann's brother Rod Davies. "And Mitt and Ann kind of fit that mold in a lot of ways, don't they?"
Advertisement
Treat Yourself! 4 Preview Issues
The most buzzed about stars this minute!