People Top 5
LAST UPDATE: Tuesday February 10, 2015 01:10PM EST
PEOPLE Top 5 are the most-viewed stories on the site over the past three days, updated every 60 minutes
Picks and Pans: Music
Gym Class Heroes
Introducing Joss Stone
REVIEWED BY ERICKA SÓUTER
CRITIC'S CHOICE
R&B
The title of Joss Stone's third album is certainly a misnomer. After all, much praise has been heaped on the preternaturally deep-voiced teen and her critically acclaimed 2003 collection of vintage R&B covers,
The Soul Sessions
, which was quickly followed by the lush
Mind Body & Soul
. But this disc, her second set of original material, does introduce listeners to a more mature Stone. Now 19, and undoubtedly with more life experiences under her belt, she has grown into that husky, growly delivery. Seductive lyrics like "Bring me your sugar/And pour it all over me baby" in the sultry "Put Your Hands On Me" finally sound more natural and believable. This time working with producer Raphael Saadiq (Mary J. Blige, Kelis), Stone has added a youthful energy to tracks like the mildly Christina-esque "Tell Me 'Bout It," but in no way degrades her self-assured, retro-soul sound with overproduced melodies. Rather, she is deftly expanding it by infusing a hip-hop vibe with the buoyant "Music," featuring a fluid rap by Fugees phenom Lauryn Hill, and "Tell Me What We're Gonna Do Now," a superb jam with Common.




DOWNLOAD THIS: "Tell Me What We're Gonna Do Now"
We Were Dead Before the Ship Even Sank
REVIEWED BY CHRIS STRAUSS
ALT-ROCK
After cracking the Top 20 of the Billboard 200 for the first time in 2004, Modest Mouse scored another coup when Johnny Marr joined the group in 2006. Adapting perfectly to singer Isaac Brock's frantic cadences, the legendary Smiths guitarist quickly makes his presence felt on the radio-friendly first single, "Dashboard." Success hasn't led Brock to shed his acerbic side, as he laments a life that "fits like clothes made out of wasps" on "Parting of the Sensory." This listening experience is a lot more comfortable.




DOWNLOAD THIS: "Dashboard"
Last of the Breed
REVIEWED BY RALPH NOVAK
COUNTRY
Old guys like to reminisce—and this trio of country music Hall of Famers skillfully takes listeners back with outstanding updates of country classics like Harlan Howard's "Heartaches by the Number" and the repentant "Why Me Lord," written by actor-musician Kris Kristofferson, who also sings backup on the track. Almost as enjoyable on this two-disc set are the two new tracks: Haggard's bluesy "Sweet Jesus" and Nelson's wistful "Back to Earth."




DOWNLOAD THIS: "Why Me Lord"
Luvanmusiq
R&B
Luvanmusiq
, the singer's fourth CD, is another ode to vintage R&B. In fact the introspective groove "thequestions" is reminiscent of a '70s-era Stevie Wonder. The sweetly soulful "ms.philadelphia" and "teachme" showcase his old-school charm, and "b.u.d.d.y.," a mid-tempo cut about friends with benefits, is the head-nodding highlight. Unfortunately, too many tracks are weighed down by cloying musings about romance, making ballads like "today" and "millionaire" predictable and practically indistinguishable.




DOWNLOAD THIS: "b.u.d.d.y."
Text PICKS to 8915 for downloads from Picks & Pans.
For more information on where to find our Download This picks, go to WWW.PEOPLE.COM/DOWNLOADTHIS
Tracking down Lauryn Hill was not easy for Stone, who called Hill's mom repeatedly over two months before she finally got back in touch. Equally elusive to fans, Hill performs occasionally but has yet to release her second studio album. Her guest spot on Stone's CD will make you want to revisit the 1998 Grammy-winning
The Miseducation of Lauryn Hill
.
Amy Winehouse,
Back to Black
On her second album the British belter serves up a heady cocktail of vintage '60s R&B, most notably on the defiant "Rehab"—one of the best singles so far this year—and on the saucy "You Know I'm No Good."
Patti Austin,
Avant Gershwin
The veteran chanteuse radiates on this modernized collection of swing-era Ira Gershwin classics, recorded live with Germany's WDR Big Band and sung with remarkable energy.
Dr. Dog,
We All Belong
The Philly quintet wears its '60s influences on its sleeve with great results on this album filled with perfectly layered pop harmonies.
Patty Griffin,
Children Running Through
Griffin mines the fertile territory between country, folk and blues while displaying richly soulful pipes on her excellent new CD. The highlight: "Trapeze," her topflight duet with Emmylou Harris.
SOUND OFF
Bullied in school, the band got revenge with a hit about love, "Cupid's Chokehold," off their CD
As Cruel As School Children
. Singer Travis McCoy, 25, riffs on going from zeroes to Heroes.
ON SURVIVING HIGH SCHOOL I actually met [drummer] Matt McGinley in gym class. I was the fat kid. I got held back a couple times. That's when you face the most ridicule. But I'm not bitter. I do giggle to myself when I go back home and somebody who wouldn't give me the time of day in high school comes up and says, "I saw you on Conan and I was like, 'Oh, I know that guy.'"
ON WHETHER HE'S IN CUPID'S CHOKEHOLD It's like an arm war right now. It'll be a full nelson pretty soon. I think some of us have a couple arrows in our hips.
ON THEIR JUNE 2006 TOUR BUS CRASH The van flipped, as if God slapped it from both sides. We were really lucky. We were playing shows the next day. Situations like that definitely bring you closer.
Advertisement
Today's Photos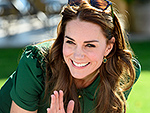 Treat Yourself! 4 Preview Issues
The most buzzed about stars this minute!