People Top 5
LAST UPDATE: Tuesday February 10, 2015 01:10PM EST
PEOPLE Top 5 are the most-viewed stories on the site over the past three days, updated every 60 minutes
Marcia Cross 'Better Than I Even Imagined'
After Years of Longing for Motherhood, Desperate Housewives's Marcia Cross Delights in Her 8-week-old Twin Girls Savannah and Eden
Desperate Housewives
character, the immaculately polished Bree Hodge. Earlier in the day, "Tom was dancing with Eden," says Cross, sipping a mug of herbal tea for lactating mothers while the twins snooze upstairs. "We put on some Tchaikovsky and they were dancing to Swan Lake. That was just—" she lets out a deep sigh—"so beautiful."
It's the kind of blissful family moment Cross, who turned 45 shortly after the twins' birth, has been craving for more than a decade—or, as she jokingly puts it, "the longest wait in history." In the past 10 months, the woman who 2½ years ago told
Winfrey"
she was "desperate to be a housewife" became both a newlywed and a member of Club Mom twice over. "I wanted to be a member of that club so badly, and now I'm in and it's so much better than I even imagined," she says. "Even before I was 30 I started thinking about [motherhood]," says Cross, who grew up as the middle of three daughters of Mark, a retired personnel manager, and Janet, a retired teacher, in Marlborough, Mass. "The years started going by and I was anxious about the clock ticking. Now it seems like it was all meant to be."
Her ginger-haired babies "are absolutely breathtaking," says Cross's
Housewives
costar
Eva Longoria
, who visited when the twins were just a couple of weeks old. "It's a surreal feeling, because our lives are so different from when we started the show." Adds the show's creator Marc Cherry: "Three years ago Marcia got this job and was a little, 'What do I know about being a housewife?' Now she's got it all."
After landing her breakout role in the '90s prime-time soap
Melrose Place
, Cross appeared in a series of TV guest-star roles while also earning a master's degree in psychology. Then came her Emmy-nominated
Housewives
turn but still she searched for success in her personal life—until her 2004 fairy-tale encounter with financial adviser Mahoney, 49. After spotting Mahoney outside an L.A. flower store, Cross left her number with a shopkeeper. Mahoney called Cross for a date the following week, and the two were married last June at a church ceremony in San Gabriel, Calif. Since then, Cross acknowledges pressing the fast-forward button on her life. "Well, I'm no spring chicken," she says. "I met Tom and I was like, 'I don't know whether we can do this [have babies] or not,'" she recalls. "And he was like, 'If we can't, we'll adopt.' I thought, 'This is the man for me!' So before we got married we started trying [to conceive]." She is equally frank about the couple's need for fertility treatment (see box). "We did in vitro a week after we got married," she says. "We were supposed to go to Greece and Paris and have this fancy honeymoon, and I said, 'Let's stay put and see if we can't give this baby a chance.'"
It worked—times two. When they first learned they were expecting twins, "I was hugely terrified," she says. "And I was more scared to have girls—probably from just having been one. Now I'm just delighted. There's nothing closer than the female bond."
During the first part of her pregnancy—which was not written into
Housewives
—"I was horribly nauseous," says Cross. Then around the 26-week mark in late December she hit a more serious snag. "I went to the doctor's office, and I'd been having contractions and didn't know it," she says. "I thought I was this Amazon woman, and that bed rest was never going to happen to me."
But it did, throwing a wrench into her
Housewives
plot line, which Cherry quickly rejiggered so that crucial episodes could be filmed at Cross's home. (Bree suffered a fall on the show and was bedridden.) Says Cherry: "It ultimately worked because Marcia was such a good sport about it."
She brought the same spirit to her nine weeks of bed rest. "Not a day went by that she didn't have good humor," says Mahoney. For her part, "I thought, 'I might as well learn something,'" says Cross. "So I got some books on tape—ancient Greek civilization, something on the symphony, [George Eliot's] Middlemarch." But as her belly grew, so did her discomfort. "I couldn't breathe really well, and I'd be so tired just talking on the phone," she says. "It was a very isolating time."
Four weeks before her March 21 due date, Cross was diagnosed with preeclampsia, a disorder characterized by dangerously high blood pressure that threatens both mother and baby. Within hours she was undergoing a cesarean section while Tom held her hand. "Savannah was born first and then Eden followed within the same minute," he says. "Then we had a symphony of crying and it was fantastic." At 6 lbs. 7 oz. (Savannah) and 5 lbs. 10 oz. (Eden), notes Cross, "I had over 12 lbs. of baby in me!"
Since arriving home with the twins four days after their birth, Cross—who has the help of a baby nurse—has mastered the art of simultaneously breast-feeding the two, "which for me is a huge accomplishment!" She also has marveled at her rapidly returning figure. During her pregnancy, "I didn't just feel large, I was large," she says with a laugh. Just before delivering the twins, "I was 190 [lbs.], and two weeks later I was 150. My doctor said it was a record weight loss! When you're [used to being] thin, you're like, 'Oh, there's an inch over here,'" she says, frowning and pinching her waist. "When you're 190 and all of a sudden you're not, it's like, 'I'm Twiggy!'" She only recently started back at the gym: "It feels so good."
Of course, nothing feels better than delighting in her new daughters. "She'll come in when I'm putting on my tie in the morning and say, 'Honey, you've got to see this!'" says Mahoney, who surprised Cross with a pair of diamond studs—"one for each girl"—at the couple's first dinner out together as parents. "The girls will be side-by-side, peacefully eyeing the mobile with just the faintest of smiles. She's totally in the moment."
As for the girls' names, Savannah "came to me in this premonition," she says. "A long time ago, I had this kind of spiritual experience, that I will have this child and her name will be Savannah," she recalls. "Then when Tom and I didn't even know we were having girls, he wrote me an e-mail and said, 'I just heard a name I like: Savannah.' I had the complete chills." For the name Eden, "I was getting a massage and it came to me," she says. Already, the girls' personalities are starting to emerge. During the pregnancy, "Savannah kicked all the time, and Eden was really quiet, which made me so nervous," says Cross. "Now Eden's the feisty one and Savannah's more Zen." Whom do they resemble? "At first I was like, 'Savannah is Tom!' And Eden looks a little bit like him now too," she says. Mostly, though, "they're these two brand-new beings, and every day it's like, 'Who are you?'"
It's a question she has also been asking herself since the babies' arrival. Before becoming a mom, "I felt like I couldn't really go after movies and further my career. I needed to have my family first," says Cross. "I mean, I could win an Oscar, but who cares if I don't have my family? I still want to work and be creative. Anything I do is that much richer now."
Looking ahead, she doesn't rule out more kids. "I'm probably done," she says. "But I certainly can see why people keep going." Before long, Cross will celebrate two major events: her first Mother's Day and her first wedding anniversary. But she's also savoring the smallest of moments. "I love when you get them out of the crib and you open the blanket and they're like little flowers—they're warm and they smell so good," she says. "People say, 'Oh wait, it gets better and better!' But I'm in no rush. I'm in heaven right now."
Advertisement
Today's Photos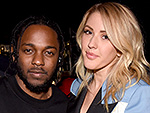 Treat Yourself! 4 Preview Issues
The most buzzed about stars this minute!