People Top 5
LAST UPDATE: Tuesday February 10, 2015 01:10PM EST
PEOPLE Top 5 are the most-viewed stories on the site over the past three days, updated every 60 minutes
Picks and Pans Main: TV
Elizabeth Reaser
BY TOM GLIATTO
DRAMA
This series, recently renewed for a second season, seemed like a total loser to me when it premiered. A drama about the well-off Walker family, it stuffed in too many preeningly articulate characters (five adult children, one widowed mom), and among them were two fusspot actresses (Sally Field and Calista Flockhart) who might be expected to flutter at each other like moths in a mirror. But the show has developed into a solid soap that really catches fire. Special credit goes to two actors who surprise us by mining mature, wry humor from the show's melodrama. Their names are, yes, Sally Field, facing the messiness of widowhood with sweetness and steel, and Calista Flockhart as her prominent conservative daughter. She's now in a relationship with a Republican senator played by Rob Lowe. Flockhart's nibbly, wide-eyed anxiousness plays well off Lowe's thin-lipped directness. This could be you, Ann Coulter!




NBC (Mondays, 10 p.m. ET)
REALITY
Ashton Kutcher
, the actor and reality impresario who presides over
Punk'd
as intently as if he were Martin Scorsese with a whoopee cushion, is one of the producers of this show inspired by Vince Vaughn's movie
Wedding Crashers
. Here the bride and groom are in on the gag: Their ceremony and reception will be subverted by actors pretending to be planners, ministers, caterers and so on. It's only family and friends who end up fooled. Apart from the fact that the gags aren't funny—a waiter takes away guests' plates still loaded with food—it's off-putting to see something sacred being mucked around with. What's next? Crashing funerals?




Discovery (April 30, 5 p.m. ET)
REALITY
A new season kicks off for the only quiz show I would ever describe as adorable: It's conducted inside a taxi as it cruises up and down the busy streets of Manhattan. Unsuspecting passengers hop into the cab and shout their destination. At that point colored lights flash in the ceiling and host-driver Ben Bailey, as easygoing as Broadway is long, explains the show's setup. He asks the questions, which are rewarded with cash. When a question's too challenging, you can actually have him pull over so you can ask a passerby for help. Everyone onboard seems to be tickled to have an ordinary cab ride (which in New York City usually ends with sullen thoughts of how much to tip) transformed by such a silly shot of adrenaline. If only there were a Cash Elevator. All hail
Cash Cab
!




NBC (Wednesdays, 8 p.m. ET)
REALITY
A weekly hour of improv sketch comedy? The red hand on the excite-o-meter stirs a little, as if considering a salute, then falls motionless. But
Thank God
, which started as an Australian show, is innocently goofy, and at least we can be thankful for that. David Alan Grier serves as host, and Dave Foley (
NewsRadio
) is judge of who among that week's four performers will go home with a cheap trophy crafted (as he puts it) "in shatterproof plastic by the Franklin Mint." During the debut episode, I laughed when Jennifer Coolidge, the only actress who can look voluptuous and panic-stricken at the same time, was thrown into a sketch about international beauty contestants. Asked to name one thing she'd rid mankind of, she answered, "I never liked dry ice."




"She is turning me into a little bit more of a woman," says Emily VanCamp, 20, of her character Rebecca Harper, a young woman who oozes sarcasm and sexuality. "I never behave the way she does, and I don't lead with my sexuality," says the ex-
Everwood
star. "I'm still that clumsy little girl at heart, and it's helping me launch into my womanhood. Though I won't be behaving like her anytime soon."
Saturday Night Live
(NBC, April 21, 11:30 p.m. ET) Now here's a lineup:
Scarlett Johansson
, the gorgeous star and unlikely muse to Woody Allen, returns as host. Musical guest: Björk.
Celebrity Fit Club
(VH1, April 22, 9 p.m. ET) This crop actually has potential: You've got ex-
Idol
Kimberley Locke and Dustin "Screech" Diamond from
Saved by the Bell
. Saved by the barbell, more like.
Idol Gives Back
(FOX, April 24-25, 8 p.m. ET)
American Idol
devotes two nights to fund-raising for African poverty. Night Two features everyone from Daniel Radcliffe to
Keira Knightley
to—Borat? Plus someone goes home.
This American Life
(Showtime, April 26, 10:30 p.m. ET) First-season finale of the beautifully odd news-magazine hosted by Ira Glass.
Kelly Ripa
The
Live with Regis and Kelly
cohost takes a break from her daily gig—and monitoring Regis Philbin's recovery from open-heart surgery—to emcee the TV Land Awards on April 22.
ON LETTING HER KIDS WATCH TV I'm a child of TV. I was addicted. But I want the kids to develop good habits. They're allowed to watch an hour of TV on weekends.
ON WHAT REALITY SHOW SHE'D BE BEST FOR
The Amazing Race
, especially if my husband were my partner. We're efficient travelers.
ON REGIS He's coming back soon. I miss him. The big man isn't here, so the frenetic energy isn't here.
October Road
's Bryan Greenberg
Greenberg, 28, shines as a sincere guy who returns home and faces his past on the ABC hit. Its first-season finale is April 26.
ON LEADING-MAN STATUS I've never had to carry a show on my shoulders, but I relished it. It's flattering when people come up with [heartthrob] nicknames. I'll take "McRoady."
ON HIS OWN ALBUM, WAITING FOR NOW It's mostly indie acoustic rock. I've been playing the guitar ever since I was a kid [and] been writing songs forever. Music is always a constant in my life.
UNVEILED
Now we can see the face behind the traumatic makeup: Reaser, 31, is
Grey's Anatomy
's disfigured amnesiac "Jane Doe," restored to health with the help of Dr. Alex Karev (Justin Chambers).
ON HER PROSTHETIC FACE It took three hours to apply every day. It was intense. I'd be crying, and tears would go underneath the mask, and then the [director] would say, "Cry!" And I'd be like, "I am crying!"
ON THE HIGH-POWERED ENSEMBLE After filming
The Family Stone
with great actors like Diane Keaton, I don't get nervous anymore. I've learned to enjoy it. The characters have a lot of drama, but we have a great time. And I get to work with Justin, who's so sweet and fun. He's pretty much the perfect man.
ON WHETHER SPARKS WILL FLY People assume there's a romance [between Jane and Alex], but I don't know what's going to happen.
Grey's
is a lot like life—you don't know.
ABC (Sundays, 10 p.m. ET)
Advertisement
Today's Photos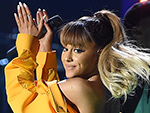 Treat Yourself! 4 Preview Issues
The most buzzed about stars this minute!