People Top 5
LAST UPDATE: Tuesday February 10, 2015 01:10PM EST
PEOPLE Top 5 are the most-viewed stories on the site over the past three days, updated every 60 minutes
Picks and Pans Main: TV
My Big Fat Tv Wedding
BY TOM GLIATTO
DRAMA
The ABC medical powerhouse heads toward its May 17 finale back on its feet after being laid up in April with a Code Blue case of ridiculitis. Meredith (
Ellen Pompeo
) suffered a near-death experience that had her and her bitter, long-sick mother (Kate Burton) swapping berths in the afterlife. Meanwhile, the ghost of Denny (Jeffrey Dean Morgan) sent out sweet messages to tear-stained Izzie (
Katherine Heigl
) like a deejay playing a Carpenters request. It was woozy enough to raise concerns about a leak in the anesthesiology pipes. But as the show introduces a potential spinoff with this week's two-hour episode (see below), everyone at Seattle Grace is showing resurgent symptoms of fever and an excited pulse. I mean sex—what this show has been about since day one. The challenge ahead is to create new couplings to rival the saga of Meredith and her Dr. McDreamy (
Patrick Dempsey
). Get to it, team!
TCM (May 1-2, 8 p.m. ET)
DOCUMENTARY
This two-part survey of Marlon Brando's amazing, unpredictable career and life doesn't have the boldness of the man: A fairly standard documentary, it moves respectfully around the circumference of a great but now extinct volcano. Brando marshals together fine clips and photos (even two years after the actor's death, the juxtaposition of the sexy young star and the old hulk can draw a gasp). A starry lineup of friends and admirers—including Ed Norton and
Johnny Depp
, whose flamboyant turn in
Pirates of the Caribbean
owes more to Brando than to Keith Richards—tries to explain the actor who revolutionized film acting with his muscular animal power in
A Streetcar Named Desire
. "There's before Brando, and after Brando," says Martin Scorsese. I liked the small, humanizing details. He called himself "Bran-flakes," and once asked Ed Begley Jr. if you could run a house's electricity by stocking the pool with eels.
[STARS 3]
The CW (Tuesdays, 9 p.m. ET)
DRAMA
Teenage detective Veronica Mars, back for a month's worth of episodes, still has a harsh blonde prettiness that softens and glows appealingly whenever she's about to lose her heart to romance. But now that she's moved on from high school to college, the mysteries don't have the same long, complicated arcs as in earlier seasons, and the show's kid-noir atmosphere has thinned out. Watching two new episodes, one with a good guest appearance by Paul Rudd as a boozy, aimless rock star, I sometimes got the sense I'd been viewing a young person's
Murder, She Wrote
. But the show remains essentially knowing, sharp and funny, and Kristen Bell continues to deliver one of TV's most underrated performances as Veronica. She's a cute yet complicated creature: a kitten with a dangerous sense of curiosity—but also the cool analytic skills to save her skin.
[STARS 3]
>If the May 3 show clicks, Dr. Addison Forbes Montgomery will soon get her own show. Addison, played by gorgeous
Kate Walsh
, started off on
Anatomy
with a sort of bristling Catherine Deneuve hauteur, but the character has softened. She's more likable, but more ordinary, a spinoff-able team player—more like Meredith Grey, even. My preference would be a show starring the fantastically funny
Sandra Oh
, but her intensity is probably untamable.
>The Tudors
(Showtime, April 29, 10 p.m. ET)
Henry VIII (Jonathan Rhys Meyers), frustrated with European alliances, tries for a personal dalliance with sexy Anne Boleyn (Natalie Dormer). Last name rhymes with "sin."
Shark
(CBS, May 3, 10 p.m. ET)
Killer attorney James Woods tries to trap a killer of the serial kind (Billy Campbell). First-season finale.
Entourage
(HBO, April 29, 10 p.m. ET)
Vince's brother Drama (Kevin Dillon), itching to promote his new series, lets himself get punked on a reality show.
Ghost Whisperer
(CBS, May 4, 8 p.m. ET)
Jennifer Love Hewitt keeps getting super-lousy vibes about the future from a prophetic spirit. First of a two-part season finale.
Deal or No Deal
(NBC, May 6, 8 p.m. ET)
100th episode! Those briefcase girls march on and on, like the magic brooms in
The Sorcerer's Apprentice
.
>Robert Redford
The longtime environmentalist, 70, just launched The Green, a block of ecofriendly documentaries plus a series,
Big Ideas for a Small Planet
, on the Sundance Channel.
WHY NOW
? A tipping point has occurred. People started to experience evidence of the warnings that have been going on for years: gas prices, health issues. We're moving away from the doom-and-gloom scenarios and into solutions.
HOW HAVE YOU GONE GREEN YOURSELF
? I built a solar home in 1975. I have hybrid vehicles. But the big thing is that in my spare time, I'm on a horse or I'm hiking—I'm in the environment that I love.
ARE OTHER STARS AS SERIOUS ABOUT THE ISSUE
? I think Leo [DiCaprio] is pretty serious. There are a few
celebrities
who are. This is becoming fashionable right now, so there will be some who come and go and some who will stick.
AND WHY DID YOU STICK
? I worked at Yosemite National Park in [my youth] and just fell in love. I said, "Wow. This is made by God's hand. And now they want to come in and destroy it?"
>I love ABC's
Dancing with the Stars
, but the hour-long results show on Tuesdays is awful. It's like
Riverdance
with yokes and milk buckets: a clunky, crowded night with little real entertainment. You just want to know who's out—not watch '80s band Survivor singing "Eye of the Tiger" or an energy-siphoning featurette about the show's stylists. (
American Idol
's hour-long results shows are padded too, but a grab-bag variety approach doesn't bother me so much with a singing contest.) Showcasing the
Dancing with the Stars
touring group works. Let's have still more dancing, even if it's hosts Tom Bergeron and Samantha Harris performing a courtly minuet. Or poodles spinning on their hind legs. Just, please, no more "Eye of the Tiger."
>Alyson Hannigan
Alyson Hannigan, 33 and married since 2003 to actor Alexis Denisof, walks down the aisle in the two-part season finale of
How I Met Your Mother
, May 7 and 14 on CBS.
WHAT CAN YOU TELL US ABOUT THE FINALE
? Lily and Marshall get married. Hilarity will ensue. And then of course everything that could possibly goes wrong, does, and things that couldn't possibly go wrong, do. But there's a big shocker ...
WERE THERE ANY DISASTERS AT YOUR OWN WEDDING
? There was one minor meltdown. It was days away and we had picked out the flowers and we saw them and I didn't like them. I was like, oh my God, I'm standing on the sidewalk crying because we're not going to have flowers at the wedding.
WHY'D YOU GO BRUNETTE
? People recognize me. I thought I'd blend a little more.
ABC (Thursdays, 9 p.m. ET)
Advertisement
Today's Photos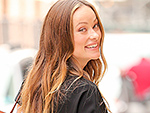 Treat Yourself! 4 Preview Issues
The most buzzed about stars this minute!