On Newsstands Now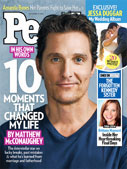 Matthew McConaughey: In His Own Words

Jessa Duggar's Wedding Album

Brittany Maynard's Final Days
Pick up your copy on newsstands
Click here for instant access to the Digital Magazine
People Top 5
LAST UPDATE: Tuesday February 10, 2015 01:10PM EST
PEOPLE Top 5 are the most-viewed stories on the site over the past three days, updated every 60 minutes
All the Dish!
TV's Kitchen Queen Rachael Ray Tells All About Her Marriage, Her Secret to Staying in Shape—and Why She's Not Planning to Have Kids
Rachael Ray
is the first to admit that her skills in the kitchen are handily outmatched in her own house. "My husband cooks fancier food for himself than I've ever cooked on-air," she says, seated at her dining room table—and wearing blue cotton pajamas, her preferred at-home attire—while her husband, entertainment lawyer John Cusimano, sits nearby in their modest Manhattan apartment. "I call him from the road, and he's making champagne-vanilla salmon or black-cherry pork chop. Half of me is feeling unworthy. Not only am I not a chef, I'm not a better cook than my own husband!"
Of course, it's exactly that kind of self-deprecating wit and earthy charm—let Martha Stewart bake her pie crusts from scratch; Ray prefers to buy hers and use the extra time to mix her signature beer margaritas—that have helped the 5'4" hypercaffeinated dynamo (she admits to a 10-cup-a-day coffee habit) single-handedly transform herself into a one-woman phenomenon. Among the fruits of her round-the-clock labor: four hit Food Network shows, 12 million copies of her 13 bestselling cookbooks in print (she writes all the recipes herself), a self-titled monthly magazine and even her own brand of olive oil. Her fans turn out in force for her signings and appearances (she does about 150 a year), obsess over her every move on dozens of Web sites, chop with her signature knives and even adopt her Rachaelisms (EVOO = extra virgin olive oil; sammie = sandwich).
This year she proved she can hold her own as a talk show host, with the first season of the
Rachael Ray
show—coproduced by her friend and mentor
Oprah Winfrey
—up for seven awards at the Daytime Emmys in June. And just last month she launched her new nonprofit healthy-eating and cooking initiative for kids, Yum-o!, in partnership with the William J. Clinton Foundation and the American Heart Association. Along the way she has made "30-minute meals" words to live by for millions of busy moms and become a doggedly determined fixture of domestic American life. Says professor of pop culture and television at Syracuse University Robert Thompson: "You can't go through a grocery store without her visage staring out at you."
And yet on this jam-packed day—which started at 4:45 a.m. and included a Good Morning America appearance, a photo shoot, an interview and a wrap party for her talk show—Ray's rat-a-tat-tat energy appears to be flagging. "I definitely hit the wall," she says with a sigh, exhaustedly sipping a glass of Brunello red wine. Still, if the savvy businesswoman who crafts quick recipes from unfussy foods like premade biscuit dough and mini-cocktail franks is feeling a bit spent, she hardly minds. "I like feeling like an ox at the end of the day," she says. "I like working hard."
It's a singular focus for which Ray, 38, offers no apologies—even when it comes to her marriage to Cusimano, 39. "I can't give a man an enormous amount of attention," she says matter-of-factly. "And John is totally down with that. When men I have dated over the years whined about, 'Oh, you make no time for me'—see ya! I just dumped them. I don't need that pressure in my life." Cusimano, whom she met at a party in 2001 and wed in Tuscany in 2005, "was a big surprise to me," she says. "He came at a point in my life when I had decided, I'm not going to chase [marriage]. I don't think young men or women should feel pressured into marriage. You shouldn't marry anyone, in my opinion, who you have to try hard for."
She is equally frank about her views on having kids—something she says she has pretty much ruled out. "I don't have time," she says. "I work too much to be an appropriate parent. I feel like a bad mom to my dog [Isaboo, a pit bull] some days because I'm just not here enough. I just feel like I would do a bad job if I took the time to literally give birth to a kid right now and try and juggle everything I'm doing."
If that sounds surprisingly blunt, well, Ray doesn't know any other way. "She is certainly outspoken," says her mom, Elsa, 72, who managed nine restaurants all at once after splitting from husband James when Rachael was 12. "I used to have these cards that said, 'Please excuse,' and then there was a line and you'd write 'Rachael,'" she recalls with a laugh. "Then it said, 'I'm sorry she did [fill in the blank],' and there was a list of things I would check off. We had them for years."
In recent months Ray has largely remained quiet in the face of tabloid stories about everything from trouble in her marriage to tensions with Winfrey to plastic surgery rumors—all of which she now shrugs off with her signature plain-spoken humor. Of reports that she'd had a brow lift, she says, "Please! If I had a week off I can assure you I wouldn't be under the knife, at least not for my brow—I'd get rid of my ass first. Not my brow." As for an ex-boyfriend's claims that she can't have kids, "Wait—I'm barren?" she says. "Boy, I wasted a lot of money on birth control over the years. Whatever."
But the Winfrey story—which claimed that Ray had mocked a portrait of the talk show queen that hangs in her production offices—prompted Ray to act. "If people want to slam me, just slam me. I felt bad for Oprah because it attaches my name to [hers]. I wrote Oprah a note and said I would never presume to redress your paintings," says Ray, who calls Winfrey "very supportive."
How about the tabloid claim that Cusimano had cheated with two women during their marriage? "I think they said six actually," she says. "I've known where he is every night since we've been married." According to Cusimano—who moonlights as lead singer in the rock band the Cringe, currently touring to support a new CD—"It's fun to come home after a hard day's work and just cook dinner. The place I'm happiest is curled up in bed with Rachael and the puppy." His wife agrees. "We're very turtlelike," she says. "We listen to music, pour a glass of wine and watch
Law & Order
."
It's a rare moment of stillness for a woman who was reared amid the kinetic hustle-bustle of restaurant life. The middle of three children of James Ray, 76, now a retired book publisher, and Elsa Scuderi, Ray and her siblings Maria, 47, and Emmanuel, 32, were expected to pitch in at the family's restaurant in Cape Cod, Mass. "Nobody says, 'Here's how you peel a potato'—they just say, 'Rachael, peel a potato,'" says Ray. "My first memory in life is grilling my thumb to the griddle in our restaurant on Cape Cod."
While working at a specialty grocery store in Manhattan, Ray hit a dramatic turning point in 1997 when she was mugged in the foyer of her Queens apartment. "This kid comes in behind me—next thing I know he shoves my face up against the door, jams a gun into my back and says, 'Give me your bag.' I flipped the top off the mace my dad had given me when I moved to New York City, spun around and started screaming." The following weekend the culprit returned. "The whole thing was in slow motion," she says. "He dragged me down the alley and beat the crap out of me with his gun."
Within a week, Ray moved back upstate. "Dude, I got mugged twice within one week! Wouldn't you want to leave?" she says. "It freaked me out for a year." She also realized that the New York City rat race hadn't been doing her any favors: "I thought I had this great life, but I had a lousy one. I worked 100 hours a week. If you're going to work that hard, it should be for something with your name on it."
Still, the beginnings of her self-created empire were hardly by design. Working at another gourmet store in Albany, N.Y., she noticed that the prepared food sold well but basic groceries did not. After failing to persuade local chefs to teach 30-minute cooking classes, Ray did it herself. They became so popular that a local TV station put her on-camera. "I'd serve wine on the sly and play theme music," she says. "It was just a huge party."
The party grew far bigger when the Food Network came calling in 2001. As her success quickly ballooned, so did her ability to enjoy it—even if her spending habits are decidedly modest by multimillionaire domestic-diva standards. Her first big splurge: the purchase, for $100,000, of the three-bedroom cabin in New York's Adirondacks that she had been renting for 15 years. "I live in, literally, the same home when I was swiping my first bank card and wondering if I'd have to put back the Charmin," she says. "We still don't have a dishwasher. My mom has done all these gardens so now my house looks like the garden shack in the middle of Versailles."
When she's not working or escaping to her upstate retreat, Ray is likely to be found at a bar where her husband's band is playing or relaxing with her large network of friends. One place you won't find her: in the gym. "I do some calisthenics at home when I can, but that's few and far between," she says. "Other than that, I just stare at my Crunch [gym membership] card in my wallet." As for dieting, "I don't deny myself," she says. "I don't want to be a size zero that badly. I got the fat pants, the skinny jeans. I try to eat well—I grew up with a Mediterranean diet, so I don't eat a lot of butter and fat. I eat a lot of vegetables and good, fresh-looking food."
Finishing her glass of Brunello, Ray still isn't ready to call it a day. "John and I will stay up long enough to have a laugh and share a meal, even if it's really late," she says of her foot-on-the-gas-pedal philosophy. "So we have a few hours less to sleep. Maybe life is a few days shorter. It will be richer for it on the other end."
Advertisement
Today's Photos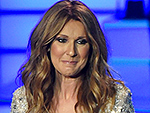 Treat Yourself! 4 Preview Issues
The most buzzed about stars this minute!