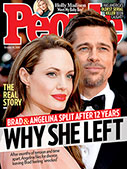 This Week's Issue!
People Top 5
LAST UPDATE: Tuesday February 10, 2015 01:10PM EST
PEOPLE Top 5 are the most-viewed stories on the site over the past three days, updated every 60 minutes
Back to the Real World
The Top Three Biggest Losers Weigh in on Their New Lives as the Formerly Fat


It sure has: New body (he dropped 46 percent of his weight), new career (he left his wrestling coach post while on the show, but is busy with motivational speaking) and a new girlfriend, fellow finalist Suzy Preston, 29. With the Loser competition—and the promise of big bucks—in the past, his motives have changed, too. "From now on," says Hoover, 29, "my health is No. 1."

Like Hoover, the other finalists also refocused their priorities. "I want to be there for my son," says 123-lb. Loser Seth Word, 25, who has a 22-month-old. He's making a career switch, too: Inspired by Loser's Jillian Michaels (see box, p. 89) the Salinas, Calif., salesman plans to get certified as a personal trainer. Second runner-up Preston, a Seattle-area hairstylist who lost 95 lbs., says, "Now I go to the gym for myself—not to win money."

Just as important as the weight loss is the sense of accomplishment, says Hoover. "Today I feel I can do whatever I make up my mind to do." Once a heavy drinker, he has given up alcohol and says he wants to "help other people feel as good as I do."

Then there's his romance with Preston, which began secretly in the show's eighth week with long, chatty walks. On their first date a few days after the finale, the pair lunched in Los Angeles at Koo Koo Roo, a chain specializing in grilled chicken. "It wasn't fancy, but it was good, healthy food," says Preston. "We eat really differently: I'm a fruit and vegetables girl, and he's a meat and fish guy." Still, says Hoover, they have a lot in common: "We both know what it's like to be fat and miserable and what it's like to be happy and healthy."
THEN - MATT HOOVER - 339 lbs.
THE WINNER! NOW - 182 lbs.

THEN - SUZY PRESTON - 227 lbs.
NOW - 132 lbs.

THEN - SETH WORD - 291 lbs.
NOW - 168 lbs.


LOSER LESSONS

"Overweight people often go through life saying, 'I don't want to know how many calories that is,'" says Loser trainer Bob Harper. "Once you are educated, if the weight comes back, it's a conscious decision." While they no longer do six-hour workouts, the finalists are enlisting tools they learned on the show:

• SUZY She does up to two hours of cardio and weight training five days a week, and is reintroducing favorite foods, like peanut butter. She's gained about 8 lbs. since the finale, but no longer wants to "eat the whole jar." What she learned: "Don't give up on yourself—losing weight is a lifelong process."

• MATT He fits in a few hour-long workouts most days, and says he would be comfortable heavier, at 195. What he learned: "There is tremendous satisfaction in achieving goals. I cannot believe I finally followed through and finished something. I won—wow!"

• SETH He regularly runs 5-12 miles and lifts weights, and says he has maintained his Loser weight, despite raising his calorie count from 1,500 to 2,500 in order to build muscle. What he learned: Discipline. When running, "I keep hearing myself say, 'More, you can do more.' I feel like I can take on the world."

EVEN JILLIAN STRUGGLES
AT 13, SHE WEIGHED 155 lbs.

Jillian Michaels has coached two Biggest Loser men to victory with her tough-love approach. But the L.A. trainer and author of Winning by Losing admits she's not so different from the show's contestants.

• SHE WAS FAT " I was always kind of a chubby kid. When I was 13, I weighed about 155 lbs. My mom got me into martial arts, and my instructor taught me about fitness and being healthy. [Eventually] I got to 115."

• SHE EATS (SOME) JUNK FOOD "Every day I give myself 200 calories for a treat. [At meals] I go for the healthier choice: wild rice instead of white rice or a grapefruit instead of juice. Save the treat for something that can't be substituted, like a Reese's Peanut Butter Cup."

• SHE HATES TO EXERCISE "Bob [Harper] says 'Ooh, it feels so good,' and I want to punch him. I have little tricks: I'll take a fun class and push myself so I don't look like a wuss to other people. It's the only way I get through it."


Advertisement
Treat Yourself! 4 Preview Issues
The most buzzed about stars this minute!