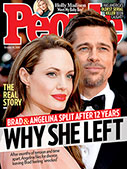 This Week's Issue!
People Top 5
LAST UPDATE: Tuesday February 10, 2015 01:10PM EST
PEOPLE Top 5 are the most-viewed stories on the site over the past three days, updated every 60 minutes
'A Pain in My Heart'
Ten Years After the War in Bosnia, Refugees Now Living in St. Louis Take Part in a DNA-Matching Program They Hope Will Identify Their Missing Loved Ones


MIRELA MANDZIC, 22
LOOKING FOR: Her father, Izet Mandzic, who was 33 when he was last seen in Srebrenica, July 1995
"As a girl I thought about our last meeting all the time. I took walks in the park, hoping, by chance, I'd see him. We used to laugh so much together. I just want to know where his remains are. I want to have somewhere to put flowers and pray."

MUNIRA ZAMETICA, 45, with her brother MUSTAFA HADZIMURATOVIC, 40
LOOKING FOR: Their brother Ahmu, then 20, last seen in Foca, May 1992
"We still hope he is alive. Occasionally we hear about Bosnian men turning up with changed names. We can't imagine how we'll feel if we find out he's dead. What's most important is that we have resolution."

MUHIDIN HUSIC, 49
LOOKING FOR: His brothers Behaija, then 24 (center in snapshot below), and Hizmo, 35 (right), last seen in Srebrenica, July 1995
"I miss them so much. We used to play soccer and hang out at cafes. I still hope they are alive, held prisoner. At other times I think they're dead. If there's some part of them that can be put together, in a grave, that would mean a lot."

MEDINA ADEMOVIC, 24, and sister SADETA BOBAJ, 30, with Bobaj's daughters (from left) ADRIJANE, 7, EDINA, 13, and ENISA, 6
LOOKING FOR: Medina and Sadeta's father, Qamil a demovic, then 55, and their brother Muhamed, 25, who were last seen in Srebre nica, July 1995.
"We just heard that our brother's skull was found. We came today to make sure it's true. We can't tell our mother yet because it would be too difficult for her to hear."

AHMET MUJKANOVIC, 52
LOOKING FOR: His brother Dzevad Mujkanovic, then 21, last seen in Kozarac, May 1992.
"When the Serbs started shooting, he said, 'I am going to go to the forest so you'll know where I am.' I tried coming to his town, but the roads were blocked. I never heard anything after that. If his remains are found, I would go back to the site and have a funeral for him."

SABAHETA NEKIC, 34, and her children (from left) SALADIN, 9, and EMRA, 4
LOOKING FOR: Sabaheta's brother Hamid Smajic, 38, and father Fadil Smajic, 59, last seen in Srebrenica, July 1995
"Before the Serbs took my father away, I asked if he was hungry and offered him food. He wouldn't accept it because he was too nervous. He knew something bad was going to happen. So I stuck a piece of bread in his pocket. It makes me so sad to think he died hungry."

MUHAREM SRNJA, 54
LOOKING FOR: His father, Fehim Srnja, then 65, last seen in Kalinovik, August 1992
"The Serbs took both my mother and father prisoner and held them at a concentration camp. After a few days, they took my father away with some other men. We think my dad and the other men were burned to death. I don't know why they would kill him. He was an old man."

INDIRA HARMON, 29
LOOKING FOR: Her father, Kasin Jemendzic, then 49, last seen in Brcko, May 1992
"He always used to take me and my brother fishing for catfish. It's been almost 15 years since he disappeared, and I don't know if he's really alive. I'm nervous about how I'll react if his body is found. But I worry about my brother in Bosnia more than me. He was with my dad the day he disappeared. He never wants to talk about it."


On a bitter December day, dozens of families crowded into the reception area at the International Institute near the St. Louis neighborhood known as Little Bosnia. As their numbers were called, old women wearing babushkas, men sporting leather jackets, and kids in baggy jeans took their turn to give DNA samples—four drops of blood each. The International Commission on Missing Persons will attempt to match the samples with DNA from the remains of thousands of nameless victims unearthed in the former Yugoslavia (above), casualties of a brutal civil war that consumed the region in the 1990s. About 8,700 bodies have already been identified through DNA matching worldwide. In St. Louis, where the 45,000-strong Bosnian community is the largest in the U.S., family members signed up with a mixture of hope and dread. Says Mustafa Hadzimuratovic, whose 20-year-old brother Ahmu went missing in 1992: "It is easier to know what happened so we can continue living."
Advertisement
Treat Yourself! 4 Preview Issues
The most buzzed about stars this minute!