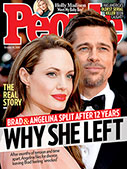 This Week's Issue!
People Top 5
LAST UPDATE: Tuesday February 10, 2015 01:10PM EST
PEOPLE Top 5 are the most-viewed stories on the site over the past three days, updated every 60 minutes
Death in a Bottle
Police Accuse a Man of Spiking His Wife's Sports Drink with a Lethal Dose of Antifreeze


But within four days Julie Keown was dead—the result, it turned out, of being poisoned with antifreeze. On Nov. 7, 2005, 14 months later, police swooped down on the radio station in Jefferson City, Mo., where James was working as a talk show host, and arrested him—while he was on the air—on charges he had spiked his wife's Gatorade with the toxic substance so that he could collect on her $250,000 life insurance policy. Keown, 31, has pleaded not guilty to first-degree murder, and his attorney J.W. Carney Jr. insists that Keown's "actions to date are completely consistent with those of an innocent man."

Not according to police, who say the plot began to unfold in late 2003, when James, who was then working as a Web site designer for an educational consulting company in Kansas City, Mo., persuaded his wife to move to Boston so he could attend Harvard Business School. To those who knew them, James was a doting husband who would often drive his wife to and from work and didn't mind waiting if she was running late. "He'd hang out and talk with people while he waited for her," recalls one of her colleagues, Kim Easley. "They seemed like a very loving couple." The medical services company that was his firm as well as Julie's agreed to let them keep their jobs and telecommute, and the couple arrived in suburban Waltham, Mass., in January 2004. The trouble was that James, who had never graduated from college, was in fact only enrolled in a course at Harvard Extension School—and he ended up flunking even that. Investigators now believe he forced the move to avoid any meddling from Julie's family as he furthered his plans.

Meanwhile, and apparently unbeknownst to Julie, the family's finances were in shambles. According to Massachusetts prosecutors, James had amassed about $34,000 of debt and had his Jaguar repossessed. In July 2004 he was fired from his job. By then Julie had already begun to show symptoms of her illness. That August she checked herself into the hospital for four days. "She thought she had a gastric illness," said prosecutor Martha Coakley. She returned in early September, and this time doctors made a startling discovery: that within the past 8 to 10 hours she had ingested a potentially lethal dose of ethylene glycol, an ingredient in antifreeze. They immediately started her on an antidote, but she had already slipped into a coma.

Police and her family believed she had been deliberately poisoned. Her parents recalled seeing a container of Gatorade in the couple's refrigerator, which struck them as odd because Julie was not in the habit of consuming that sports drink. But it made sense to investigators: The sugar in the beverage would have masked the syrupy sweetness of ethylene glycol, which in large doses can cause organ failure. Initially Julie's parents did not seem to blame James. But, according to police, he appeared eager to start enjoying the windfall from Julie's insurance. "I am going to take Julie's insurance money, buy a BMW Z4 convertible, go back to Kansas City and build a house," he is quoted by prosecutors as telling one friend after Julie's funeral. "With what money is left over, I am going to start a foundation in Julie's name and run it for a few years." (James never collected on the policy because of the investigation.)

A month after Julie's death, James moved back to Jefferson City and landed a job as a talk radio host (a friend at the station arranged the gig) and became an immediate ratings hit with his easy on-air manner. If Keown was grieving, he had an unusual way of showing it; according to prosecutors, he asked one friend how long he would have to wear his wedding ring. By this past October he had started a blog that did not mention a word about his late wife but waxed romantic about his new girlfriend, also named Julie, whom he had apparently first met years before. "All it takes is a smile and a hello to bridge the past to the present," he wrote. But for his late wife's family the past is something that haunts them. "Our lives were changed forever by this horrible, evil and senseless act," her parents said in a statement. "We are tormented daily by the why of it all."


For months Julie Keown hadn't been feeling well. Her doctors weren't sure why the 31-year-old nurse was suffering from vomiting and slurred speech. But finally, late in the summer of 2004, she appeared to be improving—to the seeming relief of her husband, James. During one phone conversation between Julie and her best friend, James could be heard calling out, "Tell Julie to drink her Gatorade!"—presumably to combat the dehydrating effects of the illness. On Sept. 4, 2004, the gentle woman, who loved doing handicrafts, wrote in an e-mail to another friend that she considered herself "lucky to have an extraordinary husband" like the gregarious, energetic James, "who was working full-time and going to school full-time and still finding time to care for me."
Advertisement
Treat Yourself! 4 Preview Issues
The most buzzed about stars this minute!