People Top 5
LAST UPDATE: Tuesday February 10, 2015 01:10PM EST
PEOPLE Top 5 are the most-viewed stories on the site over the past three days, updated every 60 minutes
Picks and Pans: Books
From Our Contributors
REVIEWED BY MICHELLE GREEN
CRITIC'S CHOICE
MEMOIR
Like many of her colleagues, transplant surgeon Pauline W. Chen chose medicine because she wanted to heal the sick. What she and her med-school classmates didn't expect was that "our profession would require us to live among the dying," she writes. "Death, more than life, would be the constant in our lives."
In her compassionate, compelling memoir, Chen details the ways in which doctors are trained to live with that constant. The message: Death is a clinical, rather than an emotional, event. But instead of pulling back, Chen wanted to confront her fear and sense of helplessness and to learn from those whose deaths touched her. She remembers a young Asian woman, an organ donor whose nearly perfect body mirrors her own. And a surgeon who, by sitting with the wife of a dying patient, shows her how to help when all seems lost. Now, writes Chen, instead of turning her back, she will join "family members, embrace those who look particularly lost" and, in the shadow of death, "tell them of the final comfort of their presence."




by Dan Simmons
REVIEWED BY CAROLINE LEAVITT
NOVEL
Simmons crafts an apocalyptic horror story loosely based on a tragic expedition to the Arctic in the 1840s: The explorers' ship is trapped in ice, the rations are poisoned and a beast is stalking the crew. But an even greater nightmare looms as the men battle mind-bending cold, starvation and madness while the Eskimo woman who might hold the key to their survival disappears. Carefully researched, this tale is both dazzling history and a sparkling chiller.




by Bella Pollen
REVIEWED BY SUE CORBETT
NOVEL
In her fourth novel, Pollen conjures a dark comic romance in which Londoner Alice Coleman flees a marriage wrecked "by the sheer ordinariness of life." Taking her two kids to live on the Arizona-Mexico border, where she supervises a resort project, Alice is a fish out of water. Unprepared for a nanny-less existence, the harsh climate and the venomous wildlife, she certainly has no intentions of falling for a gruff cowboy. Pollen takes her time laying out all the pieces of her sprawling plot, but the desert heat eventually rises, making for a sizzling ending.




by Rupert Everett
REVIEWED BY JOANNA POWELL
MEMOIR
In this cheeky, behind-the-velvet-rope chronicle, the British actor flaunts what he calls "an unwritten Hollywood Law: Think it but never say it." From
Madonna
(she "came out of the womb blowing a disco whistle") to Sharon Stone ("I was scared of her, rather as a dog is scared of a changeable master") to
Julia Roberts
(who "sometimes would rear up like an untamed filly"), Everett's spot-on observations are wickedly unapologetic. His is a glamorous story, rich in character and deliciously told.




by Colum McCann
REVIEWED BY PORTER SHREVE
NOVEL
After fascists in pre-World War II Slovakia drown most of her Gypsy family, Zoli, 6, escapes with her grandfather. He sparks her love of language, and she grows up writing about her people (who regard reading and writing as taboo). But when the Communists champion her work as part of their effort to relocate the Gypsy (or Roma) people, her community rejects her. With a poet's language, McCann creates a haunting story about the pain of exile.




by Alice Hoffman
NOVEL
On the night of her father's funeral, Arlyn Singer falls into bed with a lost traveler, believing that fate has brought them together. Her relationship with the budding architect sours, but they remain in a loveless marriage, living in a stifling house of windows that they call "The Glass Slipper." The two have a son, Sam, who is destined to self-destruct, and a daughter, Blanca, whose paternity remains a secret even after Arlyn's early death. Hoffman's 17th novel follows the familiar arc of a fairy tale, but her swift, lyrical prose and keen understanding of human desire make
Skylight Confessions
both universal and contemporary.




Jen Schefft
She broke up with Andrew Firestone after
The Bachelor
and rejected all comers as
The Bachelorette
. In a new book, Schefft, 30, a PR exec in Chicago, shares her don't-settle tactics.
WHAT INSPIRED
BETTER SINGLE THAN SORRY
? Backlash. People said I was crazy, that I'd be single the rest of my life. But there are a lot of single women waiting for the right guy.
NO DATING TIPS? There are enough books out there about how to get a man and why he's not into you.
SO HOW DO YOU STAY HAPPILY SINGLE? Connect with other women; do things that interest you, not just things to meet a man. Surround yourself with positive people. But also learn to be okay by yourself.
STILL DREAM OF FINDING MR. RIGHT? Absolutely! And I feel that I will.
Inheritance
by Natalie Danford In this debut novel, an American art teacher makes a pilgrimage to Urbino, her father's hometown in Italy, to investigate a mystery that surfaces after his death. Danford is a freelance writer and book critic for PEOPLE.
by Pauline W. Chen
Advertisement
Today's Photos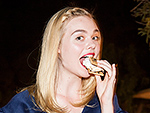 Treat Yourself! 4 Preview Issues
The most buzzed about stars this minute!