People Top 5
LAST UPDATE: Tuesday February 10, 2015 01:10PM EST
PEOPLE Top 5 are the most-viewed stories on the site over the past three days, updated every 60 minutes
Picks and Pans: Music
Catching Up with
REVIEWED BY CHUCK ARNOLD
INDIE ROCK
They named their 2004 debut
Funeral
, and this Canadian outfit is still in a morose mood on this creepily good follow-up. The ominous opening track, "Black Mirror," sets the dark tone, with lead singer Win Butler warbling, "I walked down to the ocean/After waking from a nightmare/No moon, no pale reflection." The gloom and doom continues on the aptly titled "Black Wave/Bad Vibrations," which features Butler's wife, Régine Chassagne, leading what eerily sounds like a demonic children's choir. (The group also includes Butler's younger brother Will on bass, keyboards and percussion.) Throughout, the band seems to be possessed by the spirit of goth greats like Joy Division, the Cure and Echo and the Bunnymen.
Neon Bible
—which was recorded in a church around their native Montreal—reaches a gloriously macabre climax with the funereal pipe organ of the closer "My Body Is a Cage," on which a tortured Butler wails, "My body is a cage/That keeps me from dancing/With the one I love/But my mind holds the key."
[STARS 3]
DOWNLOAD THIS: "My Body Is a Cage"
Avant Gershwin
REVIEWED BY V.R. PETERSON
JAZZ
Gershwin's got more than rhythm on Patti Austin's full-throttled follow-up to her '02 Grammy-nominated disc
For Ella
. Recorded live with Germany's WDR Big Band, Avant recasts Gershwin classics like "Summertime" and "I'll Build a Stairway to Paradise" into clever medleys and uptempo showstoppers, keeping the swing-era rivalries between the brass and reed sections while updating the beat with more complex modern ideas. Austin—an '80s R&B hitmaker with songs like "Baby Come to Me"—commands attention like a '40s screen siren in close-up. Throughout she radiates style and drama, singing with poise and remarkable energy, whether it's the furious scatting on "Lady Be Good" or her surprising makeover of "Swanee."
[STARS 3.5]
DOWNLOAD THIS: "Lady Be Good"
In My Songs
REVIEWED BY ERICKA SOUTER
R&B
Finished shortly before his untimely death at age 40 last November, this set of old-school slow jams earns Gerald Levert posthumous props. Unlike his peers, the bedroom balladeer longed for more than a booty call. "Deep As It Goes" promises it's not "just physical, girl, it's also spiritual, emotional," and his signature guttural baritone stirs the soul with the title track's lament "If I could only find the love I sing about." The uptempo "DJ Don't" is weak, but he picks up the pace nicely on the syncopated "Fall Back," making this a fine farewell from R&B's Teddy Bear.
[STARS 3]
DOWNLOAD THIS: "In My Songs"
Exclusively on Verizon Wireless. Text PICKS to 8915 for downloads from Picks & Pans.
For more information on where to find our Download This picks, go to WWW.PEOPLE.COM/DOWNLOADTHIS
>Can't get enough of the dark side? Check out all the sullen sultans who preceded the Arcade Fire on A Life Less Lived: The Gothic Box, a three-CD/one-DVD set that comes laced up in a black leather-like covering. With everyone from Joy Division and the Cure to Bauhaus and the Sisters of Mercy, it is guaranteed to incite joy in even the blackest of hearts.
>Paolo Nutini, These Streets This Scottish-born singer-songwriter possesses an old soul and gritty voice that belie his young age (20) and pretty-boy looks. On the tender ballad "Last Request" he even channels a bit of Ray Charles.
Sunshine Anderson, Sunshine at Midnight After nearly six years away, Anderson shines once again on this stellar '70s-soul throwback with tales of trifling lovers and betrayal.
Lucinda Williams, West The genius of Williams lies in her ability to be both poetic and plainspoken as she works through a failed love affair and the death of her mother, making this the first great CD of 2007.
Lily Allen, Alright, Still There is plenty of cheeky attitude on the wickedly fun debut from this British pop star. Her ska-tinged single "Smile" is deliciously catty—and catchy.
>Robin Thicke
With his hit Lost Without U (off his second CD, The Evolution of Robin Thicke), Alan Thicke's son, 29, is the first white male artist to top Billboard's R&B singles chart since George Michael in 1988
.
ON TOPPING THE R&B CHARTS Growing up in Los Angeles and having a lot of interracial friendships, I don't really see it as black or white music. I happen to love Radiohead as much as I do Biggie Smalls. Most people [who've heard but not seen me] are surprised I'm white. In the beginning people thought I was D'Angelo or Maxwell. They couldn't quite figure it out.
ON THE TERM "BLUE-EYED SOUL" I've always stayed away from boxes trying to categorize me. But the reality is that I do have blue eyes and I consider myself a really soulful person.
ON GETTING THE THUMBS-UP FROM BONO I walked into a meeting at Interscope Records to play my new music for Jimmy Iovine, the president, and Pharrell [who signed Thicke to his Interscope label Star Trak], and Bono is sitting on the couch, so I'm totally freaking out. Bono ends up giving it his full seal of approval and says it's going to be a huge album.
ON SERENADING THE MISSUS I sing to my wife [Déjà Vu actress Paula Patton] all the time. I met her when I was 14 and I sang to her on the first date. We were just hanging out in my living room and I started singing [Jodeci's] "Forever My Lady." I got a little kiss on the lips that night. And I sang "Forever My Lady" to her again at our wedding.
Contributors:
CHUCK ARNOLD,
V.R. PETERSON,
ERICKA SOUTER,
KRISTEN MASCIA.
Neon Bible
Advertisement
Today's Photos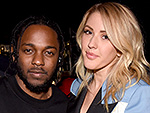 Treat Yourself! 4 Preview Issues
The most buzzed about stars this minute!