Archive Page - 12/1/12 39 years, 2,080 covers and 53,257 stories from PEOPLE magazine's history for you to enjoy
On Newsstands Now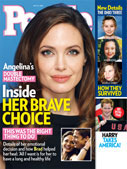 Angelina: Inside Her Brave Choice

New Details on the Ohio Three

Prince Harry Takes America!
Pick up your copy on newsstands
Click here for instant access to the Digital Magazine
People Top 5
LAST UPDATE: Wednesday May 22, 2013 04:10AM EDT
PEOPLE Top 5 are the most-viewed stories on the site over the past three days, updated every 60 minutes
Forever Seinfeld
In the Absurd Sitcom Universe, Created by Jenny Seinfeld (and Larry David), Warm and Fuzzy Were Banished, and Only Laughter Ruled


Cop Rock MTV meets LAPD as the city's finest bust crooks—and burst into song!

A Peaceable Kingdom A widowed zoo manager struggles to care for her four-legged friends—and three two-legged children! As warm as The Waltons, as wild as Marlin Perkins!

Seinfeld There's big laughs in the Big Apple as four wacky friends do... not much, really! Watch them go to a Chinese restaurant—and not eat!

Sometimes—not often, but sometimes—it's possible to feel sorry for a network executive charged with picking a winner. All four of the above shows are real. All four premiered in the space of a year, 1989-90. Three of them died quick, painful deaths. One went on to become the most successful sitcom of the '90s—and one of the best of all time—before concluding on May 14.

Way back then, who knew? Not NBC chief Brandon Tartikoff. The legendary programming whiz thought The Seinfeld Chronicles, as the pilot episode was called, "too Jewish, too New York." And not test audiences. "Who'd want to watch this guy?" they told NBC researchers. "It's hard to get excited about two guys going to the Laundromat."

Yet Seinfeld, in nine seasons, made audiences happily obsessed with such topics as restaurant hygiene, coffee-table-book publishing and envelope glue. The series, which generated $200 million a year in profits for NBC, added Jerry, Elaine, George and Kramer to the sitcom pantheon (joining Lucy, Ethel, Archie, Mary) while turning Michael Richards, Julia Louis-Dreyfus, Jason Alexander and Jerry Seinfeld into major stars. It freshened the language with absurd buzzwords ("sidler," "double-dipping," "Serenity now!"). If its reams of hip dialogue mean the show may never be a global commodity like Baywatch, at least Finnish viewers can wind up conversations with pälä pälä (yada yada), and French women can decide which men are digne de l'éponge (spongeworthy).

How, exactly, did this happen? And what does it all mean? Does the Seinfeld phenomenon have something to do with the end of the Cold "War? The approaching millennium? And, most important, if your hosts don't set out the marble rye you've brought them for dinner, may you take it home with you?

In 1989, after NBC executives had commissioned a pilot from stand-up comic Jerry Seinfeld, they got a tape about the day-in, day-out doings of stand-up comic Jerry Seinfeld and his two best friends, an angry worrywart named George Costanza (Jason Alexander) and Jerry's across-the-hall neighbor, a wiry goof-off named Kessler (Michael Richards). The concept, as Seinfeld later explained it, had the lazy trajectory of a whiffleball. "Imagine," he said, "if all you do is hang out with your friends and have frequent romantic encounters which don't really hurt, and work is only sporadically dealt with—you don't have to spend time at work except when it's interesting or exciting—and basically you're having a lot of coffee, a lot of lunches and dinners, a lot of swinging and a lot of hanging."

After the pilot aired on July 5, 1989, NBC—timid, Seinfeld said, because the show "didn't appeal to every genus from humans to the swamp people"—committed to a grand total of four episodes. By the time the show made its regular prime-time debut on May 31, 1990, the title had been clipped to Seinfeld (to distinguish it from a new ABC sitcom, The Marshall Chronicles, another mayfly). Kessler had been renamed Kramer, after real-life inspiration Kenny Kramer, the eccentric friend of the show's co-creator, stand-up comic Larry David. The gang's hangout, Tom's Restaurant, which had at first been called Pete's Luncheonette, was now Monk's. And Julia Louis-Dreyfus had joined the cast as Jerry's ex-girlfriend Elaine Benes, who had the moxie and drive of a career woman, only without the career.

Reviews were promising, the numbers less so. The network wasn't optimistic—nor, for that matter, were the series' creators. They expected it would be gone "in six episodes," says Jonathan Wolff, who composed the show's music and its jazzy bass-riff theme song. "They just wanted to do something fun."

Conceived with the mantra "no hugging, no learning," it was pure situation, pure comedy and an encyclopedia neurotica of urban culture. Its central foursome—praised by Jerry Stiller (George's father, Frank) as "the best comedy ensemble since the Marx Brothers"—scrambled from one mundanity to another, four musketeers with no code of honor. "They're there for one another," said Louis-Dreyfus, "but they usually let one another down." Their waking hours were devoted to petty obsessions (Jerry fretted over whether his dentist converted to Judaism so he could tell Jewish jokes; Elaine suspected she was the model for a store dummy). Like pinballs in an arcade game, they pinged off an assortment of weirdos, from Elaine's boyfriend, the conductor of a police officers' orchestra who insisted on being called Maestro, to diabolical Newman, a postal worker who could be bribed with snacks. Seinfeld, says Wayne Knight, who played the mailman with nasty glee, "is proof you can do a funny show about a group of people, none of whom has any decency, and strike a chord with the public deeper than any warm-and-fuzzy show."

Seinfeld, with his neatly pressed blue jeans and precision timing, was the ringmaster, but the "man behind the curtain," as one of the show's writers put it, was Larry David, a comedian as dour as Seinfeld was light. ("I walk around," David once said, "wondering who hates me today.") Like a black and white cookie, this was an inspired marriage of tastes. When they talked, said Seinfeld, "it sounded like great dialogue." And David's life provided a font of bizarre plots. Like Kramer, he was acquainted with a "low-talker." Like Jerry, he felt guilty about switching barbers. And if many George details (including the character's last name and the hand-modeling gig) came from Seinfeld's college pal Mike Costanza, it was David who, like George, won a bet about solo-sexual self-control. (Although in the finale George admitted he had cheated.)

No surprise that such an idiosyncratic show, which NBC shuttled between Wednesdays and Thursdays its first three years, took time to catch fire—or make sense. Estelle Harris, who played George's mother, once asked David, "What are we? With the name Costanza, are we Spanish, are we Italian, are we Jewish?" His answer: "What do you care?" The honchos at NBC, says entertainment president Warren Littlefield, wondered, "Shouldn't there be, like, any stories?"

Week after week, says composer Wolff, Seinfeld and David fought "for things the network said were too weird." Eternally stressed-out, David was sure (even, he once said, hoping) network censors would force him to quit over the masturbation episode "The Contest"—until the duo soothed concerns by coining the now-famous euphemism, "master of my domain." That controversial fourth-season show helped transform Seinfeld from cult into mainstream hit. The next year it moved to the coveted Thursday, 9 p.m. slot left vacant by Cheers. Before, said Jason Alexander of the new status, "we were amusing ourselves. All of a sudden, a lot of people are watching—and we're still amusing ourselves."

But not taking it easy. No joke, says Knight, "was ever funny enough" for Seinfeld. According to Susan Walters, who played Dolores, the woman whose name rhymed with a female body part, that gag was the result of last-minute tinkering (in the original script, she says, her name rhymed with a "poet or a car"). Because of the show's layers of rewrites, taping was delayed until every detail satisfied the star, who worked seven days a week. As a performer, though, he was generous to a fault. "He'd give up jokes to Jason, Michael and Julia," says casting director Marc Hirschfeld. "Jerry knew they were the ones who could deliver."

But it was up to Seinfeld alone whether the show survived from one year to the next. Last fall, he decided he'd had enough. "He's tired," said Estelle Harris. The previous spring his costars had held out for substantial raises (they settled for $600,000 an episode) in a highly publicized salary dispute. As season 9 got rolling, there were grumblings in the media that the show seemed less funny. Sounding a little defensive, Seinfeld said, "If you went back to see Schindler's List every week for six months, you'd say, 'I think this movie is slipping.' "

Seinfeld was still going strong by one objective standard: It remained the country's top sitcom in the Nielsens. Still, in the end, Seinfeld listened to his inner comic. "I felt . . . the Moment," he said in December. "I knew from being onstage for years and years and years, there's one moment where you have to feel the audience is still having a great time, and if you get off right there, they walk out of the theater excited. And yet, if you wait a little bit longer and try to give them more for their money, they walk out feeling not as good. If I get off now, I have a chance at a standing ovation."

The finale, a 75-minute-long episode, drew an audience estimated at 76 million. While no one had expected a heart-tugger, the story line turned out to be unsentimental with a vengeance: After standing by and making fat jokes while an obese man was mugged, the four friends were prosecuted under a "Good Samaritan" law. A parade of characters from episodes past testified to the gang's history of callousness, and they were sentenced to a year in jail. Sent to the hoosegow, they drift into an inane conversation about the buttons on George's shirt—a reprise of a patch of dialogue from the pilot episode. They might as well have been back at Monk's.

In a sense, it was typical; no show ever roamed so far in search of funny. "It was like a safari," says Seinfeld's friend, comedian Kevin Rooney. "You're with a small group of people. You're hunting a tiny, elusive animal. That little joke creature is very hard to find every day. And so they're out there, looking for these tiny, tiny white elephants. And they find them. They find them every week. Now they come back. 'That's it, we've gotten and killed every white, tiny joke elephant. Now we're going home.' "


The People Next Door It's Freud vs. funny when a cartoonist wills the figments of his imagination into reality. Just don't tell his psychotherapist wife!
Advertisement
Treat Yourself! 4 Preview Issues
The most buzzed about stars this minute!