People Top 5
LAST UPDATE: Tuesday February 10, 2015 01:10PM EST
PEOPLE Top 5 are the most-viewed stories on the site over the past three days, updated every 60 minutes
Sally Struthers Struts Her Stuff


She could have settled back in her "old, big Spanishy" three-bedroom duplex apartment in Westwood with its maroon fur-covered furniture and domed ceilings frescoed with clouds. Instead she has ventured a dicey plunge, booked onto a Las Vegas bill with comedian Alan King at Caesar's Palace this month.

When she broke in the act at the Lake Geneva (Wis.) Playboy Club, Sally was certain she was going to faint or throw up or, worse for her makeup, cry. Her emotive, urchin-to-sexpot face quivered and paled. She teetered on six-inch red satin Ruby Keeler pumps and leaned her 5'1", 110 lb. frame against her supportive "6'2" baby," Art Fisher (the ex-director of The Sonny and Cher Comedy Hour). Sally reminded herself of Bette Midler's advice—"sing some songs loud, some soft and look 'em in the eyes." Then Fisher lovingly but firmly pushed her onstage. Her act is an ingenuous mixture of pop tunes and comic dancing she developed on TV variety guest shots. Somehow, by the third night of the out-of-town shakedown, it all seemed to come together.

It was a rare moment for an actress who still can hardly believe she has made it in show business or has matured into a lovely woman. When she catches herself looking rather elegant, she breaks up the mood with a funny face, sticks out her tongue or launches into what she calls "my incredible library of flatulation jokes."

In more serious moments, Sally sometimes rues her outbursts of silliness. "It's true what I say in my club act. I did have to wear corrective shoes, and I did have a silver tooth right here [in front]. I had this awful kidney problem which meant I had to take a thermos bottle of medicine to school. I thought I was so different from everybody else in school I had to keep 'em laughing to keep them from hating me. Even when I was a teenager I was still littler than anybody else and awkward. On this little body the breasts got bigger and bigger, and I walked like this..." She caves in her shoulders. "People thought I was a hunchback."

Sally grew up in Portland, Oreg., daughter of a local physician and his first-generation Norwegian-American wife. Her mother says that Sally was "an overachiever"—captain of the cheerleaders, president of the girls' league in high school. Sally won't discuss the ensuing trauma of her parents' divorce that year, but it ended any aspirations to go to college to become a doctor or an artist. "So Mom, trying to find something to bring me around, cut out an advertisement for the Pasadena Playhouse, with a picture of Raymond Burr." Mrs. Struthers' daughter, whom she has always affectionately called Samantha Feather-head, had finally found her calling—she was voted best all-around actress the very first year at the Playhouse.

Still Sally had to do "the Hollywood drugstore and movie theater job scene, selling popcorn and cleaning the women's Johns." Perhaps even more mortifyingly, she toured with the Spike Jones Jr. Band, playing a kind of musical Pogo stick. Finally she got a TV commercial or two and shots on the Smothers Brothers and Tim Conway TV shows. That all led to a couple of movies, neither of which was even released. But the third, Five Easy Pieces, got Sally a five-minute cameo, bouncing nearly nude on Jack Nicholson's knee. "Producer Norman Lear saw me," she says, "and that's how I wound up in All in the Family."

She has won kudos since as the slattern sexpot in Steve McQueen's The Getaway. Two years ago, she went to Vegas for R and R with an aunt and uncle and caught Andy Williams' act. "Andy introduced me," she recalls, "and the audience went crazy. The Caesar's Palace entertainment director witnessed that response, and asked me if I was interested in doing an act. Me and my big mouth."


If a silver 911 Porsche with the license plate "TACKY" pulls up to a telephone pole, and a dippy blonde on Carmen Miranda wedgies stumbles out to knock on wood, that simply means superstitious Sally Struthers has lost her pencil, the one she carries in her purse to tap for good luck. Whether it's tapping or talent, Sally's star has been decidedly lucky up to now. For three years, as Gloria Bunker Stivic, Dingbat's dingaling daughter and Meat-head's chirrupy wife, she has been a favorite in America's No. 1 TV show, All in the Family. And in the current between-season hiatus, Sally, at age 25, seems to be proving that she can solo too, with her own nightclub act.
Advertisement
Today's Photos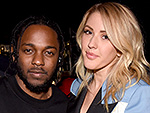 Treat Yourself! 4 Preview Issues
The most buzzed about stars this minute!