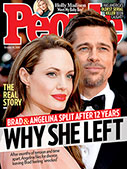 This Week's Issue!
People Top 5
LAST UPDATE: Tuesday February 10, 2015 01:10PM EST
PEOPLE Top 5 are the most-viewed stories on the site over the past three days, updated every 60 minutes
The 'owl Lady' Is a Hit at 72


A Canadian publisher thought differently. Brought out in 1967 there, the book became a modern classic and best-seller. A year later, it was published with great success in England. Finally in December 1973 Doubleday (not the original faint-hearted publisher) put the book out here with considerable promotion, and today it is on every top-ten list, has sold more than 100,000 copies in hard cover and has been turned into a television play starring actor Tom Courtenay.

It is a strange success. The book has none of the obvious ingredients of best-sellerdom: it is short, totally barren of explicit sex, has little "action" and is as much concerned with age as with youth; perhaps most important, its author is not sure-fire box office. She is, in fact, a 72-year-old unknown. Unknown, that is, unless readers with long memories recall her name from short stories in the old Saturday Evening Post. That is where Margaret Craven made her reputation. Fresh out of Stanford, she was a reporter on the San Jose Mercury when she tried out her first stories on a New York literary agent. They were rejected but she was encouraged to keep on writing. Before long she had become a regular in the Post at $3,000 a story. "I worked like a dog," she says. "Three or four stories a year. Remember, in those days living was not so expensive."

Many of them were written while Margaret Craven was all but blind, the result of a bus-truck accident. "I broke my nose and got a terrible crack," she says. A year later her vision went blurry. It took nearly 30 years and two operations to restore her sight to something near normal. "It's a funny thing," she says, "if you said to me, 'Now Margaret, I will pass a miracle, and it will be as if nothing ever happened to your eyes, but you have to give up everything you learned from it,' I'd start to bargain. I learned so much."

Fortunately her double vision had cleared up in 1964 when she received a fan letter from the captain of a hospital ship run by the Anglican church along the British Columbian coast. With the letter was an article about the church mission in an Indian village called Kingcome. "Oh, jiminy," she thought, "here is a book."

She writes of the village much as she found it during a research trip there. But she created the young vicar, Mark Brian, who does not suspect he is dying. He is sent by his bishop to minister to the Kwakiutl Indians where he can "learn enough of life to be ready to die." There have been fine books about doomed priests before, but Margaret Craven's documentary fable goes further. It evokes a proud people and a way of life that are vanishing. As an old Indian carver says to Mark Brian: "Here in the village my people are at home as the fish in the sea, as the eagle in the sky. When the young leave, the world takes them and damages them. They no longer listen when the elders speak. They go, and soon the village will go, also."

The doomed Mark Brian is a twin, and his relationship with his sister is wrought from the author's own experience. She and her beloved twin brother Wilson, a lawyer, went to college together, both collected Phi Beta Kappa keys and later in life shared a cottage in Sacramento. He died there in 1971 after a long siege of cancer. "I still wake up in the night," she says, "expecting to hear him move. When you live long enough, you lose everything you love. But writing is something so much bigger than you are, something to grow toward."

These days she gets up at 5 a.m. to tap away on an ancient Underwood typewriter (under pictures of owls sent her by readers). Her second book is set in the Cascade mountains, where she and her family camped over half a century ago. "We'd go to a mountain that had no name and never see another human being for two or three weeks," Margaret Craven says. "I used to wonder if anyone had ever stood where I was standing, or had ever seen what I saw."


Margaret Craven offered the slim manuscript that became I Heard the Owl Call My Name to a New York publisher in 1966. Nicely written, they said, but a first novel about a dying young priest among the Indians of British Columbia? It would never sell.
Advertisement
Treat Yourself! 4 Preview Issues
The most buzzed about stars this minute!