People Top 5
LAST UPDATE: Tuesday February 10, 2015 01:10PM EST
PEOPLE Top 5 are the most-viewed stories on the site over the past three days, updated every 60 minutes

Is America ready for yet another book about Marilyn Monroe? The latest: The Life and Curious Death of Marilyn Monroe, by Robert F. Slatzer, who previously wrote pulp westerns and B-movies. The only justification for its $8.95 price tag are documentation (76 of its 348 pages are legal documents) of Marilyn's legitimate birth and indications that Slatzer himself was briefly married to Marilyn—between James Dougherty and Joe DiMaggio.

Who's Got Rhythm?
Senator Ted Kennedy's opening line when the speeches began was, "I told Mr. Kosygin this morning in Moscow that we would have to cut short our discussions because I had to attend a family party in New York tonight." The occasion was Patricia Kennedy Lawford's housewarming for her new Manhattan duplex, and the 80 guests included most of the vast Kennedy clan. Teddy toasted sister Pat as "the most beautiful of all the Kennedy girls," and then, turning to sister Eunice, pointedly nominated her as the family presidential candidate for 1976. She readily played along, declared antiabortion as her fighting issue, though suggesting that "condominiums," in a slip of the tongue, were a lesser evil. "How else," she recovered, "would we all be here?"

Missed Liberty
For all the speculation, Lady Jane Wellesley's ship should have finally come in with the mooring at Plymouth, England of the Frigate H.M.S. Jupiter, with Prince Charles aboard. But while other loved ones were reunited on the dock after the 16-week cruise, His Royal Highness tested his land legs alone and then magnanimously returned aboard to stand duty so others could enjoy the first nights off. Asked if she would be attending the recent Badminton horse trials where Charles might take his first shore leave, Lady Jane replied curtly: "I certainly am not." Did she have any future rendezvous scheduled with the prince? "No, I haven't." And so, apparently, the world's most eligible bachelor was still at liberty after all.

Cover-up
Watergate conspirator (and ex-CIA man) James McCord and Dusko Popov, the Yugoslav-born master spy who was supposedly the model for James Bond, were ingeniously brought together by Washington's WRC-TV talk show Take It from Here. The purpose was to tape two segments on "How Watergate Could Have Been Successful and Why It Was Botched." Popov almost immediately concluded the problem was that impatient political amateurs, and too many of them, were called on to perform the job of espionage pros. Popov averred that he could have brought off the assignment himself. After the tapes were in the can, including some shadowy references to previous night-time visits to the Democratic headquarters and other targets, McCord suddenly decided that the shows possibly violated Judge Sirica's gag rule. He convinced the channel to quash them.

Tradition
Brigitte Bardot, who'll turn 40 in September, reflects that "deep inside, she is a very traditional girl" and that marriage is "the supreme test, fantastic and beautiful"—even though she, personally, has flunked it three times. "A woman, I believe, is not put in the world to live alone." So, for the past two years, she now confesses, she has lived with Laurent Vergez, a 25-year-old Frenchman who had a bit part in one of her movies. "There is no rule for love and age," she concludes. "That's the thing," says Laurent. "I never think about age either. Nor do I ever admit I am in love with a woman called Brigitte Bardot."

Chow
Sophia Loren, who reaches 40 the same month as Brigitte, takes a more monogamous view. Her husband, Carlo Ponti, 60, is, she says, "the only man I have ever really been in love with. I'm jealous. Carlo knows I'd leave him immediately if he ever looked at another woman." If Sophia has vices, they are poker, which she plays weekly and stag—that is, with her cook and the women in her family—and gluttony. "Eating is a marvelous thing," she says, "the best thing in life. I was very hungry during the war."


Legal Tender
Advertisement
Today's Photos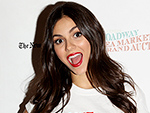 Treat Yourself! 4 Preview Issues
The most buzzed about stars this minute!