People Top 5
LAST UPDATE: Tuesday February 10, 2015 01:10PM EST
PEOPLE Top 5 are the most-viewed stories on the site over the past three days, updated every 60 minutes
Hughes Rudd, Cbs's Bright and Bristly Morning Man


His time is the 7 a.m. (or 8 a.m. in some cities) CBS Morning News slot and, to the shock of the industry, bristly Hughes Rudd, 52—not exactly a Mr. Sunshine or a soothing lead-in to Captain Kangaroo—is the show's anchorman. At the time of the announcement last summer, Rudd got little attention—he was second banana to TV's new peach, co-anchor Sally Quinn, then and now with the Washington Post. Their joint presentation of the news was a bomb. "The show with Sally was like an automobile wreck," Rudd recalls. "People tried to blame it all on her, but it wasn't any one person's fault. No one knew what they wanted—just something different."

Yet it turned out to be rather similar to the competing Today Show, except in the ratings—CBS drew less than one-third of NBC's 5 million viewers, and Quinn was dropped. Rudd, solo, has regained some ground in the past few months after shifting into a less visual, more all-news radio format, recapping events every 20 minutes to serve an audience that is preoccupied with boiling eggs and shaving.

But how does Rudd keep the job—considering that the show is still in the red while Today is an $8 million profit spinner? Some say that it is because CBS Chairman William Paley likes him. Paley does, in fact, but the real reason, says CBS News President Richard Salant, is that Rudd is a tough newsman and the best writer on the staff. Rudd says he "hates reading stuff I haven't written" and, unlike most TV anchormen, he types out at least the first 10 or 15 minutes of his news reports, plus his quirky, caustic show-closing essays. To do so, Rudd's workday runs from midnight, when he starts reading the morning papers, to 11 a.m., when he is finished doing a CBS radio newscast and viewing a postmortem rerun of his show. He goes to bed at 4 p.m.

It is a mean regimen for a man who suffered a coronary a few years ago, but Rudd has always been a scrapper. Born in Waco, he studied at the University of Missouri and, as an artillery spotter in World War II, earned a Purple Heart, six Air Medals and a Silver Star. He then newspapered in Kansas City, Minneapolis and Rock Springs, Wyo. (where he edited the Daily Rocket). It was in K.C. that he met Cronkite, who occasionally did the voiceover for industrial films Rudd produced.

Hughes' other freelance sideline was writing—and he hit most of the leading U.S. magazines, won the Paris Review Novella Prize and in 1966 published My Escape from the CIA (and Other Improbable Events), a collection of quasi-autobiographical fiction. Its style is a print precursor to the clean, rambling, ironic narrative that distinguishes Rudd from most of the network-issue prose on television. "I get to say what I want," he says, "which I like, even though this is a conservative corporation, like any corporation no matter what Agnew and those freaks say about the liberal media."

It would be unthinkable for Rudd to deliver commercials like the regulars competing with him on NBC's Today, and he is known for unhousebroken behavior around the CBS shop. "He's raucous in tavern debate," says Cronkite and, professionally, "he makes his dislikes known. On assignment in the field he used to call up after a show and raise hell up and down the line, screaming about the terrible editing of his piece, how there was no one with any sense in this outfit, and that it was a ridiculous medium...but the next day he was hard after another story."

One civilizing factor in Rudd's life is his wife Ann, whom he met 18 years ago while he was at Stanford on a creative-writing fellowship. It was the second marriage for each, and even ex-colleague Sally Quinn, not known for her enthusiasm for wedlock, concedes that "Ann and Hughes have a terrific marriage."

When the show premiered, Hughes and Ann kept the same schedule, but now when at home she lingers in bed until 6 a.m. They have a summer house in Valence-d'Albigeois in southwestern France, where Ann is already in residence. Hughes plans to join her for July, but "it depends on impeachment," he says. Last week he was temporarily off the morning show and in Moscow (one of his former bureau posts), where he and Dan Rather were covering President Nixon's latest trip. Rudd was back in harness in the field, and loving it. "Fifteen years on television," as Sally Quinn observed, "have not pasteurized him."


Hughes Rudd landed at CBS News through the influence of an old drinking buddy, Walter Cronkite—and strictly for his crack writing style. Rudd had the school-teacher looks and acerbic manner that in those days (1959) limited a correspondent's on-camera assignments. If something did break, he might have pulled radio duty—except that his voice, by standards then, was prickly as a cactus in his native Texas. "For years," says CBS colleague Morley Safer, "Hughes was the most underused man in the company. Now his time has come."
Advertisement
Today's Photos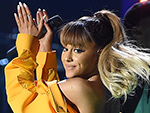 Treat Yourself! 4 Preview Issues
The most buzzed about stars this minute!